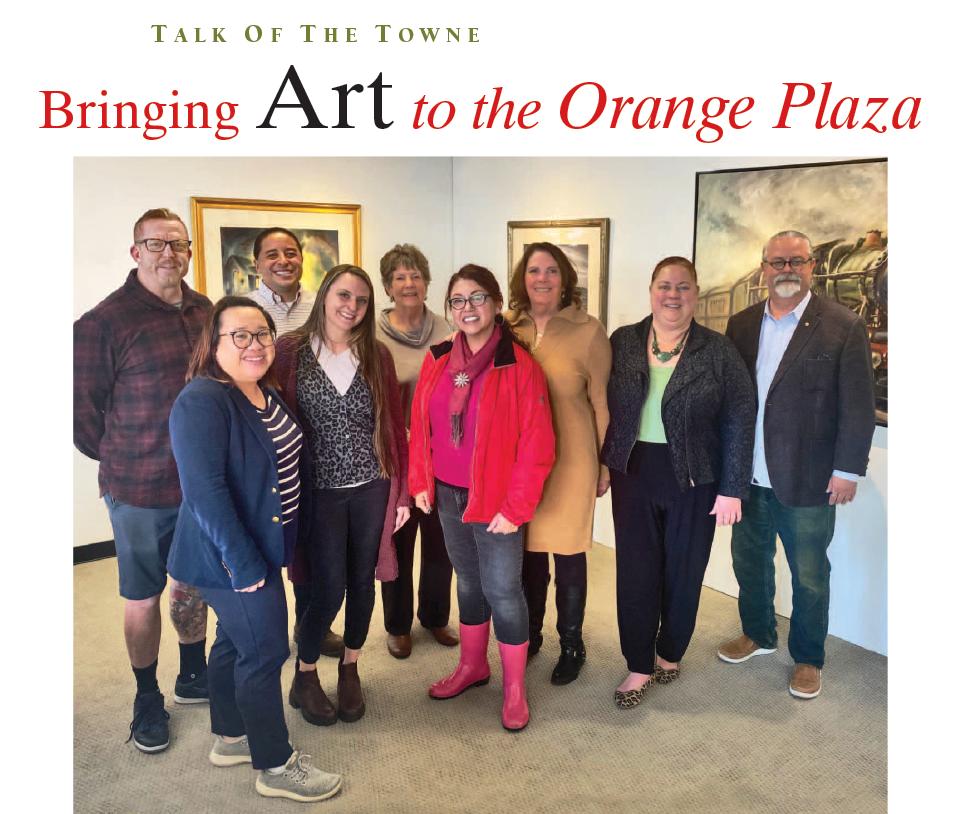 Orange will soon have its very own Artwalk thanks to the efforts of these dedicated folks. Pictured here in The Hilbert Temporary are (from left) Jack Carlisle, Connie Chan, Ben Finley (back), Madison Aust, Judy Schroeder (back), Tina Leigh Heiland, Elizabeth Holloman, Mary Platt and John Aust.
- - - -
Orange Plaza Art Walk
Saturday / March 25 / 2 - 6 pm
A year of planning is about to pay off as the newly formed Orange Arts Council soon brings its first Orange Plaza Art Walk to life.
In February 2022, Orange artist Tina Leigh Heiland organized the Orange Arts Council after participating in an art show with some of her close friends.
"I noticed that in the city, there are a lot of restaurants going up, but where are the artists and the venues for artists to share their work?" asks Heiland. She is Chair of the Orange Arts Council, a business owner and art teacher for Garden Grove Unified School District. "There are lots of creatives here. We needed a place for us to meet and put our minds together to get ideas."
Shortly after organizing, members of the Arts Council began brainstorming. They came to a consensus that Orange had previously had art walks, but they had fallen away at some point. Planning began, and Heiland quickly realized that the Council needed help.
"I decided to get a partner because this was bigger than just having an idea and going forward," she says. "I thought, 'if I could get the backing of the Orange Chamber…,' so I called on a whim and was lucky enough to get Elizabeth Holloman at the Chamber on the line."
Heiland and the Chamber began putting the pieces together to make the art walk a reality. The Chamber organized sponsorships from members John Aust Realty and The Potting Shed by Carlisle. It turns out that John Aust's daughter Madison had already begun organizing an art walk before joining forces with the Chamber's show.
"It was a perfect match for a community event that would also bring business down here," says Elizabeth Holloman, Executive Director of the Orange Chamber of Commerce. "Tina and I, along with the whole team, have worked for the last year to bring this together." That team consists of Heiland, the Chamber, the Orange Arts Council, Madison Aust and Ben Finley, who both work for John Aust Realty, as well as Mary Platt, Director of the Hilbert Museum, and locally renowned artist Judy Schroeder. (Heiland, Platt and Schroeder are jurors for the show.)
Planning the event produced more support from individuals and businesses than Heiland anticipated. "We have a lot of really amazing people working with us who are just as excited as we are," she says. "Having people post on Instagram and hang posters, and sponsors paying for the banners we're printing is a good thing to see. Everybody involved is excited about bringing art back to Orange."
With all the pieces in place, the Art Walk finally became fully organized last December. At that point, a call was put out for artists to submit their pieces for the show.
"We're trying to get enough venues to match one per artist, so if we get 25 venues, we will have 25 artists," Holloman says. "We might have to double up on some, but the merchants here in the Plaza have been very open to the idea and are willing to be a part of the Art Walk."
"During the event, you get a passport signed off to show that you've been to each of the venues and then drop it off at the Hilbert Museum in a box," says Holloman. "At the museum, we are having a drawing of the passports for a piece of art, an original watercolor donated by Judy Schroeder."
The Orange Plaza Art Walk will begin at 2 pm on Saturday, March 25. Final viewing will be at 6 pm, and the drawing for Schroeder's painting will be held at 6:30 pm at the Hilbert Museum's temporary location at 216 East Chapman. Additionally, during the event, children's art from CHOC will be displayed in the parking lot behind John Aust Realty at 219 East Chapman.
The Orange Arts Council holds their meetings at 4 pm on the third Thursday of every month in the Chamber of Commerce building.
Orange Chamber of Commerce
34 Plaza Square, Old Towne Orange CA 92866 / 714-538-3581
- - - -
Participating Artists
(listed alphabetically by venue)
Pick-up your passport at any participating vendor, then deliver your completed passport to The Hilbert Temporary at 216 East Chapman Ave for an opportunity to win an original watercolor by Judy Schroeder.
VENUE, ADDRESS - ARTIST
1886 Brewing Company, 114 North Glassell St - Reza Geramy
Chapman Crafted Beer, 123 North Cypress - Joy Qu
Citrus City Grille, 122 North Glassell St - Ellen Mansour
Contra Coffee & Tea, 115 North Orange St - Jennifer Radcliffe
Crystal's Hair Studio, 59 Plaza Square - Brenda Campbell
Felix's Continental Café, 32 Plaza Square - Carolyn Westfall
Full Circle Meaningful Marketplace, 140 South Glassell St - Laura Harpster
Hello Optometry, 141 North Glassell St - Ali Flynn
John Aust Realty, 219 East Chapman Ave - Michael Johnson
Living Mi Vida Loca, 146 South Glassell St - Alisha Oseguera
Ojai Burger, 238 West Chapman - Penny Marx
Orange Circle Optometry, 227 East Chapman Ave - Sofi­ia Spivakova
O SEA, 109 South Glassell St - Joe Digrado
PaKua, 55 Plaza Square - Lily Arnquist
Paul's Cocktails, 207 West Chapman Ave - Cliff Mack
The Potting Shed by Carlisle, 10 Plaza Square - Tina Heiland
Smoqued BBQ, 128 North Glassell St - Bella Arnquist
Starbucks, 44 Plaza Square - Sean Netherlain
Tabu Shabu, 111 South Glassell St - Elliot Beenenga
Tiddlywinks, 129 North Glassell St - Lauren Valantine