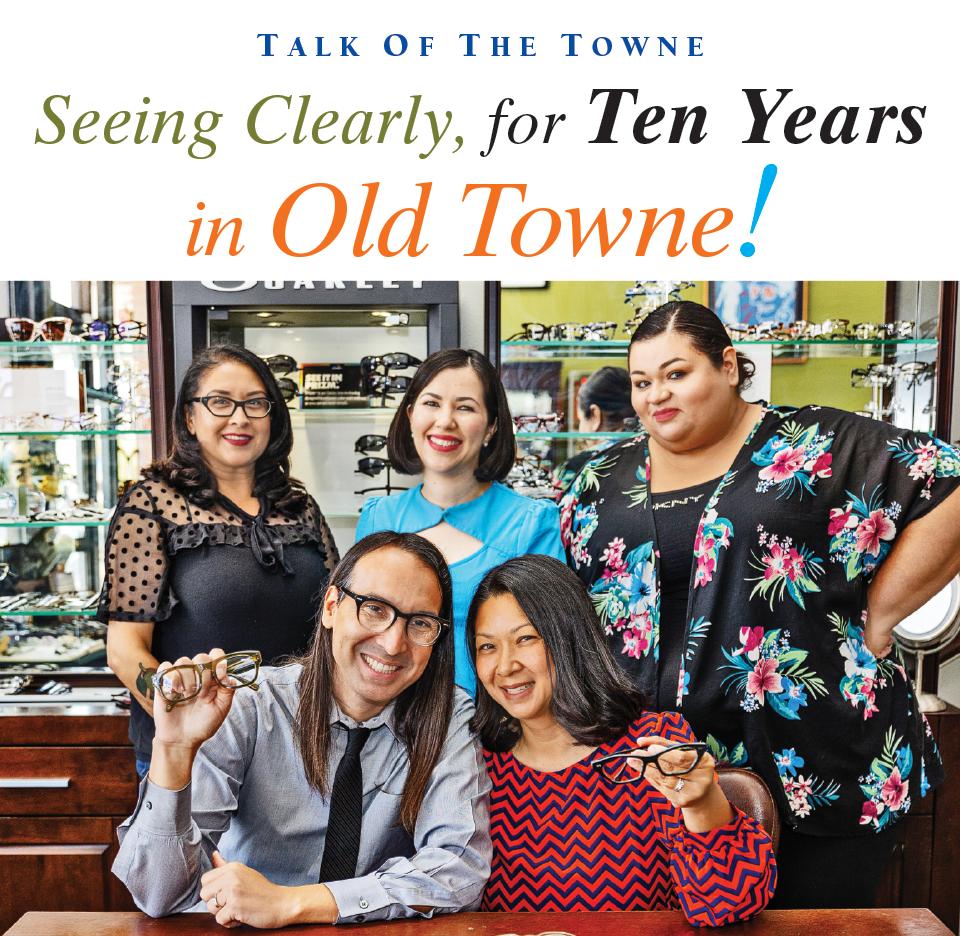 Alex Romero and Ly Nguyen (front) display some of their offerings at Orange Circle Optometry. The husband-and-wife team rely on their cadre of assistants to ensure the office runs smoothly. Pictured in the back row (from left) are Lindsey Locke, Ana Barba and Yarelly Rodriguez.
- - - -
Orange Circle Optometry
In the heart of Old Towne Orange across the street from Watson's Soda Fountain & Café, you will find Orange Circle Optometry. The full-service practice run by husband-and-wife team, Alex Romero and Ly Nguyen, is celebrating 10 years in the Plaza this August.
Serving all ages, the optometry practice provides vision examinations, evaluations and treatments with state-of-the-art equipment, as well as fittings for contact lenses and glasses. They carry a large selection of classic, hip, popular, vintage and top designer styles.
During their time in Old Towne, Orange Circle Optometry has evolved. "We are grateful for our thriving business throughout the last decade," says Romero, known by patients as Dr. Alex. "We survived the pandemic with the patronage and support we received from this special community."
It was kismet that brought the couple together.
Romero grew up in Orange and dreamed of being a dentist. Nguyen had her formative years in Brea and Upland. She knew she wanted to be an optometrist in sixth grade.
They both graduated from UC Riverside but never crossed paths during that time. Though they once lived 15 minutes away from each other in Orange, it wasn't until they attended optometry school in 2003 in Fort Lauderdale that they met. They married 2010 and in 2012 set down roots in Orange where they live and work.
"By living in Orange, we experience conducting business and participating as citizens of the town," says Romero. "It's amazing to see patients who come to us as children grow up to be young adults and leave for college."
At Orange Circle Optometry, Romero, Nguyen and their staff strive to blend professionalism with inviting warmth and fun. Many of their clients and patients even refer to them as family and friends.
"Our favorite compliment is when patients say, 'I feel like this is your house,' and 'I feel like I'm at home,'" says Nguyen.
Patients like Nancy Bills enjoy the comfortable atmosphere. "Through the years I searched for an optometrist who would be a fit for me," says Bills. "I found them here, steps away. I have been Dr. Romero's and Dr. Nguyen's patient since they arrived. I love how Dr. Romero educates us. He is honest and doesn't hold back. They are an amazing couple and team. Their assistants are courteous. I am in awe of what they do."
As far as Romero and Nguyen are concerned, business doesn't have to always be conducted in a serious manner. The couple believe in everyone having an enjoyable experience when they walk through their doors.
"When we first opened for business, Alex cut his hair," recalls Nguyen.
"I wanted to appear professional," explains Romero. "As clients and patients got to know me, they encouraged me to be myself. I realized I could be taken seriously as a doctor and express my authentic self."
At leisure, Romero rides a skateboard, listens to heavy metal music, and plays guitar. Nguyen plays piano and drums. "We rock out with our four-year-old son, Alex, in the studio above our office," says Nguyen.
The company's anniversary will be celebrated with family, friends, patients and the community. "We're holding a raffle," says Nguyen. "So far we have a signed skateboard from Christian Hosoi and an autographed record from The Aquabats. Parker Jacobs, artist and friend, will create artwork for new promotional items and new art for our office."
As Nguyen and Romero look ahead, they hope the future brings as much fun as the last decade has.
"We've been fortunate with a good 10-year run," says Nguyen. "We would like another 10 years at this level in this location with our team members, Lindsey Locke, Yarelly Rodriguez and Ana Barba. They are part of our success. Alex and I have fun working with people we love in the town we love."
OrangeCircleOptometry
227 East Chapman Ave. Old Towne Orange CA 92866 / 714-538-6424