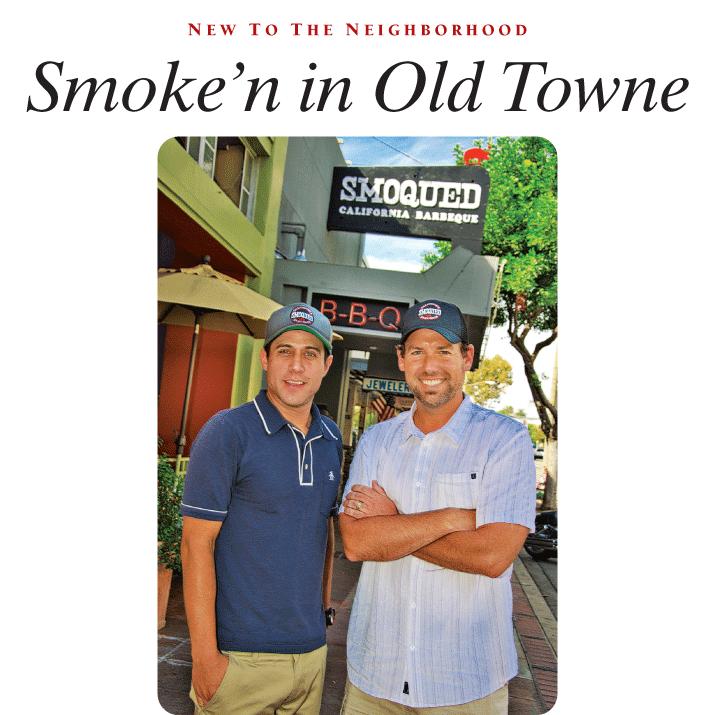 Co-owners Mike Hernandez (left) and Drew Ciora have unveiled the all-new Smoqued California Barbecue on North Glassell in Old Towne. The hip, casual restaurant features an authentic wood-fired pit that brings a smoky flavor to beef brisket, pulled pork, smoked chicken, jalapeno sausage, St. Louis ribs and more.
- - - -
Where There's Smoke, There's Barbecue.
Located at 128 North Glassell, the newly opened Smoqued California Barbeque serves up a robust selection of smoked offerings – everything from Pork Nachos and Bayou Skewers to smoked chicken wings, pulled pork, beef brisket and St. Louis Ribs.
Co-owner Drew Ciora says his three-person partnership with Mike Hernandez and Jim Weaver, along with another partner, Ryan Chester, brings to the table their combined skills in the restaurant biz, including Drew's background as a restaurant owner in Michigan and Mike's extensive industry credentials.
But it's the food and beverages that take center stage at Smoqued California Barbeque, where all meats are low and slow cooked over hickory, red oak and fruit woods, and the beer menu features artisan and craft selections highlighting the finest of California brewing.
"It's all about the meat and doing it correctly with an intense smoked flavor," says Drew. "Even our salads, sandwiches and appetizers feature smoked products served in traditional and unique ways. All of our draft beers are made only in California. We also serve wine."
Located at the former Beach Pit BBQ space, the new venue includes the original wood-burning smoker belonging to Beach Pit. When Beach Pit owner Tim DeCinces decided to sell the restaurant, Drew and his partners jumped at the chance. The location offers the perfect setting for success, says Drew.
"We didn't need to do a whole lot of renovations, but we did add a bar and upgraded the colors and lighting. We worked with designer Corey Gash, who added galvanized metal to the bar and tabletops and personally burnished the wood paneling for a decorative look. We wanted a setting that was warm, inviting and a little bit hip to complement our casual-dining menu."
According to Drew, the restaurant will also soon be offering catering services. He says the community of Old Towne has received their venture with open arms.
"It's been fantastic working with the city and getting to know the array of regular customers coming in," he says. "The response has been fantastic. We plan to be here for a long time."
Smoqued California Barbeque
128 North Glassell Street, Old Towne Orange, CA 92866 / 714-633-7427