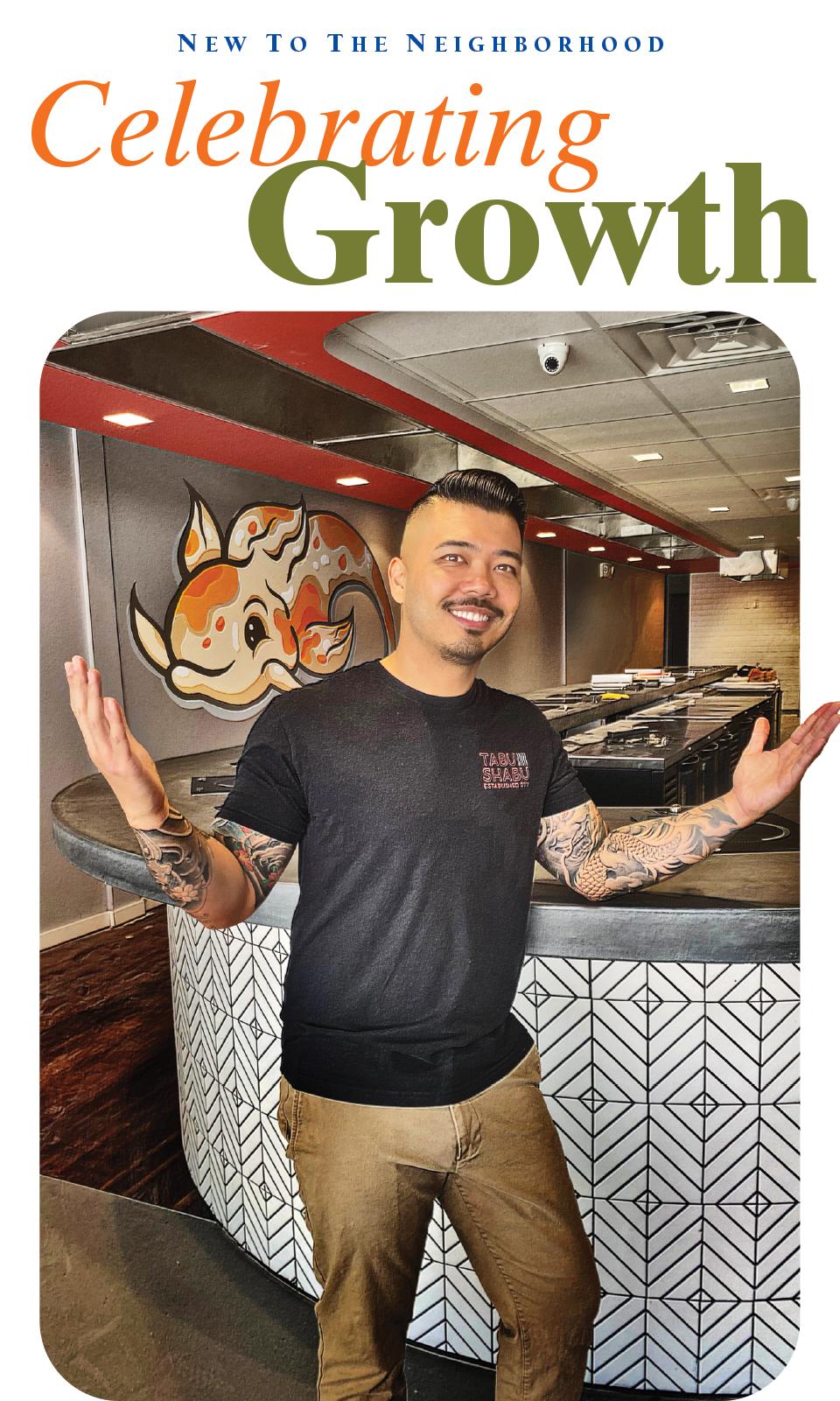 Tabu Shabu Orange Owner and Manager Randy Nguyen shows off the newest shabu location. He's looking forward to introducing Orange to this unique Japanesse cuisine and dining experience.
- - - -
Tabu Shabu
This summer, Orange was treated to an entirely new cuisine to add to its culinary repertoire: Tabu Shabu, a Japanese hotpot-style restaurant, recently opened in the Plaza on South Glassell. The eatery focuses on serving shabu-shabu, where customers cook meat piece by piece in a pot of broth and vegetables.
Tabu Shabu Orange Owner and Manager Randy Nguyen is delighted to introduce Old Towne residents to a different style of dining.
"I love teaching and showing others how to eat shabu," he says. "It's interactive and you get to cook and dress your food to your liking."
Tabu Shabu has six other locations across California, including in Huntington Beach and Costa Mesa. The Old Towne location will mark the first shabu restaurant in the city of Orange, which Nguyen says was part of the allure when deciding on the latest location.
"Shabu is an up-and-coming dining experience, and we wanted to bring something new to the neighborhood," he says. "It's the perfect opportunity and we're excited to do that."
The most popular broth bases are the miso and tonkotsu, and diners can choose from a variety of proteins like scallops, ribeye and lamb to cook in the boiling broth. Each bowl also comes with rice and a vegetable platter to complement the cooked proteins.
Nguyen says that although the idea of cooking your own meat in real time may seem daunting, it's a source of art and an innovative way to enjoy a meal. "We're creating an experience more than just dining," he says. "For those who have never heard of shabu, we want to teach them how it works and to try something new."
CEO and Founder Jeff Chon also sees shabu as an art form and encourages customers to have fun and play with their food. "You don't need to follow the 'rules' of shabu," he says. "Remember you can create your own style the way you like it."
Chon, a restaurateur who operates three other businesses, grew up eating shabu and found that the cuisine was missing from Orange County's mainstream dining scene. After launching Tabu Shabu in Costa Mesa, he recognized shabu's increased popularity and the need to expand.
"The opportunity to bring our concept here is exciting," he says. "We're looking forward to being a part of this community for many years."
After getting settled in Old Towne, Chon and Nguyen hope to open other locations outside California. For now, though, they're eager to share their curated blend of savory meals and an evening of fun with the Orange community.
"Cooking wholesome nutrition together with friends and family is something that became the foundation of my passion for restaurants," says Chon.
Tabu Shabu
111 South Glassell St, Old Towne Orange CA 92866 / 714-363-3131