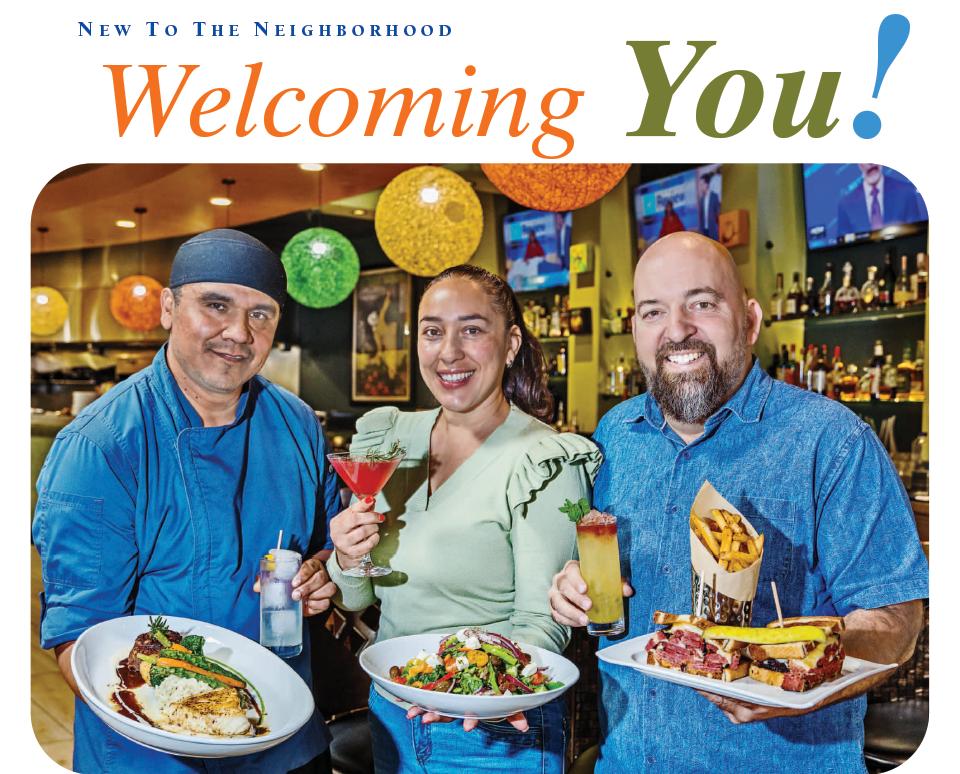 Citrus City Grille Head Chef Luis Garcia (left) and new owners Fabiola and Charlie Cosmas highlight the restaurant's popular menu offerings, including updated organic craft cocktails. In the new year, Cosmas hopes to add more Greek-inspired dishes to the eatery's existing menu.
- - - -
Citrus City Grille
Longtime diners in Orange have known Citrus City Grille as an Old Towne staple for more than 25 years. Though the previous owners have transferred ownership, the restaurant is in goodhands with new owners Charlie and Fabiola Cosmas, who started in June.
Cosmas himself had been a frequent patron at Citrus City Grille and owns several diners throughout Orange and Los Angeles counties. As a young boy in Greece, he started in the restaurant industry and worked his way up at various fine dining establishments.
"When this opportunity came up, I basically jumped at it because it was perfect for me," he says. "I was really looking to get back into operating fine dining cuisine, and I was already a repeat diner at Citrus City."
After officially taking the reins in July, Cosmas has only made a few minor shifts to the well-known menu. His primary focus is adjusting the cocktail menu, which he plans to transition to a full craft menu in the new year.
"We want to have all organic, delicious cocktails from our new cocktail bar," he says. "Our drinks will have ingredients like fully organic honey and other authentic flavors."
The food menu also remains relatively unchanged, but Cosmas wants to add a few seasonal dishes each year. The restaurant currently offers brunch, lunch, happy hour and dinner options, and Cosmas aims to introduce dishes to each that change with the seasons.
"Our menu will always stay fresh, and customers will be able to try new things depending on the season, which I'm very excited about," he says. "Orange is a place where you can offer new dishes all year round, so I'm working with our executive chef to do just that."
In addition to its regular daily dining, Citrus City Grille is known for its annual pre-fixed dinners on Thanksgiving and Christmas. Cosmas and his team will continue to host a three-course Christmas Eve dinner at the restaurant, complete with an indulgent meal of options, including the signature Chilean sea bass, lobster ravioli, filet mignon and more.
"There's something special about dining at Citrus City Grille and taking in its atmosphere," says customer Shauna Sabet. "It always seems like a restaurant you'd want to celebrate in."
As Cosmas and the Citrus City Grille team head into 2023, they aim to keep offering customers a well-rounded dining experience. With every glowing review, compliment to the chef and returning customer, Cosmas feels rewarded and energized to keep staying in the restaurant business.
"It makes me smile every time I see a customer having a good time and enjoying the food," he says. "The best feeling is when they tell us the food or service was great, and it always makes my day."
Citrus City Grille
122 North Glassell St, Old Towne Orange CA 92866 / 714-639-9600