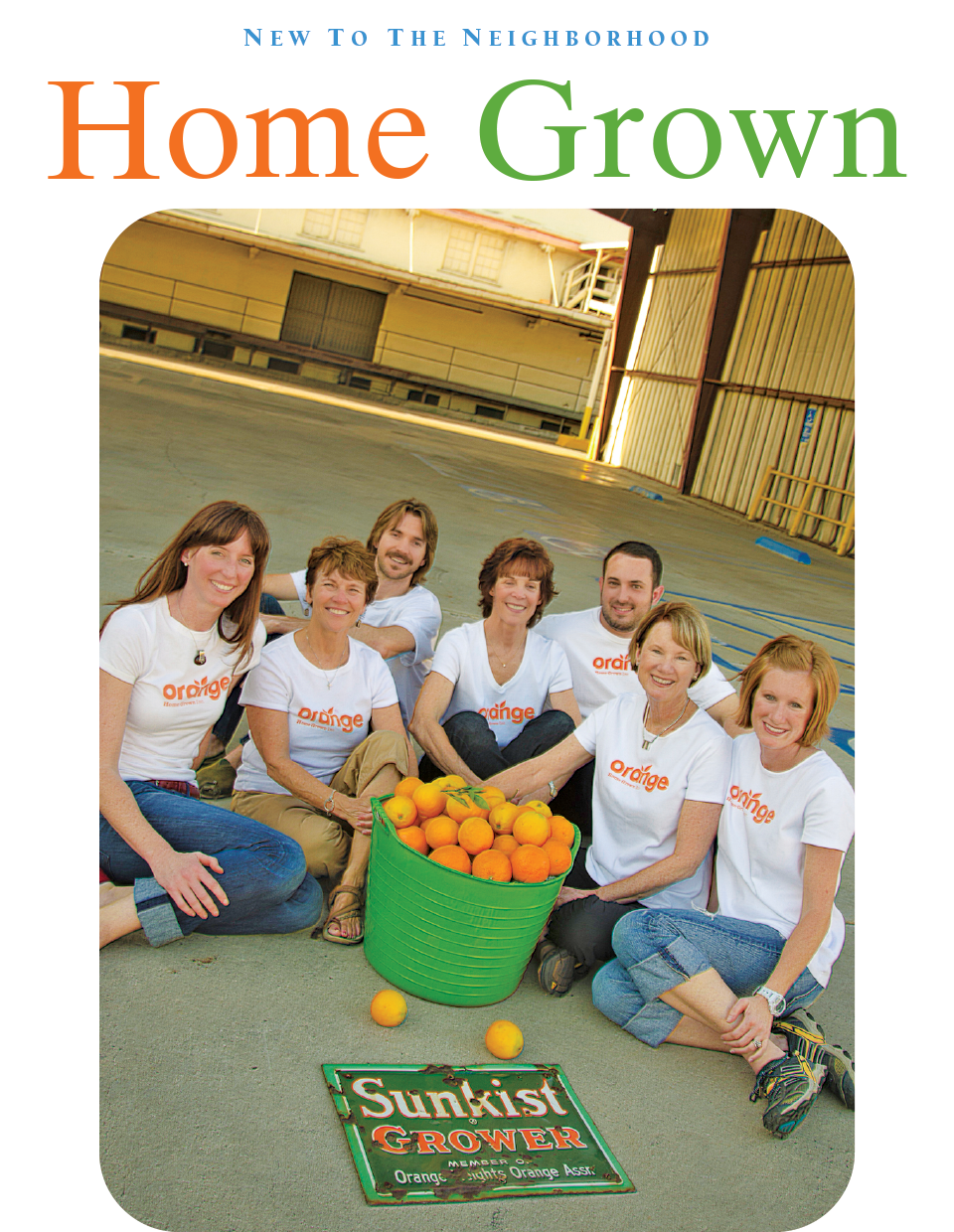 A team of community members helped bring the new Saturday morning farmers' market to fruition. From left: Betsy Elliot, treasurer; Vicky Kisow, director; Brandon Kunkle, market manager; Nedra Kunisch, director; Brian Kunisch, secretary; Martha Turner, director; and Megan Penn, president.
- - - -
Old Towne Orange Farmers and Artisans Market
A long-anticipated farmers' market has finally come to fruition in Old Towne, thanks to the efforts of a dedicated group of local residents.
Launched on May 7, the new Old Towne Orange Farmers and Artisans Market takes place every Saturday from 8 a.m to 12 noon at Chapman University's historic Villa Park Orchards Packinghouse lot on the corner of Cypress and Palm avenues.
Offering plenty of easy in-and-out parking, the new market provides such locally grown items as produce, honey, baked goods, flowers and herbs, to name a few.
Board president of Orange Home Grown Inc., Megan Penn helped found the non-profit organization, which took about two years to fulfill its mission of bringing a Saturday farmers' market to Old Towne.
"The majority of our board is originally from Orange and love this city," said Megan, whose background is in city and regional planning. "It's the first time any of us have done anything like this, but we all bring some sort of professional expertise to the project. The community has really come together to make this happen."
Megan said the hard part was finding a location for the market. She said there was much to consider, including traffic flow, parking and impact to neighborhood retail. Then Chapman University stepped up by offering its property across from the film school. By coincidence, the lot also happens to be the site of the historic citrus packing-house lot dating from the early 1900s.
"We had no idea if we could make this project financially viable, but we just wanted it to cover itself," admitted Megan, who said that the community has really embraced the concept, including local chefs like Gabbi Patrick, owner of Gabbi's Mexican Kitchen in Old Towne.
"It's going to be a wonderful way to attract more business to Old Towne, and in turn, support our local businesses. I am also excited for the local chefs' participation and the eventual win-win relationships we can build with our local farmers."
Diego Velasco, of Memphis Café, agrees. "Farmers' markets are a great source of inspiration in the professional kitchen, as well as an exciting environment in which our county's chefs, farmers, artisans and customers can share and thrive."
Orange Home Grown Farmers and Artisans Market
304 North Cypress St, Old Towne Orange CA 92866