Memphis Cafe - Jan/Feb 13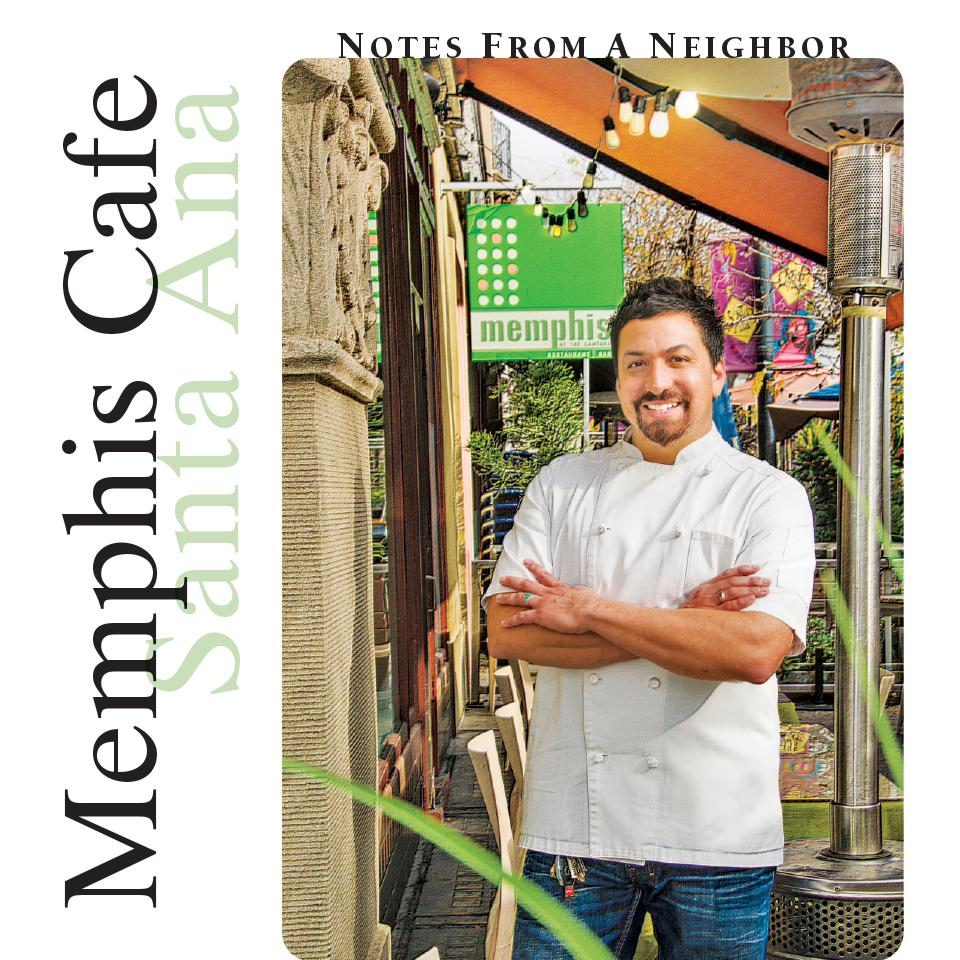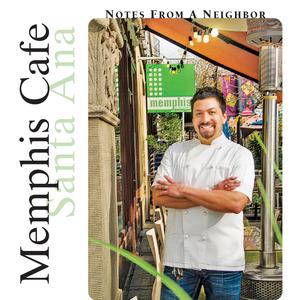 Memphis Cafe
When the Santa Ana's Artists Village was still a twinkle in this writer's eye, there was Trattoria Ciao—a stylish Italian cafe with white tablecloths, bare wood floors and a cream-green motorbike hanging along one whitewashed wall. Fresh-cut flowers adorned each table, and an eccentric Argentine-Italian, Patricio Dillon, managed tables by running in star patterns. Food was mildly exotic and always tasty. Nowhere in downtown Santa Ana was as interesting. Most new restaurants in the area were "Formica modern" temporary-contemporary disposable eateries, reliant upon a fast-moving Civic Center lunch crowd.
Meanwhile, the Santa Ana Council of Arts and Culture (SACAC) formed plans to recreate part of Downtown Santa Ana into an interactive arts center and a hood ornament for Santa Ana's ambitious city-wide arts movement. SACAC proposed a ten-block arts district called the Artists Village, including a new home for the Orange County Center for Contemporary Art (OCCCA) and a satellite campus for California State University Fullerton's prestigious graduate arts program. All of this was intended to add stability and quality to a dedicated vision of providing artists with live/work studio spaces. SoHo, New York City was the inspiration and Portland's Pearl District, the model.
Despite resistance from some City administrators, media and various individuals, the Artists Village was born. In an area where the quality-of-life had fallen below acceptable levels compared to much of Orange County, the arts provided possibilities for renewal and revival. But the question soon arose, if the arts provided an invitation to visit, where were the amenities? One cannot invite people for a visit and not provide food!
Meanwhile, in Costa Mesa in an area called the Lab Anti Mall, a hot-spot eatery had risen in a recycled mid-century bar called Memphis. It seemed at the time that every foodie on the freeway was heading their way! The restaurant had a magnetic draw. One visit by members of SACAC, who experienced the restaurant's Southern-cooked flavor combinations, fashion-friendly atmosphere and packed tables, and that was enough convincing to launch offers that Memphis consider a second location in Santa Ana's new arts district.
When SACAC made its pitch, Memphis owners Dan Bradley and Diego Velasco had already been thinking about opening a second location. As Velasco shared, "We wanted our next effort to include architectural presence in an up-trending cultural area with social texture and community atmosphere. The Artists Village was perfect!"
So Bradley, an arts history major, and Velasco, a graduate of the California Culinary Academy in San Francisco, moved forward.
Memphis at the Santora immediately put a thrill in the air and set a style standard for the new arts district. Suddenly, downtown Santa Ana had expectations one might find anywhere but in Santa Ana!
"People saw our plans and then the restaurant and they'd say things like, 'This looks like LA. What's it doing in Orange County?" says Velasco. "When we first saw the Santora Building, we felt a sense of pure excitement. To be on a prime corner of a historic building with sweeping windows looking onto a street like Broadway one way and a vintage pedestrian promenade the other, gave the sense of a big city. The area had an urban feel that reminded me of spots where I'd worked in San Francisco and Santa Monica. I couldn't ignore the potential. I knew one day that potential would be realized, and that has occurred."
Soon after opening, Memphis received and continues to garner favorable press up and down the coast. While Velasco and Bradley have noticed the attention, what they may not have realized is the role they played as an essential stimulus for founding an important culinary destination. Testaments to this fact are the new restaurants that followed Memphis and keep coming!
The cities of Pasadena and Santa Monica both embraced the arts and restaurants to revive and recreate decomposing downtowns. Both cities worked to capture traffic streams initiated by the arts, which led to other considerations, including residential and retail advancements. The combination of art and restaurants also set the table for professional arts interests, such as advertising agencies, architects, photographers and graphic designers. This "formula" is how many older areas have recycled and grown. Art and food make a remarkable recipe for new social interest and economic benefit. Visit Memphis and the Santa Artists Village and see for yourself!
Memphis Cafe
2920 Bristol St, Costa Mesa CA 92626 / 714-432-7685