SHAG - Mar / Apr 12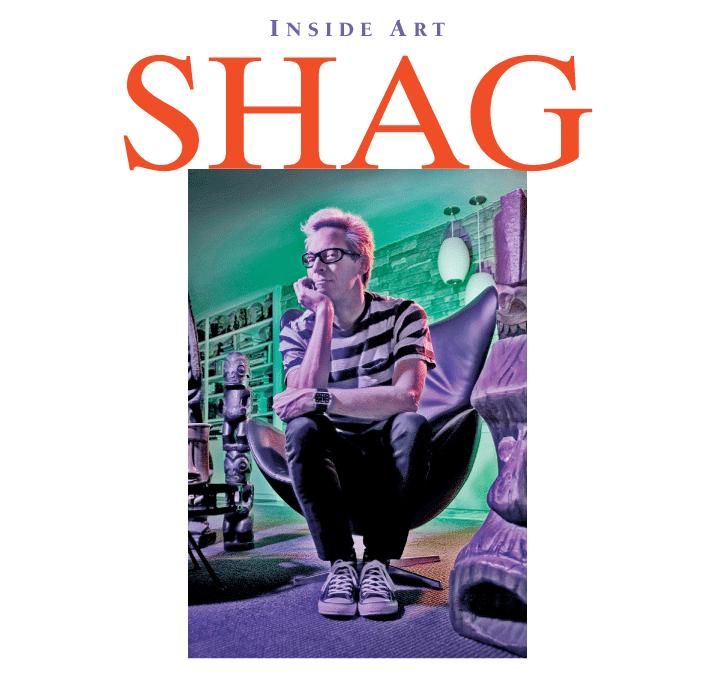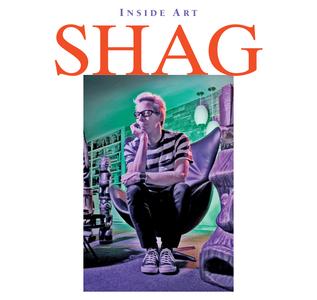 When you think of acclaimed American artists, you might picture them creating in major metropolitan areas like New York and Los Angeles. It's exciting to note that some well-known creators enjoy calling Orange County home. One such artist is Shag, whose real name is Josh Agle. The prolific American painter, illustrator and designer, who created his professional name by combining the last two letters of his first name and the first two letters of his last name, lives in Santa Ana.
"I like all that the local area has to offer, including the hot rod and Rock-a-Billy culture," says Shag of living here. "I really like the Orange Plaza and Santa Ana Artists Village for the art and restaurants."
Shag is known for his mid-Century cocktail and Tiki-themed commercial images often associated with American idealism of the 1950's. His patio, lanais and living room scenes are populated by stylized individuals in settings of luxurious calm and atmospheres of tropical ease. In Shag's world of images, people glide by as line-drawn figures in cocktail attire, passing through lounges as if transfixed by dreams of cultural utopia. The music of Esquivel or Pink Martini is the soundtrack of life, playing from a 33 rpm vinyl on a Heywood-Wakefield stereo console. In his work, neon-esque colors, including lime-green and citrus-tangerine, accent a life of euphoric casual bliss.
A native Californian, Shag grew up in Sierra Madre and attended California State University, Long Beach as an art major while playing guitar in bands such as the Swamp Zombies and the Tiki Tones at night and surfing by day. He began his career in commercial illustration, working for independent record labels in the late 1980s, but changed course when his paintings garnered attention from galleries and collectors. Since his first solo gallery show in 1997, he's held successful exhibitions in a wide variety of cities and countries, including the U.S., Europe, Japan and Australia.
By 1999, in order to satisfy skyrocketing demand for his work, Shag began making multiple prints of his paintings. His gallery director, Douglas Nason, suggested creating serigraphs for his next body of work to better capture the bright colors, flat shapes and contour lines.
In 2000, Shag produced serigraphs for La Luz de Jesus Gallery in Los Angeles, Outre Gallery in Australia, Paul Frank Industries in Costa Mesa and for his brother Pieter Agle at Switched On Gallery in Costa Mesa. Then in 2003, he collaborated with fine art master printer Jeff Wasserman, whose work includes production of serigraphs for artists such as Jasper Johns, Ellsworth Kelly, Roy Lichtenstein, Ed Ruscha and Andy Warhol. That same year Disneyland commissioned Shag to help commemorate the Enchanted Tiki Room's 40th Anniversary. In response to the popularity of the work he created for that project, Disneyland asked him to create images honoring their 50th Anniversary. These were used for limited-edition prints and led to one of his most ambitious projects ever-25 color serigraphs.
Last summer, with the assistance of art consultant Annie Adjachavanich, 224 of Shag's prints were exhibited at California State University Fullerton's Santa Ana-based Grand Central Art Center. The exhibit showcased the Disneyland commissions, his Zodiac series and images based on the theater production "Shag With a Twist."
When he isn't creating, Shag surfs twice a week, enjoys watching his son's Little League games (he also has a daughter) and likes traveling to other areas where his work is in demand, such as New York City, Europe and Australia.
The Old Towne Orange Plaza Review thanks Mike McGee and the CSUF Grand Central Art Center for assistance on this article.