Lisa Mertins - Jan / Feb 13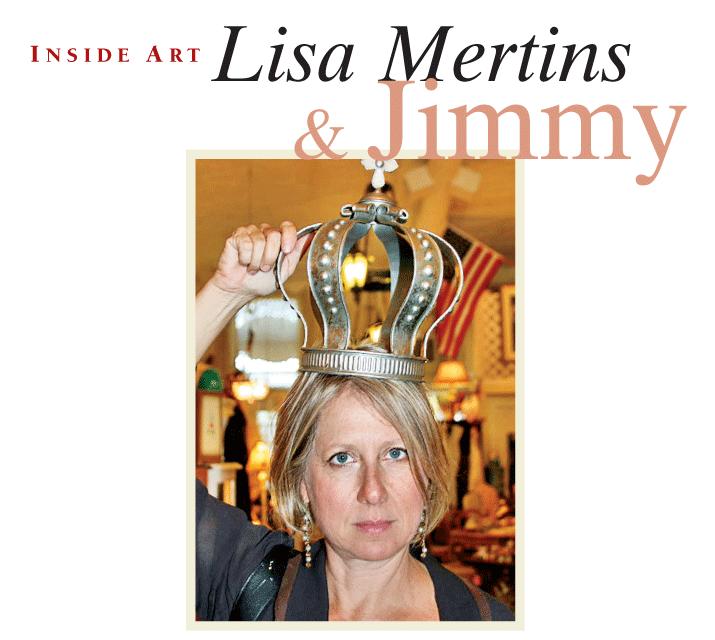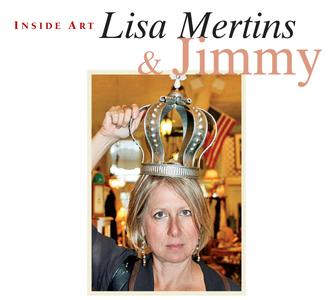 At first glance, art seems solely visual, but accomplished artists like Lisa Mertins know intrinsically that art goes much deeper than what you actually see. While effective art attracts the eyes, it is the thoughts and feelings art evokes that makes it memorable.
An accomplished illustrator and multi-media fine artist, Mertins produces work that tugs at the heart. Whether it is an illustration of a mom kicking up her heels and enjoying her child for an article about parenting, a fine art ceramic piece featuring a seemingly carefree bee pollinating flowers or a children's book illustration of a shy little boy, the viewer can't help but react.
"My strength lies in conveying emotions or feelings thanks to my experience with conceptual illustrations," says Mertins of her nearly 30 years at The Orange County Register illustrating hundreds of newspaper articles. Her work on the recently released children's book, Jimmy Finds his Voice, proves this statement to be true. Written by Chapman University's president James Doti and based on his childhood experiences, the book chronicles the story of Jimmy, a first grader with a speech impediment, who is petrified when his teacher asks him to be in a class play.
"Lisa is an especially sensitive person," says Doti. "She made sure that the illustrations closely mirrored my memories and reflections, and they help tell the story, which is important for a picture book. Young readers are astute and notice details, such as Jimmy's red cheeks when the other children are laughing at him and the teacher wagging her finger at him in the illustration pictured in this issue."
Book Signing and Release Party on Thursday, March 14, 2013 at 6 - 9 pm at Chemers Gallery, 17300 17th St, Suite G, Tustin CA 92780
Kirkus Reviews agreed with Doti's assessment of her work when they said, "The illustrations by Mertins are wholly appealing. Their soft, watercolor tones capture both Jimmy's fears and his eventual triumph."
The artist has illustrated six children's books, including her first, Gingko and Moon, which she wrote and illustrated back in 1996. She was inspired to create the book when she drove past gingko trees everyday on her way to work and saw the leaves turn bright yellow in fall.
Mertins, who liked art as a child, grew up in Santa Ana. She got a job out of high school at a bank, but soon found the work didn't suit her. In 1979, she answered a fateful ad seeking an artist "with no experience necessary" at The Orange County Register. The position was in the circulation department and involved her creating fliers for paper carrier incentives. In 1985, she transferred to the art department of the newsroom, where she stayed until 2009, except for a brief period when she moved out of state.
"I was very fortunate to have the job at The Register," says Mertins. "There was never a dull moment, and I loved going to work." She particularly enjoyed the variability of the job. "It's hard for me to keep interest in something for a long time, so I liked having a new assignment every week," she says. She also enjoyed the opportunity to try a wide variety of art mediums, which is something that has benefited her current career as a fine artist.
"Especially in the early days, we had the latitude to use any kind of medium that we wanted, so I did everything from painting to paper mache," she says. "For one assignment, I even carved into limestone." Towards the end of her career at the paper, she completed many computer generated illustrations.
Today Mertins, who is married and has two grown children and a teenager, lives in Cherry Valley. She spends her time doing freelance commercial assignments and creating fine art. With the fine art, she's had a chance to dig deeper.
"Many people have described my work as whimsical, but I'm trying to break away from that," says Mertins, who does painting ceramics and printmaking. "I want to express the difficult and trying experiences that people endure, and I hope to reveal my authentic self through my work. I don't yet know exactly what I want to say. I suspect that will be the rest of my life pursuit."
- See Lisa's work on her website at LisaMertins.com
- Find Jimmy Finds His Voice at book resellers, such as Amazon.com
---
Published in the
Jan / Feb 13
edition of the Old Towne Orange Plaza Review Article Written by Julie Bawden-Davis, photos provided by Lisa Mertins
View More Articles