Henrietta Berk - Sep / Oct 21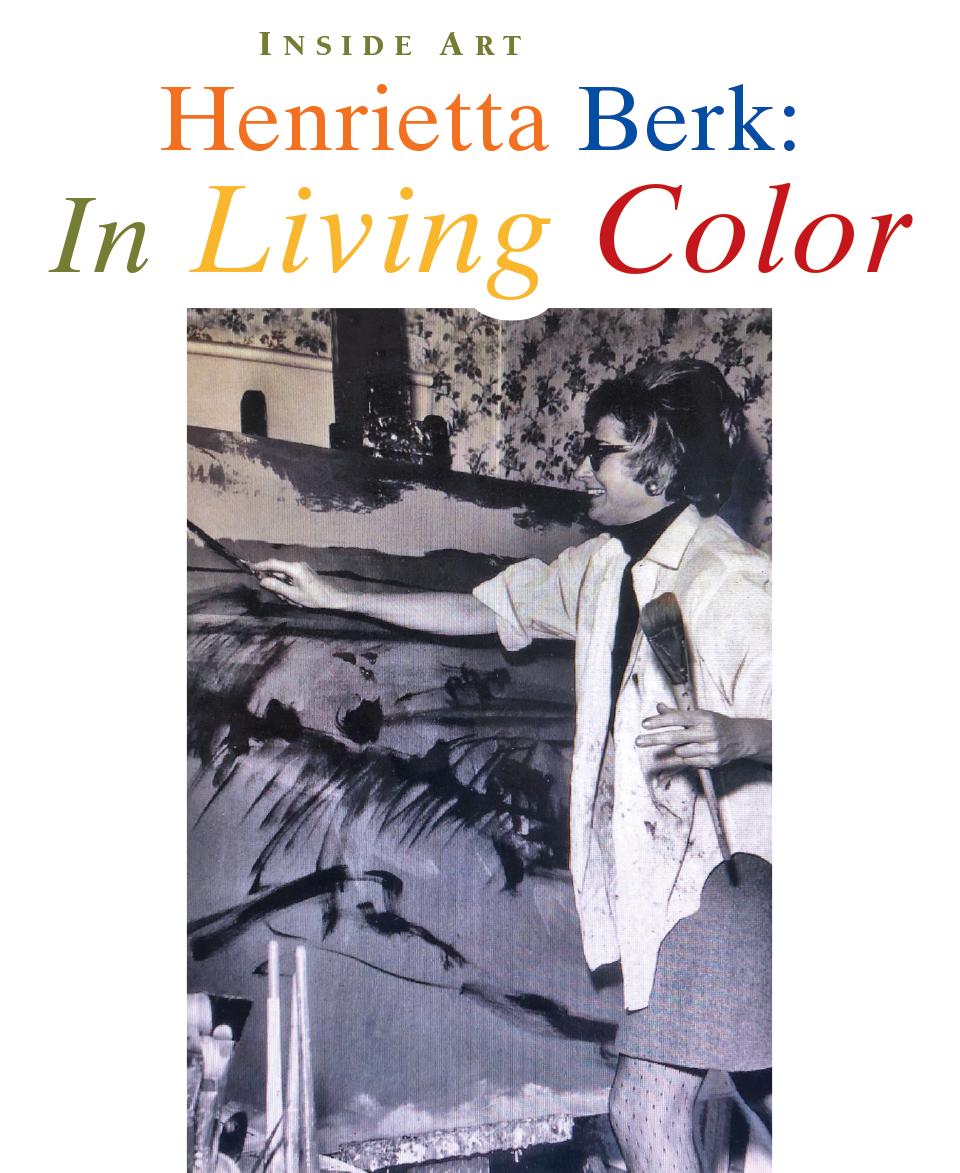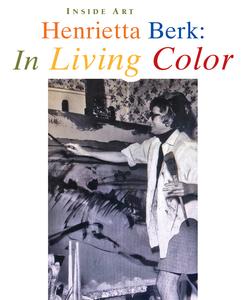 Henrietta Berk in her studio, 1969.
She was a typical 1950s housewife—until she wasn't.
California artist Henrietta Berk (1919-1990) had one of the most unique and dynamic career trajectories of any midcentury painter—and then faded from the spotlight. Now the Hilbert Museum of California Art at Chapman University brings Berk's life story and her art back to light with a collection of her works on view from August 28, 2021 through January 15, 2022. "Henrietta Berk: In Living Color," curated by Gordon McClelland, will introduce museum patrons to this gifted (and unjustly overlooked, until now) California artist whose paintings dazzle with bold, brilliant color and brash, vigorous application of paint.
Berk had no formal professional art training at the outset. In a typical 1950s-era "traditional marriage" with two children and a husband who were ambivalent about her art leanings, she merely dabbled in painting at first. Then, increasingly entranced by the medium, she began taking evening painting classes at California College of the Arts (CCAC) in Oakland, where she was twice the age of many of her classmates.
At the time, she had no inkling of becoming a full-time professional artist. In fact, up until then she had merely been making a little extra money indulging her hobby by creating decorative wall murals for local interior designers.
As she took part-time classes at CCAC while also raising her kids, Berk became bemused by the rampant "boys' club" mentality of the professional art scene. She soon decided to sign her paintings "H. Berk," using her first initial only—as had many women artists before her, obfuscating their gender to forestall any prejudice from potential buyers.
At the school, she studied under Bay Area icon Richard Diebenkorn and Henry Krell, among others. But her art, there and later, developed an individualism that was entirely her own. She also had a unique front-row seat to the artistic maelstrom of this "second generation" of Bay Area Figurative artists.
Berk's rise to prominence in this hothouse of talents, as she incorporated representational art into an Abstract Expressionist style, was sudden. She began winning numerous art prizes and had a solo show while still a student, which led to many more exhibitions, awards and a cascade of critical acclaim.
"She uses a heavily laden, wide brush," wrote art critic John C. Oglesby of the Sacramento Bee in 1962. "The effect is like abstract expressionism." Alexander Fried of the San Francisco Examiner agreed that Berk "reflects the vigorous influence of splashy abstract expressionism. But her rugged thrusts of pigment and bold form clearly belong to the 'New Image' of landscape, figure and still life…Her outdoor scenes and her paintings of still life have an impressive temperamental and sometimes romantic impulse."
Miriam Dungan Cross of the Oakland Tribune, a critic who regularly championed Berk, wrote in 1962: "Energy released in interacting color and paint action expresses her concept of the inner dynamics of all things. This enormous vitality, skillfully contained within the composition, results not only from exuberant contemporary execution, with its lush pigments and happy accidents, but from her vision, which suggests Kokoschka or Van Gogh. Mrs. Berk is evolving a personal expression."
Berk's painting "Picnic," featured on the inside front cover of this issue, dates from the early 1960s. Delineated by thick brushstrokes, the painting features a young couple, seemingly in a contemplative mood, seated in a sunny, colorful landscape. Some have speculated that this painting may depict a youthful Jackie and John F. Kennedy enjoying a picnic. Certainly, the timeframe is right, although no documentary evidence has been found to prove that was Berk's intention.
At the height of her fame in the 1960s, Berk's paintings were avidly collected by celebrities and others. Movie stars Julie Andrews and Edward G. Robinson were among those who purchased her paintings. She was profiled in art journals, in newspaper society pages and in popular women's magazines. One of her paintings appeared in the hit 1967 movie "Guess Who's Coming to Dinner."
However, Berk contracted diabetes and her eyesight failed, causing her career to wane and her work to plunge into unjustified obscurity. Her last major exhibition was at the Hoover Gallery in San Francisco in 1981. Nine years later in 1990, she died peacefully in her sleep.
Now the Hilbert Museum re-introduces Berk's life story and her passionate, color-drenched paintings to a new generation, with this exhibition of works from the Hilbert Collection and on loan from other museums and private collectors.
Hilbert Museum of California Art
167 North Atchison St, Old Towne Orange CA 92866 / 714-516-5880
- - - -
Other Exhibitions on View at the Hilbert Museum include:
Aug. 28 - Jan. 15: "Our Golden State: California Landscapes from The Hilbert Collection," curated by Jean Stern
July 10 - Nov. 13: "The Disney Superstars: Mickey, Donald and Friends – Original Art from the Disney Studios"
July 10 - Nov. 13: "Dressed to Thrill: Fashion in American Illustration from The Hilbert Collection"
Aug. 28 - Nov. 13: "Joan Gladstone: Paintings of Laguna Beach"