Lost & Found Vintage - ar/Apr 12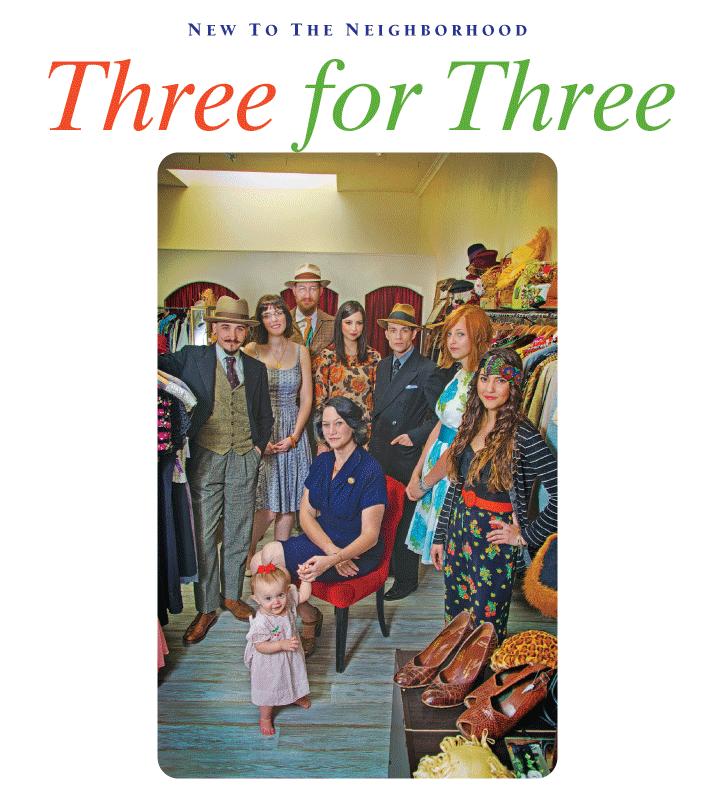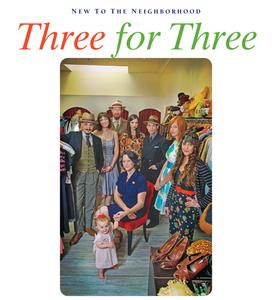 Owner Kristine Houston (seated with niece Charlotte), attracts a loyal following to her three vintage stores, including
Lost & Found
and
Elsewhere Rare & Antique
. From left: Scott Van Sickel, Carling Kaiser, Robert Houston (Kristine's husband), Kalli Noel, Peter Hamilton, Gwyn Houston (daughter) and Anthoula Medenes.
Not many retailers can say they own three shops on the same block in Old Towne, but that's exactly the case with Kristine Houston, proprietor of Joyride, Elsewhere Rare & Antique and Lost & Found on West Chapman.
Specializing in rare apparel, accessories and collectibles dating from the 1920s to the 1960s, Kristine has recently taken over the former Chuck Jones Art Gallery space to unveil her newly re-branded Elsewhere Rare & Antique Dress Shop. At the same time, she has transformed her former Elsewhere Vintage space into Lost & Found Vintage, a destination catering to costume seekers and those looking for vintage clothing from the '70s, '80s and '90s.
The diverse and affordable inventory at Lost & Found appeals to college and high-school students, Kristine says.
"With Lost & Found, we have the opportunity to sell items that are a little more funky than what we carry at Elsewhere," she said. "What we've learned over the last few years is that we have two different kinds of customers. Elsewhere is known as a fashionista destination for people who are ahead of the fashion curve or those who wear specialized vintage head to toe as part of their lifestyle or who just have their own very distinct sense of style.
Elsewhere has quickly become very well known as a must-shop destination to an impressive list of Hollywood and New York fashion stylists, major design house inspiration buyers, and even movie and rock stars. Lost & Found is for men and women looking for a fun t-shirt from the '70s to wear with jeans or something unique for an '80s, Boardwalk Empire or Mad Man–themed party."
Kristine arrived in Old Towne almost seven years ago, leasing space in the Orange Circle Antique Mall. In 2008, she opened Elsewhere Vintage, followed in 2010 by another store, Joyride, which specializes in men's styles from the 1920s to the 1970s as well as antique oddities & collectibles with a manly theme.
Knowing that she wanted to expand even further, Kristine jumped at the chance to occupy the Chuck Jones gallery space in 2012.
"I'm very thankful that we can have all three stores in one place," Kristine said. "There are not a lot of towns where we are afforded two different customer bases: college kids and antiques enthusiasts."
Lost & Found Vintage
109 West Chapman Avenue
,
Orange
,
CA
92866
/
714-771-2116
---
Published in the
ar/Apr 12
edition of the Old Towne Orange Plaza Review Article Written by Karen Anderson, photos provided by Jeanie Hill
View More Articles