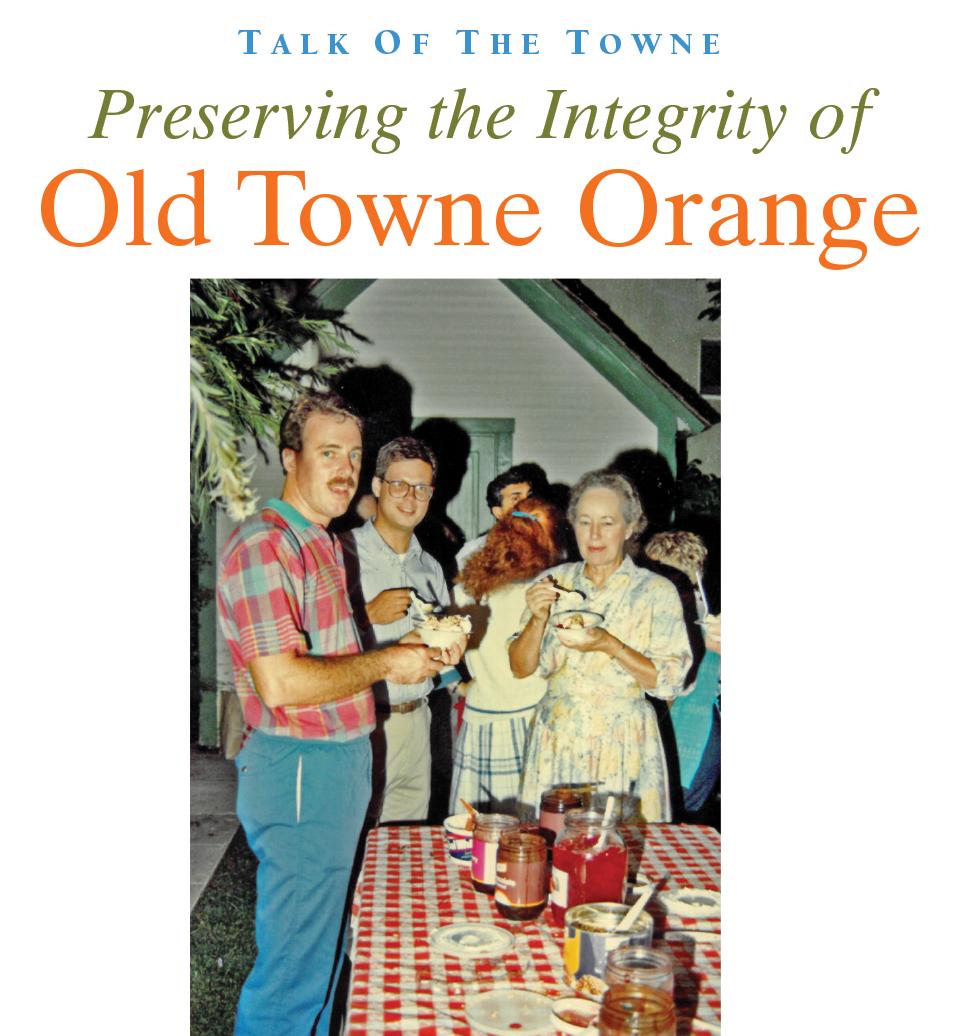 Early members of the influential Old Towne Preservation Association, including (from left) Dale Rahn, Dan Slater, Russ and Patty Barrios and Joanne Coontz, enjoy a 1987 Ice Cream Social at the Ainsworth House.
- - - -
Old Towne Preservation Association
For the past 35 years, those who find solace in protecting Old Towne's history have worked tirelessly to uphold the area's foundation through the Old Towne Preservation Association (OTPA). The community's one-of-a-kind restorations and renovations have forever put Orange on the map as a notable place in our country, and the OTPA and its members are at the center of it all.
Although the OTPA is now an essential partner of the City of Orange, the organization began as a way to stop the city from tearing down a historic house to expand the library's parking lot. When residents banded together to keep the monument standing, the OTPA was born.
"The neighbors and I felt that our homes were in jeopardy. We wanted to keep Orange the historic gem that it is," says OTPA Vice President Tita Smith, one of the organization's founding members. "We now have tremendous support from the city to protect Old Towne and keep it vibrant."
Now, 35 years later, the OTPA has upheld its mission of preserving, protecting and enhancing California's largest historic district —Old Towne Orange. With an area of more than 1,400 homes built before the 1940s, the association's members have their hands full and are dedicated to conserving Old Towne's integrity.
For Smith, whose family has lived in Orange since the 1920s, commitment to Old Towne became a foundation for her life and career. She went on to serve on the Orange City Council and later became Mayor. Before that, Smith followed in her mother's footsteps by working in an orange packinghouse in Old Towne during high school, and her grandfather owned orange groves.
"Although the orange groves are gone, the spirit of hospitality and growth is still here in Orange," she says. "I wanted to be part of that tradition."
Over the past three decades, the OTPA has continued to enhance the hospitality and friendliness that the city has become known for. The members' most distinctive contribution has been gaining Old Towne recognition on the National Register of Historic Places.
"It's been such an honor to receive that recognition," says Smith. "When it brings prestige to our neighborhood like that, we have a duty to keep enhancing the area and maintaining it as an asset to the community, as well as our nation."
For Smith, a self-proclaimed extrovert, the best part of maintaining the OTPA has been having companions in her mission. "It's thrilling that people here have the mindset of preserving Orange," she says. "It's an incredible community to live in, with shared values."
Sandy Quinn, who retired as OTPA President in January after serving five terms, finds that throughout the organization's 35 years, it's now dedicated to enhancing the living experience for the entire community, not just preserving historic homes and structures.
"We're looking at how OTPA can be more instrumental in the overall improvement of Old Towne," he says. "There's a distinction in attitude and strategy, and we've provided residents who have a common cause a sense of structure to protect their neighborhood."
As the City of Orange expands economically and structurally, the OTPA has given neighbors a voice. For the past five years, they've hosted the State of Old Towne Forum, a conference that offers Orange residents an opportunity to hear from city and Chapman University officials about the most pressing issues facing Old Towne. Looking forward, OTPA members hope to continue their integration with the City. From attending design and city council meetings to providing advice on major public and private development projects, the OTPA is committed to helping Orange expand in a historic, honorable fashion.
Smith also emphasized that the association is open for anyone to join, no matter where you live. They include new and current neighbors, whether by crafting welcome baskets for incoming residents or by encouraging everyone to participate in local events. Smith adds that the organization is for everybody who shares a goal of historical preservation within Orange.
"I'm amazed by how much time, energy and spirit people have invested into preserving Old Towne," she says. "It feels very patriotic, and there's a sense of pride and protectiveness for Old Towne residents, past and present."
OTPA is planning an Old Fashion Family Ice Cream Social in September to celebrate its 35th Anniversary and thank its more than 400 Old Towne members.
To learn more about the Old Towne Preservation Association, including how to join, visit www.otpa.org. The organization is open to everyone, particularly residents and businesses in Old Towne. The group holds member meetings and hosts activities throughout the year.
For more information about the Orange Preservation Internship Program, contact Marissa Moshier at [email protected] or 714-744-7243.