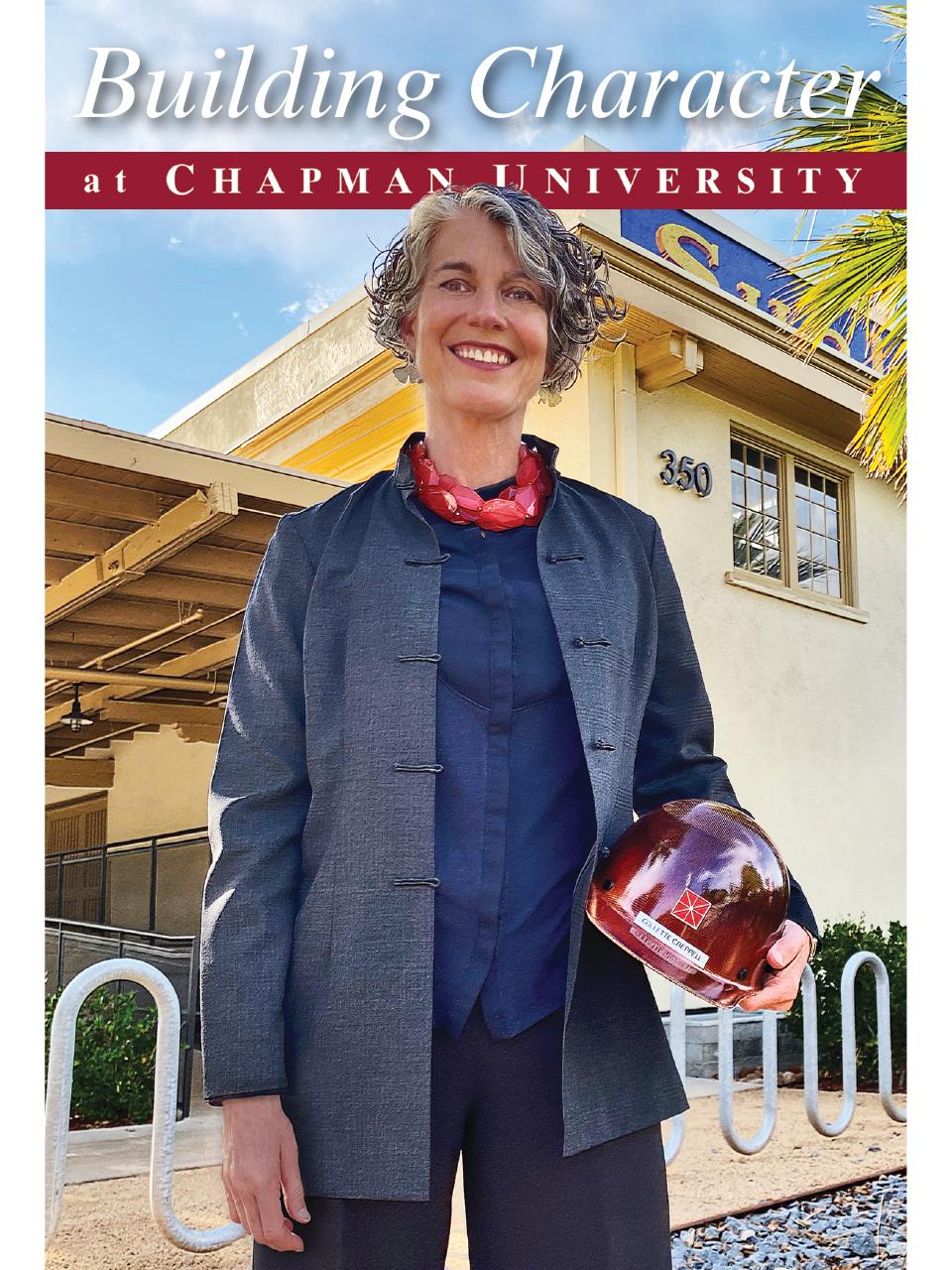 Collette Creppell
As often happens with successful professionals, a thread tends to run through their lives tying all the pieces together. In Collette Creppell's case, that thread is creating a sense of place within communities. Chapman University's Vice President of Campus Planning and Design has accomplished that objective during a career spanning more than three decades as an architect and urban planner.
Foundations
For Creppell, her affinity to the importance of connectivity of public spaces started at a young age. She was born in Northern California the daughter of an Air Force fighter pilot. The family was stationed in various areas of the U.S. and internationally. That experience of living in many locations—all with their unique sense of place—gave Creppell the foundations for the work she has done, including as University Architect at Brown University in Rhode Island and University Architect and Director of Campus Planning for Tulane University in New Orleans.
"My first years of school were spent in the Netherlands speaking Dutch and living in a tiny town," says Creppell, whose mother insisted on living off base so that the family could fully experience each location. "From there we moved to another little town in Northern Texas."
Her family settling down in her mother's hometown of New Orleans, Creppell did neighborhood planning for the Mayor's Office of Planning even during high school. "It was an early commitment to the idea of places," says Creppell. "I helped gather information, survey and write neighborhood profiles for the 72 neighborhoods of New Orleans." She would later serve as the Executive Director of the New Orleans City Planning Commission, as well as spend eight out of 10 years at Tulane University rebuilding and renewing after Katrina.
When it came time for college, architecture was the obvious choice. Creppell holds a Bachelor of Arts degree, cum laude, from Harvard College and a Master of Architecture degree with distinction from the Harvard University Graduate School of Design.
Storied Career
Creppell has traveled extensively and lived in locations internationally and nationally, including training in the architecture firm of Pritzker Prize winner Rafael Moneo in Spain.
"The peripatetic life I've had has given me a rich storehouse of references on campuses, neighborhoods and cities," says Creppell, also a city planner in New York City for a time. "My professional life is an interwoven set of passions for planning and architecture for public spaces. I am grateful to have a rich quilt of places from which to draw."
For Creppell, the experience of rebuilding at Tulane was satisfying. "It wasn't a matter of replicating what was once there, but more about revisioning, rebuilding and awakening to opportunity. When you're confronted by a crisis and shaken out of what you've been doing, you come to know there is no going back. So, you focus on building something stronger and better for the future based on lessons learned."
One project at Tulane University that Creppell is especially proud of is McAlister Place. Now a pedestrian walk and the "central spine" of the university, prior to Katrina it was a roadway. "That location was essentially the living room of the campus, so we decided to make it a broad campus pedestrian walk and close it to traffic," she says. "Though the project was among the most modest in expenditure, it was one of the most transformational for the campus. Even former skeptics became fans."
Coming to Chapman
When she had the opportunity to join Chapman as the Vice President of Campus Planning and Design, the move seemed a natural one for Creppell.
"What engaging spaces, embraced by appealing architecture. At Chapman, you get this wonderful sense of the interlacing of the campus with the historic neighborhood. The second I saw the university and surrounding community on Google Earth, I was intrigued and wanted to come here. Chapman has embraced its setting within Old Towne Orange. There's a lovely blurring of the lines between the campus and community."
The University's leadership also weighed heavily into Creppell's decision to come to Chapman. "My first conversation with President Daniele Struppa was delightful," she says. "We spoke about my train station arrival and the dynamic connections of Chapman and the campus to Old Towne and the larger context. And Executive Vice President and Chief Operating Officer Harold Hewitt has been so thoughtful and engaged about the future of Chapman in the community."
Creppell also enjoys Old Towne and the University because she's interested in the idea of how things appear to the eye at different speeds. "For the first four months I lived here, I didn't own a car," says Creppell, who is married to federal circuit judge Stephen Higginson, and lives just outside of Old Towne. "I wanted to see things up close at a slower speed, so I biked and walked (and still do). The scale at which you see things when you bike or walk gives you a different perspective of spaces and details. The walkability of Old Towne Orange is a delight."
Chapman Projects
Since joining Chapman in December 2019, Creppell has greatly enjoyed working on the university's many building projects. This includes projects underway such as the build-out of the north wing of the Keck Center for the Fowler School of Engineering and master planning for the Rinker Health Science Campus in Irvine. "The Rinker campus is a challenge, because it came to Chapman as a set of commercial buildings, each with its own surrounding parking lot," she says. "We're working to create connectivity on the campus through pathways and landscaped campus spaces and to develop its own identity while bringing certain design elements from the Orange campus."
Two other Old Towne projects she's excited about are the Hilbert Museum of California Art's renovations, with the expansion of its existing footprint, as well as a new state-of-the-art, 32,000-square-foot space for the University's highly ranked Dance Department. The museum will expand into the nearby dance center, and the dance center will move to the Villa Park Orchards Packing House as the Sandi Simon Center for Dance.
"This is our opportunity to celebrate and share the packing house's history and architecture," says Creppell. "The interior features a sawtooth roof and northern facing, clerestory light. It's a soaring, beautiful space. A dynamic design for its renovation will celebrate the space, the light and the movement inherent to dance."
Giulio Ongaro is Dean of Chapman's College of Performing Arts. He comments on the high caliber of Creppell's work. "I love what is being done on the new dance facility," he says. "Collette has put together an awesome team at every level."
The museum will include a public courtyard space for the community to enjoy. The museum and its courtyard will serve as a gateway to the campus from the train station.
With the museum, dance center and film and digital arts school all located on historic Cypress Street in Old Towne, Creppell notes how this has created an arts corridor. "Our aim in designing these projects is to reinforce their relation to the urban context, fabric and history of this distinctive area of Orange."
Sheryl Bourgeois is Executive Vice President and Chief Advancement Officer of University Advancement at Chapman. "Collette is bringing a much more expansive perspective to her role than it had previously," says Bourgeois. "She is more concerned about the concept of community and the connections between spaces and creating a clear journey through the campus, rather than simply constructing or renovating buildings. I think this will result in a much more cohesive and welcoming place that will benefit Chapman and the entire community."
Janeen Hill, professor of Health Sciences and Founding Dean of Crean College of Health and Behavioral Sciences, agrees. "Chapman University has never had such a highly qualified architect able to bring to campus planning these multiple perspectives."
Creppell feels that she's in the exact right place. "Chapman has a long history of growing with integrity and a strong academic trajectory," she says. "Being in a real place with history and having an optimistic future is a great place to be."