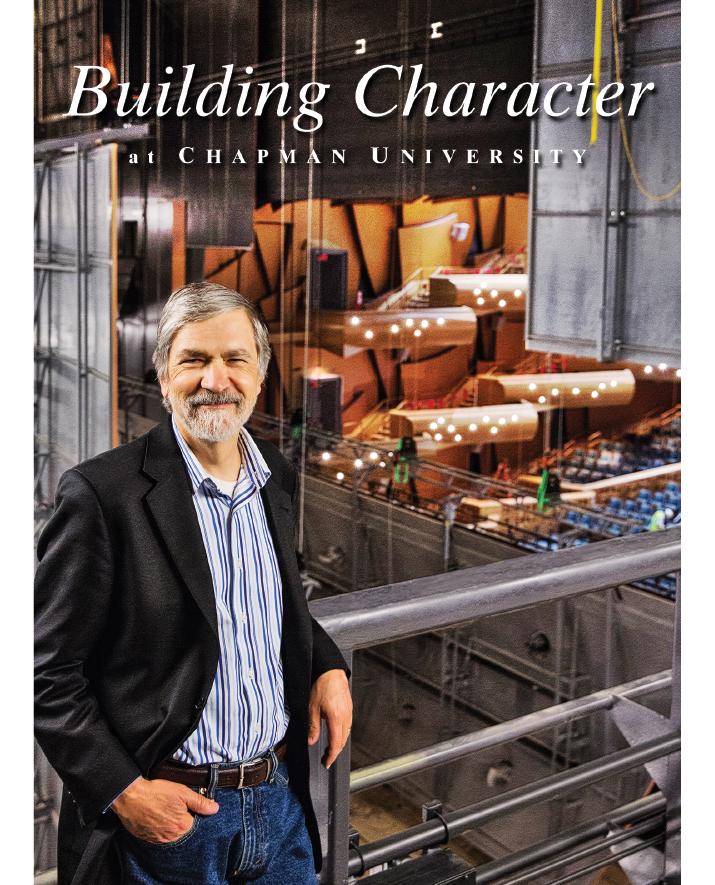 Dr. Giulio Ongaro
For Giulio Ongaro, his current position as Dean of Chapman University's College of Performing Arts and the Hall-Musco Conservatory of Music essentially brings the musicologist full circle. Born and raised in the culturally rich city of Venice, Italy, Ongaro enjoyed a childhood steeped in music and the arts.
Much like Old Towne Orange, Venice is a unique place designed for human interaction, says Ongaro, who walked everywhere as a child, including to concerts and the opera. "My mother was a sculptor and a music lover and began taking me to musical performances as a young child. In Venice, which is an international city, they've always had much going on in terms of music—including a beautiful opera house (the famed La Fenice). Mom was passionate about the arts in general, so our house was often full of artists, musicians, actors and writers. That gave me invaluable exposure to different art forms and viewpoints."
Today, Ongaro, who also lives in Orange, enjoys his position overseeing Chapman's College of Performing Arts, which he took over last August. "I can spend half a day analyzing spread sheets, and then I have the pleasure of seeing a wonderful recital or watching a dance performance or a play," he says. "I've been so impressed by the quality of student work that I've seen here."
Musco Center for the Arts
Ongaro especially looks forward to the imminent opening of the Musco Marybelle and Sebastian P. Musco Center for the Arts. "Being at Chapman for the Musco Center opening is a once-in-a-lifetime opportunity," says Ongaro. "Most people spend their entire careers doing what I'm doing and never have such an opportunity. I came in after the planning, design and much of the building of the center, but it's an exciting honor to have the chance to help define how the Musco Center can help our students."
The fact that the center is an integral part of the university also pleases Ongaro. "It's a positive that the first priority of the center is to enhance the experience of the students, especially of the College of Performing Arts, so that they can perform and learn theater technology in a state-of-the-art facility. It's also a benefit that the Musco Center promises to be an important part of the community."
Though his mother suggested Ongaro go into music when he was young, he took a more circuitous route to the profession. "My first college major in Venice was economics, but after following the rational side of my brain, I returned to school to try music. I decided that if it didn't work out, I'd go back to something 'sensible.' I knew that I didn't want to look back 30 years later and wish that I'd given music a try."
Settling in the United States
After completing his required military service in Italy and playing the piano on cruise ships in the Mediterranean for a time, Ongaro came to the U.S. to study at the University of Iowa, where he got his Bachelor of Music. After that he attended the University of North Carolina at Chapel Hill, where he earned his Master of Arts and a Ph.D. in music.
"I like the way American universities are organized and how they focus on students," says Ongaro, who met his wife, Cheryl, at the University of Iowa. After that he served as Assistant Professor of Music History at the University of Delaware for three years. In 1991, he took a position at the University of Southern California (USC), where he stayed for 18 years, serving as Chair of the Department of Musicology and later as Associate Dean for Faculty Affairs at the Thornton School of Music. Following that position and prior to coming to Chapman, he served as Professor of Music and Dean of the Conservatory of Music at the University of the Pacific.
Susan Lopez, Associate Dean for Administration and Finance at USC Thornton School of Music, worked with Ongaro during his time at USC. "As an administrator, Giulio exhibited a spirit of collegiality and partnership with the faculty and was committed to building a climate of teamwork between the faculty and the administration," she says. "As a person, he has an active mind and wide ranging interests. He takes great joy in life, and though very serious about his work, he doesn't take himself too seriously."
Contributions to Musicology
While earning his Ph.D. in music, Ongaro completed his dissertation on the singing chapel of St. Mark's Basilica (Venice) in the sixteenth century.
"I'm a specialist in the music of the Renaissance up to the early 17th century. My research focuses on the social history of music," he says. "Rather than examining the life of particular composers, I view topics such as the ramifications of print music on the work of musicians at that time and what it was like to be a musician in 1515 Venice. For instance, I'll study what their world looked like in terms of finances and the various jobs they had outside of the church to help make ends meet."
Ongaro has published in a variety of scholarly journals in the United States and Europe. He is the author and co-author of nine articles in the New Grove Dictionary of Music and Musicians, the standard reference work in music.
Louise Thomas, D.M.A., is Associate Dean of Chapman's College of Performing Arts and Associate Professor in the Hall-Musco Conservatory of Music. She has known Ongaro since the late 1990s during her time at USC in the doctoral program and reconnected with him when he came to Chapman.
"Giulio's contributions to our discipline are enormous," says Thomas. "His research is world-class, and his teaching at USC, which I experienced, was creative and rigorous and really prepared students for a life in music. It is unusual to find an individual who has so much to offer, not only as a scholar and as an educator, but also as an administrator. Giulio is tremendously gifted in all of these areas."
Importance of Art to Humanity
Ongaro does what he does because of his belief in the importance of art to society. "I love the commercial that used torun as a public service announcement that showed the world without the arts and featured a road in silence. The arts are such a basic need that touches you at a deep soul level. Virtually every aboriginal society has had music, including those that evolved without musical instruments. Dance and theater are also universal and intrinsic to the human experience."
So inspiring, uplifting and comforting are the arts that Ongaro believes exposure to them stays with students, no matter where their career paths take them.
"I tell students that it doesn't matter what they choose to be after they graduate—the arts become a part of their life, and they can't escape that fact. Once you reach those levels, art is with you forever."