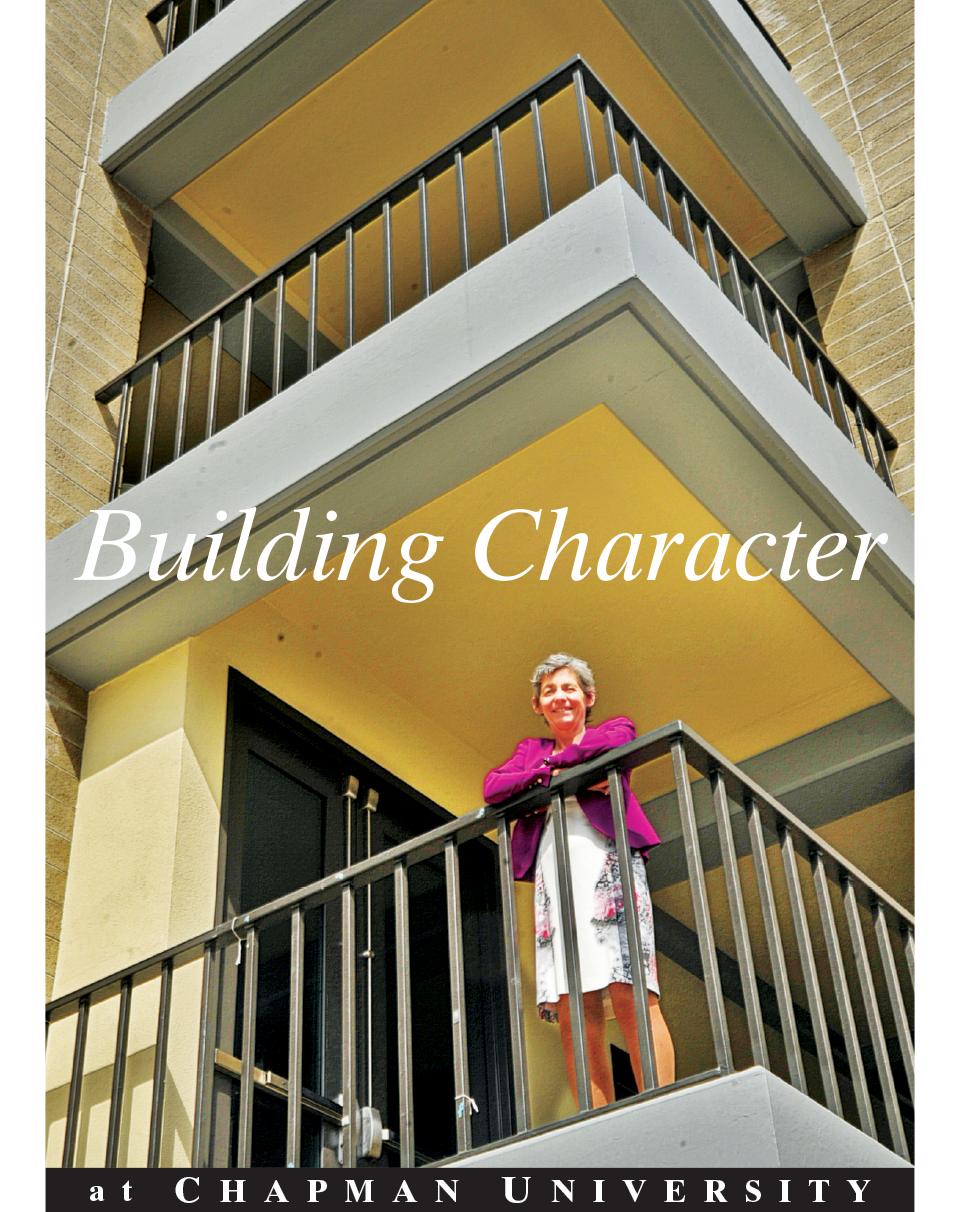 Dr. Janeen Hill
As a child growing up in the 1960s in the small town of Riverton, Wyoming, Dr. Janeen Hill spent many happy hours enjoying outdoor activities. Chapman University's Dean of Schmid College of Science and Technology and professor of biological sciences hiked, biked, played golf, ice skated and cross-country skied.
During those formative years under Mother Nature's watch, Hill also developed an aptitude for running, a sport that landed her on a path to her current position overseeing one of higher education's most cutting edge science colleges.
Hill became intrigued with human biology and exercise physiology when she spent a couple of summers in the late-1970s at the Olympic Training Center in Colorado Springs as a competitive runner. "The physiological testing they performed on me, such as measuring blood pressure and oxygen consumption, fascinated me," says Hill, who followed that experience with high altitude training in New Mexico where similar tests were performed. Inspired, she took classes at the University of New Mexico, eventually applying to graduate school and earning her Ph.D. in exercise physiology.
Exercise Physiology Far-Reaching
"People often think of exercise physiology as just relating to athletes, but it's a much broader field with many applications that affect overall health," says Hill, who did her dissertation on exercise induced amenorrhea and completed her post-doctoral research at UC Davis Division of Cardiovascular Medicine in the laboratory with Dr. Marc Kaufman studying circulation and blood pressure.
"Exercise physiologists are valued in clinical medicine, because exercise is a quantifiable stress that we all have in our lives," says Hill. "By using exercise as a stressor in the laboratory setting, we can measure, study and better understand a variety of variables, such as hormone levels, blood pressure and bone density."
After completing her post-doctoral research, Hill worked at UC Davis for three years as a researcher, but long hours in the lab interfered with family life, so she sought a position where she could combine research and teaching, which led her to Chapman. She joined as an associate professor in 1997 and moved up the ranks, becoming Dean of Schmid College of Science and Technology in 2012.
Enjoying Deanship
As dean, Hill is in charge of faculty, staff and students, and the many programs that make up Schmid College. "I like the fact that I am in a position to help create an environment for the faculty and students that allows them to become successful," she says.
Hill's colleagues report that she does her utmost to ensure the university experience is exceptional. "Janeen has the vision and energy to help build Chapman's strength in the sciences, and she is a central force in expanding health science fields and programs," says Dr. Jeanne Gunner, Vice Chancellor for Undergraduate Education and professor of English and comparative literature.
Dr. Catherine Clark, professor and Associate Dean of the School of Earth and Environmental Sciences, concurs. "Janeen is excellent at communicating what makes our science programs great and what must be done to move forward, both within Chapman and the community," she says. "She is very good at building strong relationships in Orange County that provide great opportunities for our students, like internship programs and fellowships."
Chapman's Rise
Since she arrived at the university, Chapman has been on an upward trajectory, and Hill finds that exhilarating.
"Chapman continues to move forward, and that credit goes to a president who is forward looking, a board that supports that vision and a chancellor who is a strong academic leader," says Hill. "The science college has seen enormous changes since I started here. In 2008, we split off from Wilkinson College of Arts and Sciences and became our own college, and in that period of time Schmid almost doubled the amount of undergraduate students majoring in sciences and added 40 percent more faculty."
The next phase of the evolution is the formation on June 1st of the Crean College of Health and Behavioral Sciences, which will house marriage & family therapy, physical therapy, psychology, health science, the post-baccalaureate pre-health program and the new physician's assistant program.
"The change will allow me to focus on health and behavioral sciences, which are becoming an important part of healthcare reform and are needed in Orange County," says Hill, who will head the new college. "As healthcare moves away from treating disease in isolation and towards a prevention model that includes teams of experts and stresses healthy behaviors over a person's lifetime, we will educate students for this new world of healthcare."
Hill is grateful to be on the ground floor of developing the new college. "Creating programs from scratch puts us in the position of envisioning the future," she says. "Rather than being bogged down by an existing infrastructure and overcome with inertia, we can move forward, which is wonderful."
Considering how fast Hill is moving, it's apparent that she never really took off her running shoes.
Hashinger Science Center
Designed by renowned Architect William Pereira, who is known for his futuristic designs and was a master planner for the cities of Irvine and Newport Beach and the University of California, Irvine, the Hashinger Science Center has graced Chapman's main campus since 1968. The 65,364-foot, three-story building with a basement is named for the late Dr. Edward H. Hashinger, a former trustee and past chairman of the board.
The growth in sciences has prompted the need for a new science building, the Center for Science and Technology, which will open during the 2018-2019 academic year. This 140,000 square-foot building will house undergraduate and graduate programs and accommodate several research laboratories.