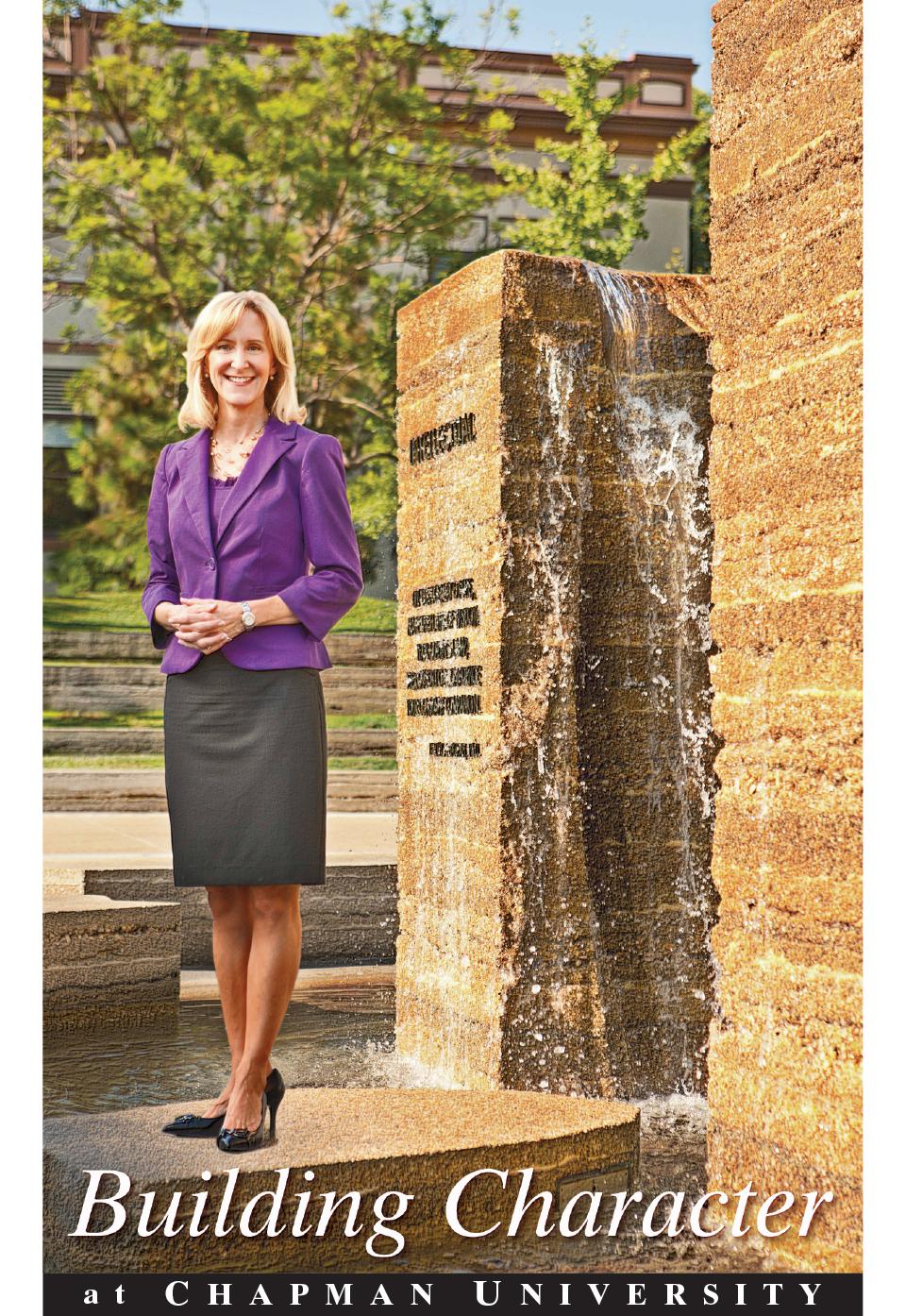 Sheryl Bourgeois
In the early 1990s when Sheryl Bourgeois worked for the Muscular Dystrophy Association (MDA), Chapman's Executive Vice President of Advancement collected coins from the headquarters of 7-11, hoisted them in her car, which dropped several inches from the weight, and carted them to the nonprofit's office where she and volunteers rolled and counted the donations so she could deposit the money.
"That was my first job in the fundraising field, and it was challenging to have that level of responsibility and accountability so soon out of college," says Bourgeois, who was in charge of the local MDA district and responsible for raising $250,000 to $300,000 a year. "Without the money, the doors wouldn't have stayed open. I did everything from visiting preschool hop-athons, to hosting black tie galas, to administrative work, including submitting my weekly numbers to the national office."
Bourgeois went on to work for the City of Hope Medical Center and UCI, landing at Chapman in 1998, initially as director of special events and today managing Chapman's fundraising and marketing communications. She has overseen the most successful fundraising campaigns in Chapman's history, resulting in several new buildings and a large increase in the university's endowment. On average, she and her team raise $31 million annually to support university initiatives. The fiscal year ending in May 2012, Chapman reported the biggest year ever at close to $60 million in donations and pledges.
Though the numbers are larger today, Bourgeois notes that her approach and philosophy remain the same. "I have a bigger team now, and I'm no longer collecting nickels, but every single gift is important and furthers the mission," she says, noting that a genuine belief in what she represents is at the heart of successful fundraising.
"People sometimes kid me that I hold the position of 'chief beggar,' but the idea that fundraising is just about parting people from their money is a myth. I connect people to a great cause and provide them a role. Philanthropists wish to make an impact and embrace the opportunity to invest in student lives. Donors often tell me that their donations mean more to them than they do to me."
Joann Leatherby is a Chapman donor, member of the Board of Trustees and chair of the advancement committee that oversees fundraising operations. "Good fundraisers depend on building honest relationships, and Sheryl is a natural at doing so," says Leatherby. "She possesses a kind and caring manner, which works well for her in dealing with donors and prospective donors. She's also a strategic thinker and knows how to bring people together."
Chapman's president, Jim Doti, agrees. "Sheryl is an unsung hero at Chapman. She's focused and incredibly creative and at the nexus of all of the gifts received at Chapman. We are a private university, which means all the facilities being built are funded by very generous donors–not by public bond money. Sheryl and her team deserve credit for much of Chapman's success in fundraising."
According to Bourgeois, she gets her can-do attitude from her upbringing. "I grew up in the San Fernando Valley in a 'Brady Bunch' family—three girls and three boys," says Bourgeois, who is married with two daughters and a son. "It was the 1970s when kids weren't bubble-wrapped. We spent our days developing independence by exploring the outdoors. I was the youngest, so I watched my older siblings and taught myself how to do a wide variety of activities, including ride a bike and swim."
Her successful attempts to keep up with her siblings taught Bourgeois valuable lessons about tenacity. "I don't subscribe to the belief that you can't do something," says Bourgeois, who holds a Bachelor's in English from UCLA and will soon receive her doctorate in higher education from Claremont Graduate University. "There's always a way to get something done, and I strive to do better than those who came before me."
Being in a large family also taught Bourgeois about the power of teamwork and she credits the university's supporters, volunteers and employees with their fundraising success.
Not surprisingly, the challenging economy has prompted Bourgeois and her team to regroup and refocus. "We've built relationships with new industries by determining what they need in terms of skills from students," she says. "For instance, we've greatly strengthened our health sciences and formed alliances with local companies such as Allergan. We're launching new academic programs in collaboration with these industries so that the courses are as relevant as possible and graduates can hit the ground running." Hitting the ground running is a concept that Bourgeois knows quite well.
Fahmy Attallah Piazza
Located in the heart of Chapman University, the Attallah Piazza is a popular gathering spot conceived by President Doti during a tour of Italy. Chapman alumna Donna Ford Attallah donated $1.5 million to have the piazza named for her late husband, Fahmy, a clinical psychologist, poet and sportsman. The piazza features the Marion Halfacre Fountain and is surrounded by the Lee Ann, Chris and Christa Lee Canaday Amphitheater and the Wells Fargo Stage. The fountain was designed as a visual symbol of Chapman's four pillars of education, which are intellectual, physical, social and spiritual. Each pillar contains passages from Fahmy Attallah's book, Beauty of Being.