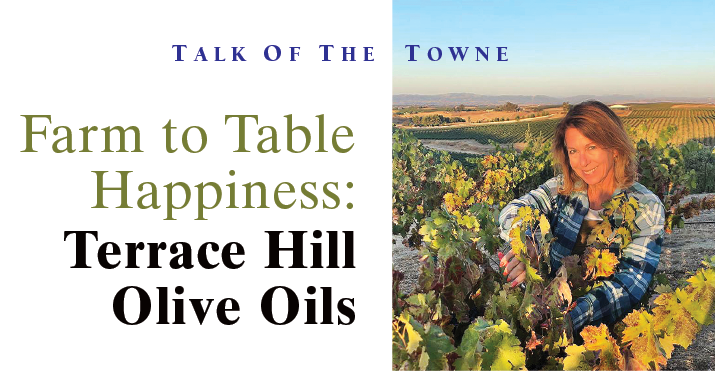 If you want ultra-fresh olive oil, bypass the grocery shelves. Instead, visit the Orange Home Grown Farmers and Artisans Market. Every other Saturday, Old Towne residents and olive growers Frank and Shannon Tucker sell their delicious Terrace Hill olive oils.
While there have been reports of international olive oil producers—particularly in Italy and Spain—allegedly adulterating their products with other oils, California olive oil producers are held to a far higher standard.
"California has pushed very hard for clarity and truth in labeling," says Frank. "When you see a bottle with the California Olive Oil Council certification seal, you can buy with confidence, knowing it's real olive oil."
At the Terrace Hill Orchard and Vineyard in San Miguel, near Paso Robles, the Tuckers grow, harvest and bottle their certified oils right there on the 15-acre property they purchased in 2012 that includes 1,700 olive trees and 3,500 grapevines, basking in the Mediterranean-like climate of the Central Coast.
From a pristine extra virgin olive oil to EVOOs infused with flavors like rosemary, garlic and lemon, the Terrace Hill brand stands for flavor and quality, says Megan Penn, Co-Founder and Executive Director of Orange Home Grown.
"We're so fortunate to have the Tuckers participating in the weekly OHG Farmers and Artisans Market. Their Terrace Hill extra virgin olive oil blends are some of the best I have ever tasted. Their oil is used by many Orange County restaurants."
Frank, who recently retired from his executive position as global chief people officer at Taco Bell, and Shannon, who served as a nurse at St. Joseph's and other healthcare providers for 30 years, decided to find fulfillment in life by going back to the land. "We stumbled onto the idea of becoming farmers—a rather romantic notion—because we love getting out there and getting dirty," says Shannon.
The couple initially wanted a vineyard but found that many sites have grapevines and olive trees.
"Grape growers use olive trees around the perimeters to catch the dust from the roads," explains Frank. "Traditionally, grape growers also planted olives, because the trees are hardier. Grapes may not survive a freeze, but olive trees will."
The Tuckers sell their grape harvest to Stoic Wines, their son Andrew's wine label, while personally guiding their olives from farm to press to table.
"This whole project is not a cash cow," says Shannon. "It's a labor of love. Our goal is someday to break even, and we're working on that!"
Tuckers still live in Old Towne Orange, where they've been extremely active members of the community since they moved here in 1985, shortly after they married. "We got enmeshed right away with everything happening in Orange," says Shannon, president of the Kiwanis Club of Orange. "We became the people down at City Hall making sure things were getting done right. We worked very hard to get the Old Towne Historic District put on the National Registry of Historic Places, among other volunteer efforts."
The Tuckers commute to work on their olive farm every week, for what started out to be three- or four-day weekends but now can stretch to a week at a time. "With Frank retiring, we hope to be at the farm a lot more during the week, so we can be home in Orange on the weekends," says Shannon.
"In the process of growing, harvesting and producing California olive oil, we've learned so much about how important it is to know where your food is coming from," Shannon adds. "We're so involved with the OHG farmers market philosophy of natural farming processes and promoting them, so more farmers follow them. We feel like we're part of the leading edge of something very big."
Frank agrees. "We feel blessed and a tremendous sense of pride to be ambassadors for a healthy product that we've grown, harvested and milled. We went into this not knowing how it might turn out, but we've had an amazing time with it."
For information on Terrace Hill olive oils, including a schedule of when the Tuckers are at the farmers market, or to order online, visit www.terracehill-oliveoilcompany.com. The oils are also available locally at The Potting Shed, 401 West Chapman Ave.