The Potting Shed - May / Jun 14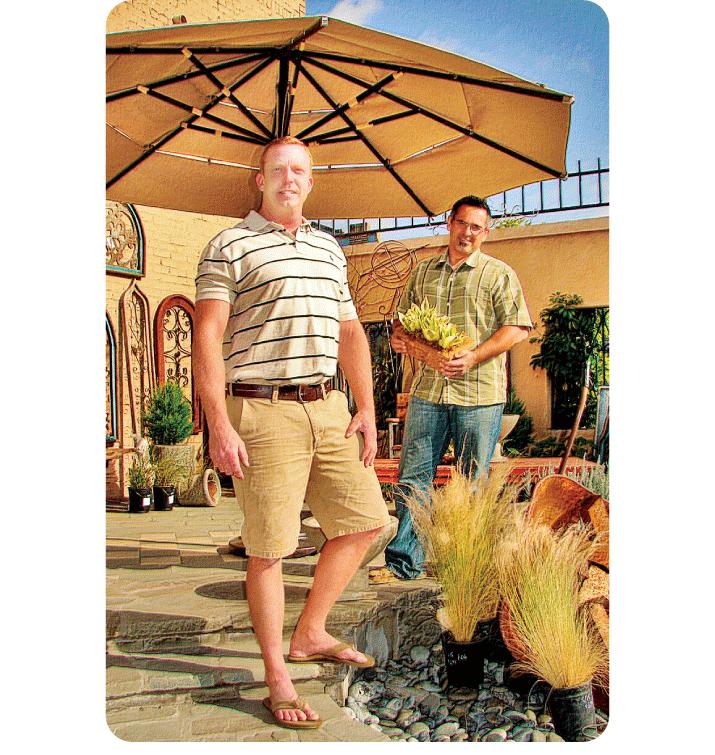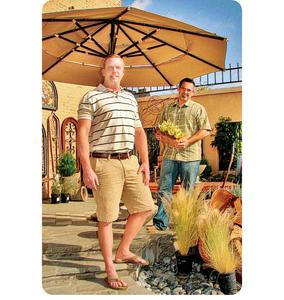 Horticulture expert Jack Carlisle (front) and partner Luis Sardinas bring a bounty of offerings to The Potting Shed, which is located in the courtyard of Vintiques Home Décor near Ruby's Diner.
The Potting Shed
A relaxing retreat from the world at large, the newly opened Potting Shed in Old Towne showcases a bounty of plants, flowers, succulents, perennials, gardening supplies, herbs, vegetables, outdoor furnishings and décor — all amid the beautiful backdrop of a shaded park across the street by Ruby's.
It all came together for horticulturist Jack Carlisle, who wandered into Vintiques Home Décor on West Chapman and saw the expansive outdoor courtyard just waiting for someone to transform the 5,000-square-foot space into the oasis that it is today.
"I introduced myself to the Vintiques owners and they told me they were looking for someone just like me," says Jack, who earned a degree in horticulture from North Carolina State University and previously managed major nurseries in Orange County for many years.
"They were kind enough to let me and my partner, Luis Sardinas, come in and do our thing. I've been in the business for 18 years. Landscape design is my background, and I enjoy sharing my expertise with my customers."
A resident of Old Towne, Jack specializes in native, "waterwise" plant material and succulents. Through his personal roster of quality vendors, he hand-selects 80 percent of the plants he sells. He also specializes in repurposed patio furniture, creating unique pieces like an outdoor table made from an old garden gate. An advocate of container gardening, Jack helps customers create container gardens on site.
"We encourage people to bring in their own containers to plant in, like old lunch pails or wine barrels, and we will help them get started," he says. "We want to be active in the community by providing a gathering place for meetings and gardening clubs."
Since opening The Potting Shed this year, Jack is pleased with the positive response from the community.
"I pride myself in customer service. I treat everyone as if they are guests in my own home. My goal is to help the gardens in and around Orange grow. This is no ordinary shed!"
---
Published in the
May / Jun 14
edition of the Old Towne Orange Plaza Review Article Written by Karen Anderson, Photo by Mike Escobedo
View More Articles