5 Years at the Market - May / Jun 16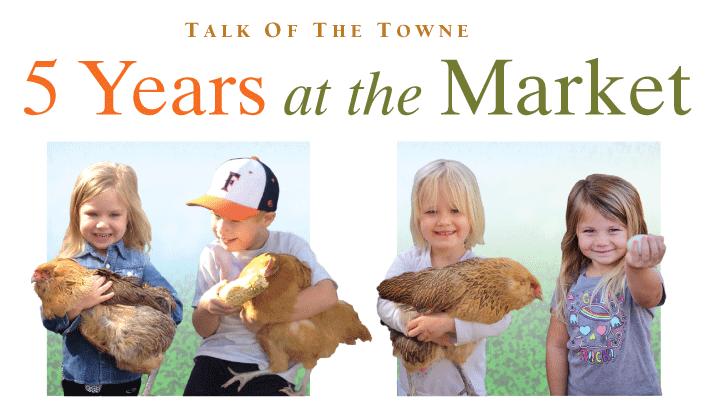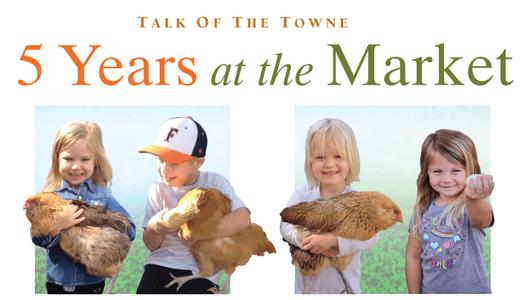 Orange Home Grown Farmers & Artisans Market
When Megan Penn and other Orange residents gathered in May 2009 and hatched a plan to offer the community access to fresh food, this resulted in the Orange Home Grown Farmers & Artisans Market that opened two years later.
In addition to their goal of providing residents with locally grown and produced healthy foods, the founders of the farmer's market also made it their mission to "cultivate community and inspire change through activities that foster education, awareness, advocacy and create benefits for the greater good," says Penn, Executive Director of Orange Homegrown.
Today Orange Home Grown supports a variety of initiatives that fulfill their mission, including the all new seed lending library, which opened recently and gave away 350 seed packets in its first two weeks, an annual chicken coop tour, an upcoming education farm and scholarships.
Chicken Coop Tour
This event starts at the farmer's market with a talk on raising chickens, followed by a self-guided tour to chicken coops in Orange.
Kristine Rohm is Director of Immanuel Lutheran Preschool and Kindergarten and began raising chickens at the school after taking the first tour in 2013. "My teacher and I were so inspired when we saw other coops that we felt confident we could raise chickens and they would benefit the students," she says. "Being able to talk one-on-one with real chicken owners was the key to our success. Two years later, we were on the tour."
Rohm enjoys having chickens at the school, because they teach young children about the natural world. "We have four chickens—Aurora, Buttercup, Cuddles and Dot," she says. "The children can go into the chicken run daily to check for eggs, feed them or even pick one up if they can. Friday is Free Range Friday; the chickens get to roam freely in our play space, which is a treat for our preschoolers and the chickens."
Rohm reports that she's continually impressed by the work being done by Orange Home Grown. "The Farmers & Artisans Market is not just a top notch market—it also provides a wealth of education and resources for children and adults with talks, children's programs and special events. The passion found at the market for local and healthy food brings awareness to our community of what used to be a normal way of life."
Scholarships
To further their mission of spreading the word about sustainable living, Orange Home Grown also sponsors scholarships for aspiring college students planning on getting degrees in areas that focus on agriculture or helping the earth.
Anayeli Sarabia is a student and scholarship recipient, who also works at the farmers market selling produce from her aunt's farm. "Being a recipient of the Orange Home Grown Scholarship was a great help with paying for my classes and buying books," she says. "I am so grateful that there are people like the Orange Home Grown founders who think about others. When I received the scholarship, I was attending Riverside Community College. In the fall, I'll be starting at Cal Poly Pomona for Agri-business and Food Industries Management."
Dean Kim is owner and executive baker for OC Baking Company and an Orange resident. He is a vendor at the farmers market and comments on Orange Home Grown's outreach. "Orange Home Grown is all about advancing Orange," he says. "It's a privilege to be affiliated with the organization."
• The Orange Home Grown Chicken Coop Tour is Saturday June 25, 2016 from noon to 3 pm.
Orange Farmers and Artisans Market
304 North Cypress Street, Orange CA 92866 / 714-397-4699
---
Published in the
May / Jun 16
edition of the Old Towne Orange Plaza Review Article Written by Julie Bawden-Davis, photos provided by Immanuel Lutheran Pre-Sch
View More Articles