Orange Home Grown - Jan / Feb 20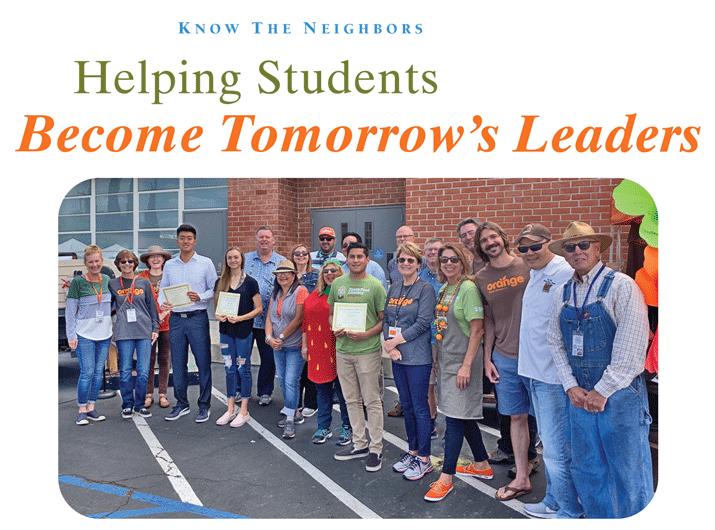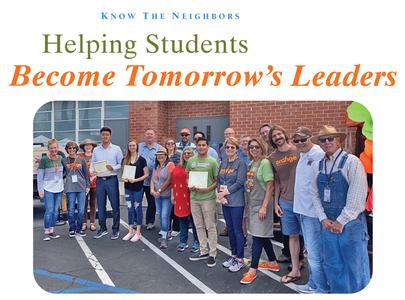 Vincent Bui, Sophia Barr and William Perez (holding certificates) are pictured here with Orange Home Grown board members. They are among the 20 students who have been awarded scholarships by the organization since 2013. In addition to Bui, Barr and Perez, Eloi Barajas and Samantha Rogers also won last year, but are not pictured.
Orange Home Grown
It's not just locally sourced fruits and vegetables sprouting up at the Orange Home Grown Farmers & Artisans Market. Educational opportunities are, too.
"For our scholarships, we're looking for quality individuals with interests aligned with our mission—sustainability, community and health," says Brian Kunisch, president of the Orange Home Grown Foundation.
Starting with the first scholarships presented in 2013, more than $32,000 has been handed out, with individual awards ranging from $500 to $3,500. Applicants are generally local students currently attending a university or high school seniors about to enter college.
"It was always our goal to help youth, especially those pursuing sometimes overlooked areas of study," says Kunisch, adding that past recipients went on to study agriculture, the culinary arts, environmental studies, marine biology, water utility science and a variety of other topics.
"Some of these majors may be lesser known than others, but they instill the same passion and interest from the scholars who choose them and carry great importance for the well-being of our communities and the world at large," Kunisch says. "That's why we want to get behind them and support them."
One of the winners, Samantha Rogers, is a dance major with a minor in nutrition at Chapman University and says the $3,000 she received was "super helpful" paying for tuition. After graduating in May, she hopes to pursue a career where she can combine both interests.
"Dance and nutrition go hand-in-hand really well," says Rogers, who has volunteered at the Orange Home Grown Educational Farm since her sophomore year. "Nutrition and diet play a really big role in sports performance."
The scholarship committee receives anywhere from six to 15 applications per year. Submissions need to include grade point average, a resume, list of extra-curricular activities, plus two to three references, which can come from teachers, volunteer coordinators or others.
Also required: a written essay about why the applicant believes he or she is deserving and how the funds will be used.
"We like to get a well-rounded idea of what their interests are and what they're planning to do," Kunisch says.
Applications, available on the Orange Home Grown website, generally need to be submitted by mid-April, and the winners are announced about a month later.
The scholarships are funded through a variety of sources, including the weekly farmers market, fundraisers and donations. A major community partner this year is Southern California Edison.
Application information available on the Orange Home Grown website.