Packards International - May / Jun 11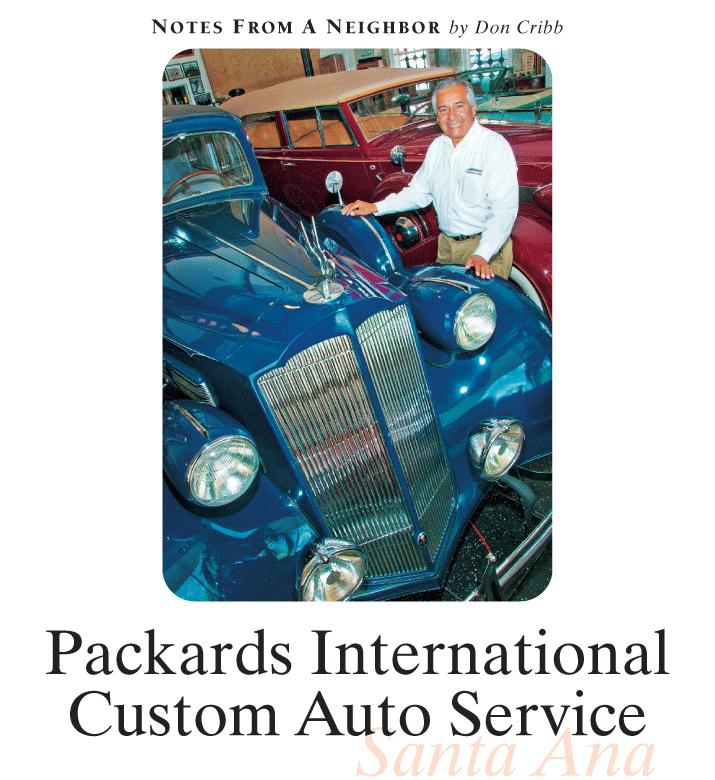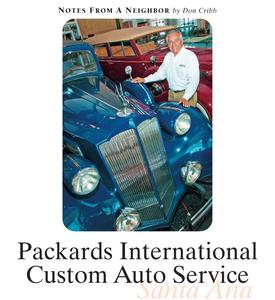 Known as the American Rolls–Royce, Packard rings a silver bell in the minds of automobile collectors everywhere. One of the most highly–respected cars ever produced, the Packard reigned among automobiles in the 1920s and 1930s and was a favorite of Hollywood elite such as Clark Gable and politicians like President Franklin D. Roosevelt. The President of Argentina, Juan Peron, had a maroon convertible Packard that is owned today by a North Santa Ana resident.
Although the last Packard rolled off the assembly line in 1958, today the vehicle is still enjoyed by collectors such as Jay Leno and Johnny Depp, and the car is used during major events that call for stylish vehicles, such as the Rose Parade.
Based in Downtown Santa Ana, Custom Auto Service is the home of Packards International. Known throughout the world for premium restoration and preservation of the Packard motor car, the Santa Ana headquarters sits on 3rd and French Streets, displaying their Packard collection's glittery grills for the enjoyment of passers–by.
A visit to Custom Auto Service is never complete without meeting a man who helps keep the Packard flame burning bright in Orange County, Robert Escalante, the owner of Custom Auto Service. Looking too young to know as much as he does about history and automobiles, Robert finds time to share his knowledge with anyone who asks. His office is filled with awards, photographs and memorabilia. Many of Robert's customers may be famous, but in the world of collectible automobiles, and especially Packards, Robert Esclante is a celebrity himself.
Take a look around Orange County, and you'll see the prized Packard in a wide variety of locales. New to Orange County is a lifestyle publication called BASK, celebrating luxury and style. This month's centerfold features models posing throughout Downtown Santa Ana, as well as a 1954 blue and white Packard Caribbean convertible. Scenes like this integrate the vintage Packard into the modern world, and Custom Auto Service is there to make sure that the Packard, with its timeless, cosmopolitan beauty, remains a permanent fixture.
Custom Auto Service
302 French Street
,
Santa Ana
,
CA
92701
/
714-543-2980
---
Published in the
May / Jun 11
edition of the Old Towne Orange Plaza Review Article Written by Don Cribb, photos provided by Jeanine Hill
View More Articles