David Hockney - Jan / Feb 12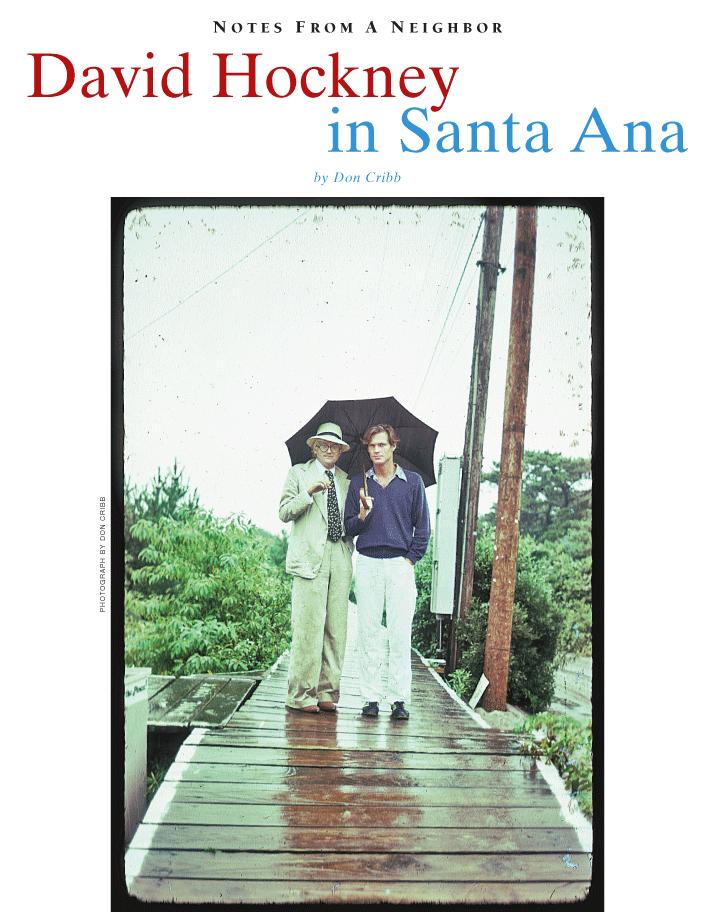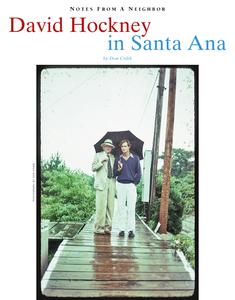 On Fire Island in 1976,
David Hockney
(left) pictured with Joe MacDonald, a well–known model who posed for Hockney and Andy Warhol.
Recognized for his vibrant paintings of Southern California and compelling portraits, David Hockney is one of the most respected of today's living artists. His work, which spans over half a century, gained notoriety during the Pop Art period of the 1960s.
Though he is British, Hockney moved to Los Angeles after a trip to the area in 1964 and for the next 41 years lived in Hollywood Hills and on the Malibu coast. In the golden light of Southern California, he created numerous exotic landscape sceneries, including his iconic paintings of sun–drenched swimming pools. He has experimented with asymmetry, cubism and reverse perspective and helped create an important dialogue between photography and drawing. The juxtaposed photographic images he calls "joiners" have led to well–known works of art like "Pear Blossom Highway" (1986). Always open to new visual technologies, Hockney continues to remain viable as an artist. In addition to painting, drawing and photography, he has used in his artwork color copiers, color laser printers, FAX machines and most recently the iPad.
Locally, it was an exhibition of Hockney's work that helped launch the Santa Ana arts movement started in 1987. The artist's exhibition at the Modern Museum of Art at Griffin Towers at MacArthur Place in 1989 announced that Santa Ana had serious intentions of becoming a center for art, artists and culture. The fact that an artist of such international repute displayed his work in Santa Ana, rather than a venue like the Orange County Museum of Art in Newport Beach where he'd been invited, brought major attention to Santa Ana's arts profile. CNN, West German television and most local media were on hand when Hockney created the exhibit. The display included 36 faxed 8 ½" x 11" paper images of Malibu, which when assembled formed an ornate silver tea set on a table with a window view depicting powerful waves of surf crashing wildly onto a rocky shore. An archival serigraph poster was created to recognize this important occasion, and unsigned at $40 each they sold out. This successful exhibition helped Santa Ana overcome resistance from some local journalists who felt the arts "belonged" in Laguna and Newport beaches, and the display made it clear the intentions of the Santa Ana Council of Arts and Culture to make Santa Ana an enduring center for the arts.
After years creating large–scale, richly–colored landscapes and portraits in Southern California, Hockney returned to England in 2005. Though he once referred to his homeland as "dreary and drizzly old England," using his unique colorful interpretation he soon created a visual wonderland of East Yorkshire. Through his work, the British landscape became mythically imagined–a verdant land of gentle, proud and elegant beauty.
On January 21, 2012, a very large exhibition of earlier and new Hockney works will debut at the Royal Academy of Arts in London
Note from the Author: David Hockney is a mentor and dear friend. We met at a Hollywood dinner party in 1969, and I was immediately drawn to his bohemian, yet stylish manner and his ability to transcend reality and see the world in a different light, conveying that difference in imagery that draws people into his work. I introduced David to Disneyland and Laguna Beach and he invited me to travel with him through Europe and the US. During those travels and my time spent with David, I also learned to see the world differently. Without David's support, the Santa Ana Arts movement would not have occurred. David's friendship inspired my work as an arts activist and appreciator and shaped the person I am today.
---
Published in the
Jan / Feb 12
edition of the Old Towne Orange Plaza Review Article Written by Don Cribb, photos provided by Don Cribb
View More Articles