Mia Tavonatti - Nov / Dec 19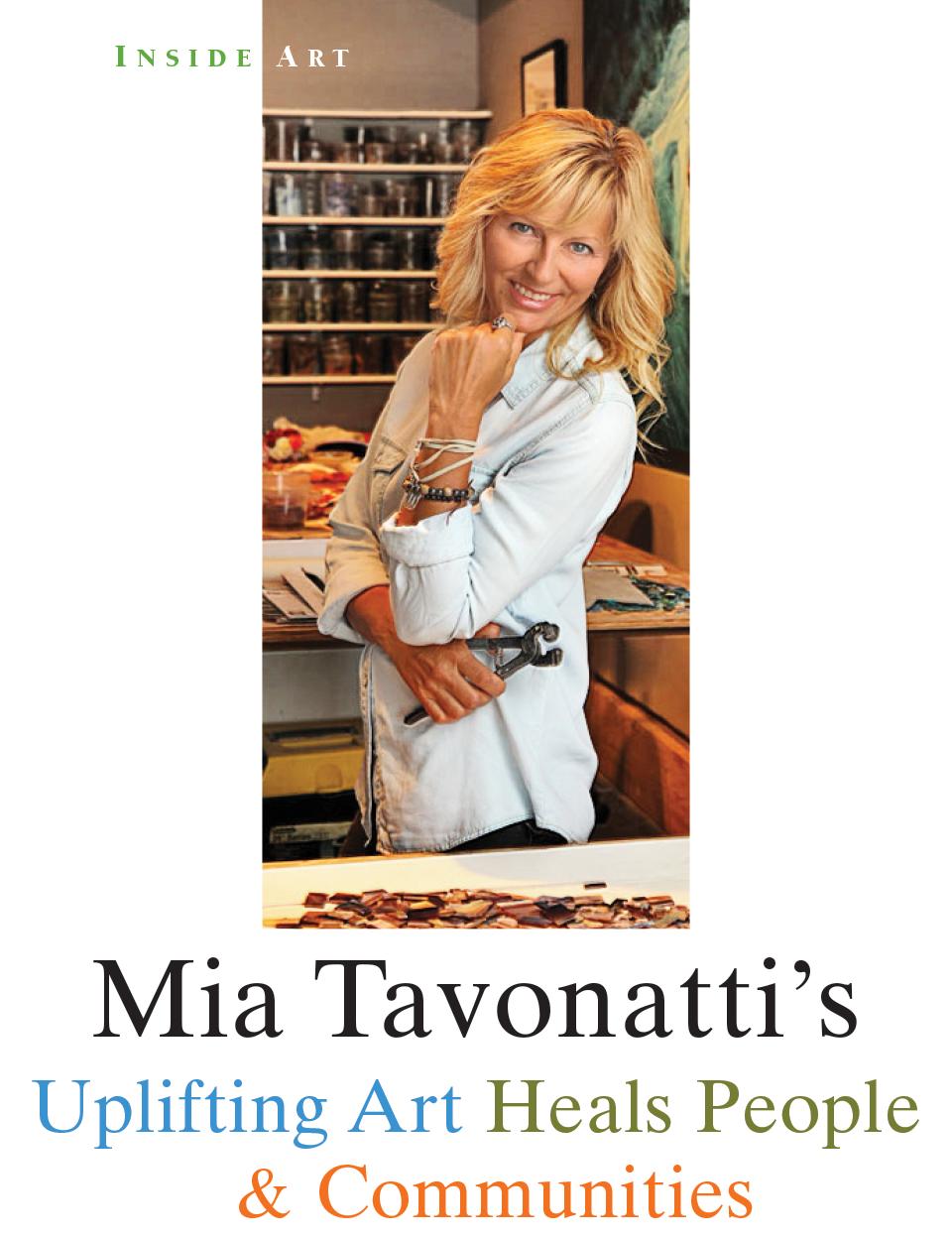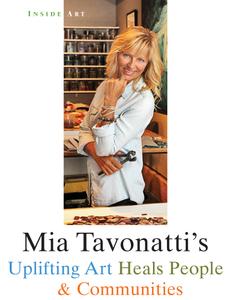 Mia Tavonatti is not one to let hardship or even pain dampen her spirits—or her immense capacity for creativity. The Orange-based artist (whose first name is pronounced "MY-a") took a tumble a couple of months ago from a scaffolding in Marquette, Michigan, where she was installing one of her largescale Power of Words Project murals, one of nine of her creations in northern Michigan. She landed 15 feet below on her feet on concrete. That proved a good and bad thing.
Good, because she survived. "The doctors told me if my back had been bent inches either way as I landed, I could have severed my spinal column. Because I was so vertical, I have compression fractures instead of something much, much worse. I must have landed on top of my guardian angel."
Bad, because the impact badly injured her feet, legs and pelvis, with multiple fractures in each location. After two weeks in the hospital in Marquette, she returned home to Orange. Still wheelchair-bound, but working on walking again with physical therapy, she says, "I was lucky I didn't need any surgeries. There were no displacements; everything just has to heal and fuse. I'm so grateful that my spinal break was on the outside, not the inside."
Tavonatti smiles wryly. "The perils of working big."
Working big is Tavonatti's passion right now. For three months each year, she works with a team of professionals on her Power of Words Project, now focused in northern Michigan.
"The Power of Words Project is a humanitarian mural campaign in which we go into different communities to help them revitalize," Tavonatti explains. "People in the communities nominate various words and then vote on them, and they describe what they want their town to aspire to in the future. I then partner with those communities, take the winning word and design the mural around it."
The project, funded by a major grant from ArtPlace and many other grants, has Tavonatti's team creating colorful murals on the exteriors of buildings. "We created the largest gateway murals in northern Michigan in Manistique: two murals side by side," she says. "I'm very focused right now on this type of community revitalization and building the cultural economy in northern Michigan, where they're losing so much population and so many communities are devastated. It's been hugely impactful, and the more we do, the more positive effects we see there."
Tavonatti earned her BFA and MFA from California State University, Long Beach, where she majored in Illustration. She has studied at the Sorbonne in Paris and at Parsons School of Design. Her art pieces can be found in public, private, institutional and corporate collections worldwide.
Tavonatti's earlier mural projects can be seen around Orange County. "I've done a lot of mural installations in Laguna Beach, and I taught the mural class at Laguna College of Art and Design for many years. Right now, I'm totally absorbed in the massive shifts that murals can make in small towns. We already have a lot of artists competing for visual here, which is why I'm currently working on murals in the Midwest."
The other nine months of the year, Tavonatti works on mosaics—wall pieces or free-standing objects covered in tiny, glittering (hand cut) glass tiles called tesserae. She creates these "paintings in glass" for institutions such as churches, hospitals and healing centers. Her mosaics for religious institutions are, of course, spiritual in nature, such as the spectacular 13-foot-tall mosaic of Christ on the cross that won the prestigious ArtPrize, the world's largest art competition, in 2011. That original piece is now at Cornerstone University in Michigan, but a second version of it can be seen behind the altar at St. Kilian Catholic Church in Mission Viejo.
"I consider myself a spiritual person," says Tavonatti. "I don't identify with any particular religion, but I definitely think there's something guiding me. And I seem to do work that inspires people."
Mosaics, says Tavonatti, are "the fastest-growing thing in the art world right now." There's something about the intricacy, the ancient legacy and the glittering quality of the light-refracting mosaic pieces that fascinates people at an almost elemental level, she explains. "Cities all over the world want to put themselves on the map as the next big mosaic destination." She works on mosaics large and small, from massive church art in the realist mode, like her "Crucifixion," to smaller, more abstract, portable pieces like the featured work in this issue, "Origin."
"Mosaic artists often create smaller pieces to enter in international competitions," she says. "I created 'Origin' for that purpose. It recently won the Best Contemporary Innovation award at SAMA's (the Society of American Mosaic Artists) Mosaic Arts International juried exhibition at the Parthenon Museum in Nashville, Tennessee. And my 'Baptismal Font,' installed at Holy Trinity Catholic Church in Ladera Ranch, won the Best Architectural Mosaic award."Traveling all over the world to participate in mosaic symposia and competitions, Tavonatti says that the enduring appeal of the art form is that "they're almost like a puzzle. You design the puzzle, and then you make the puzzle pieces. Glass tiles respond to light like water, whereas paintings don't do that. When you move around while viewing a mosaic, the light moves, so it has that whole living, changing quality to it. When you look at a large mosaic, it surrounds you, and it's literally blinging out at you."
Among recent works, Tavonatti has completed a largescale mosaic for Scripps Hospital in Encinitas and is scheduled to create another for their cardio unit. "When I was in the hospital in Michigan following my accident, that first night as I was being wheeled up and down the hallways, all I could think about was what a great art collection they had on their walls. It was very interesting to be in a situation where I, an artist, could experience how art was making me feel in a hospital setting. Statistically, art has the power to reduce recovery time by 20 percent. Art's calming power affects patients and family members."
Tavonatti pauses and reflects on her recent traumatic experience and its hopeful aftermath. "For me, I just really love the focus of art and its power to heal."
More information about Mia Tavonatti and her works: www.miatavonatti.com / www.powerofwordsproject.org
---
Published in the
Nov / Dec 19
edition of the Old Towne Orange Plaza Review Article Written by Mary Platt, Photo provided by Mia Tavonatti
View More Articles