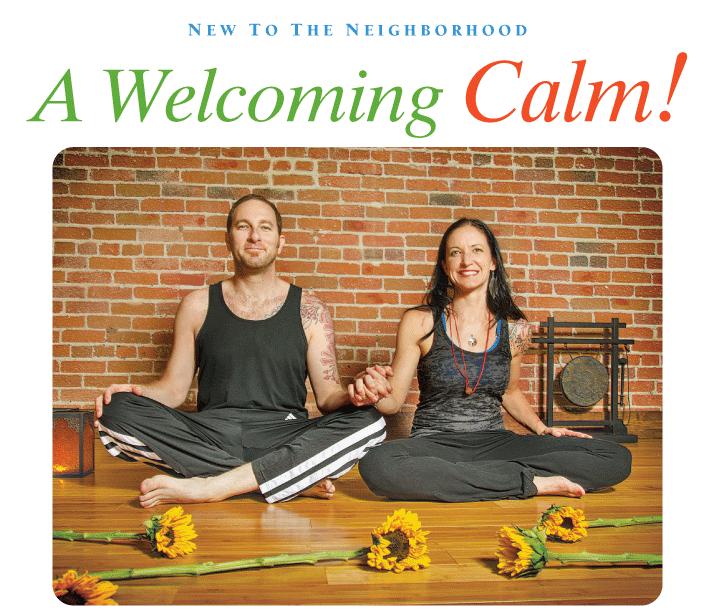 SunSpark Yoga
in Old Towne occupies a historic building in
Old Towne
, where owners Ernie and Stacey Schuerman (pictured above) have transformed the space into a dedicated yoga studio featuring earth-friendly bamboo floors and a cadre of Alliance-certified yoga instructors.
Always dreaming of owning their own yoga studio, Stacey and Ernie Schuerman finally made their dreams come true this April with the opening of SunSpark Yoga in Old Towne Orange.
While teaching yoga for the last five years at various places in Orange County, Stacey set her sights on Old Towne, eventually renting a former office space that was filled with cubicles. With the help of family and friends, the couple transformed the location into a dedicated yoga studio complete with sustainable bamboo floors, new slate tile and a fresh coat of low-VOC paint.
Built in 1923, the historic building still features exposed original brick walls and beam ceilings inside, all of which add to the studio's ambiance.
"It's hard to imagine now what the space used to look like before we renovated it," exclaimed Stacey. "My husband did a lot of the work. He's not a yoga teacher but he's a yogi at heart. He is my inspiration behind this, and I couldn't have done it without him."
With their green-cheeked conure, "Santi," at the door to greet guests, SunSpark Yoga is open seven days a week and offers classes for all levels, including Restorative yoga, a yoga stretch, Kundalini Yoga and advanced Hatha Flow. Equipment onsite includes everything from bolsters, blocks and straps, to mats, eye pillows, blankets and aromatherapy.
"We have a variety of classes and a high caliber of Yoga Alliance-certified teachers, myself and ten other instructors," she said. "We have a beautiful space that is private, with natural earth-friendly bamboo floors in a historic setting. The studio is a very friendly place that is non-competitive."
Maintaining their philosophy that everybody can do yoga in some shape or form, Stacey and Ernie relish the opportunity to build relationships with new clients. Additionally, they are dedicated to mindful, eco-conscious business practices, utilizing non-toxic cleaning products and offering free filtered water.
"This is like a second home," she said. "We want this to be a community place for people to feel welcome and comfortable."
SunSpark Yoga
139 South Olive Street
,
Orange
,
CA
92866
/
714-202-5095