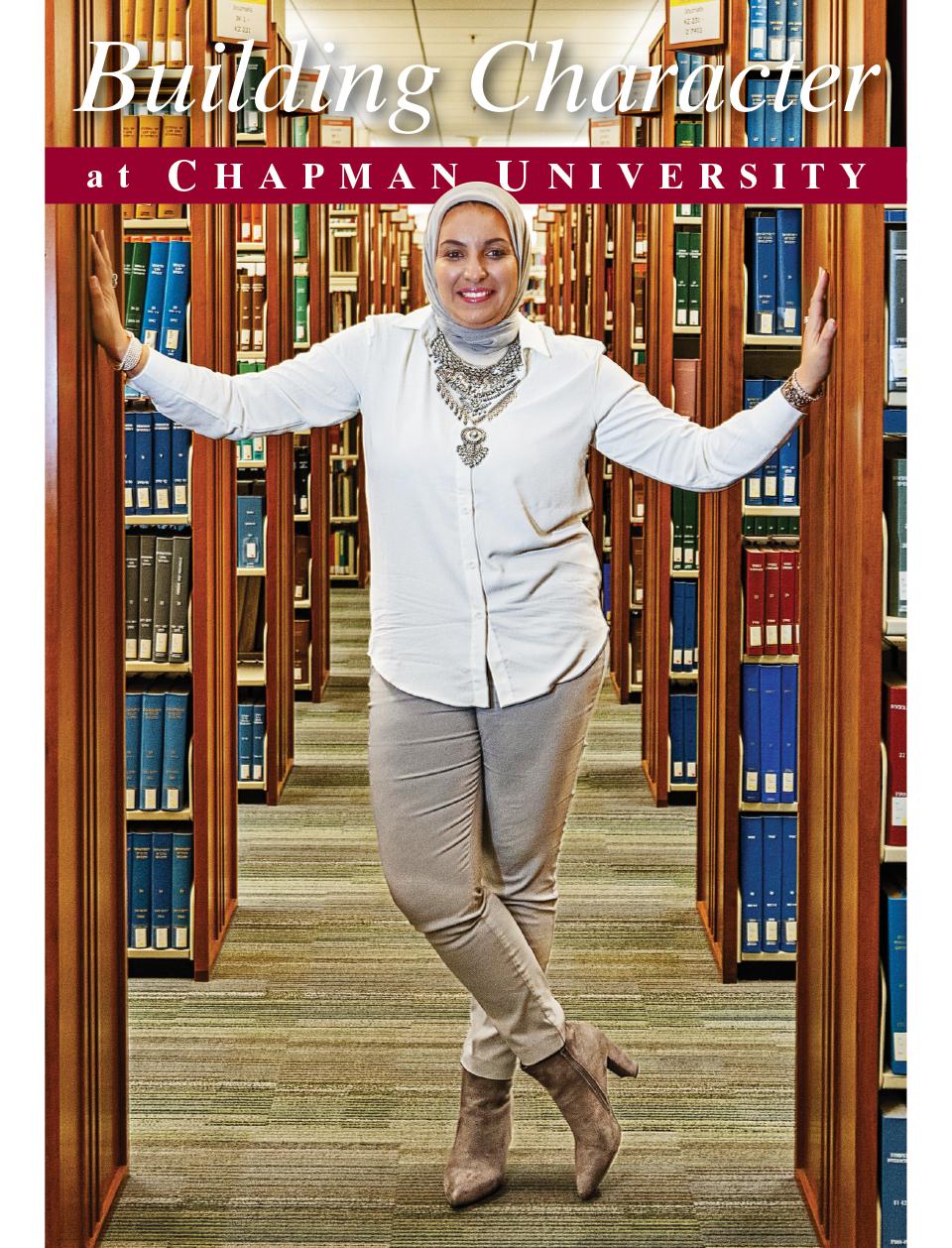 Essraa Nawar
Since childhood, Essraa Nawar's curious nature has caused her to ask many questions. The answers to those queries have allowed her to see the world through a kaleidoscope lens. For the Chapman University Leatherby Libraries Diversity and Development Librarian Chair, this view has empowered her to spread information and understanding.
The questions started when Nawar was a child in Egypt, her birthplace, and continued during formative years spent in culturally diverse Qatar.
"When I struggled with seeing people of different faiths and religions than myself and asked my mother about those differences, she would quote a verse from the Quran that clearly forbids interference in other people's religious affairs and promotes interfaith dialogue and understanding," says Nawar, who gave the TEDx talk, "Feeling Welcomed and Empowered," in 2015 at the Technical University of Munich in Germany. "The promotion of equality and fairness between people of different cultures and ethnicities was something I grew up learning about."
Third Culture Kid
At first, Nawar resisted being a "third culture kid," referring to children who are raised in a culture other than their country of nationality during a significant period of their childhood. She spent kindergarten through middle school in Qatar, returning to Egypt for high school, where she was the valedictorian, and to attend college for an undergraduate degree.
"It took some time, but I came to accept and even love the opportunities resulting from living in such culturally diverse circumstances," says Nawar. "I have found as an adult that I developed important skillsets from those early experiences that have enabled me to find something in common with people who may look or sound different than me or who follow a different religion. That has allowed me to help erase misconceptions about myself and others."
In addition to her position at Chapman, which includes overseeing Arts, Exhibits and Events for the library, Nawar promotes empowering Muslim woman, as well as overall diversity, cultural and religious intelligence and interfaith dialogue and understanding. She expresses her views and shares her story as a Muslim woman living in America through speaking and writing, such as for the Huffington Post. In 2017, she was honored by the Egyptian government as one of the top 30 expats who have changed the narrative surrounding how people view Egyptian women. "I consider myself a disrupter of long-held misconceptions and beliefs, but in a positive way," says Nawar.
Immigrating to the United States
Nawar met her husband, also a Chapman University faculty member, Dr. Hesham El-Askary, through his sister. The two developed their relationship long distance while Nawar was in Egypt earning a bachelor's degree in commerce from Alexandria University and El-Askary was a student at George Mason University in Fairfax, Virginia.
"We fell in love while talking online," she says. "Hesham went to Egypt and proposed to my father, which is the culturally appropriate way, and we were married." Soon after, Nawar moved to the United States.
"I was nervous to leave my family in Egypt and come to America. It wasn't long after 9/11, and here I was a 21-year-old Muslim woman wearing a head scarf. As I explored the U.S. with all its cultures and subcultures, I began to ask myself, where is home? Today, I no longer ask that question. I have two software systems embedded in my head—American and Egyptian—and they are blended. I visit Egypt quite often, but I don't compare anymore. I simply appreciate and am thankful for both cultures."
When she first moved to America in 2002, Nawar got a job in Washington D.C. with The Royal Embassy of Saudi Arabia, while also working toward her MBA and giving birth to her two sons, who are a year apart. (She also has a daughter born in 2010.) Nawar returned to Egypt in 2004 for a time, where she worked at Bibliotheca Alexandrina, a library in Alexandria, Egypt. Then in 2009, her husband was recruited to Chapman University. When the family relocated to Orange County, Nawar began a volunteer position at the Leatherby Libraries cataloguing a collection of vintage children's books in the library's basement.
Generals in the War on Ignorance
"As someone who greatly enjoys finding and sharing information, I had fallen in love with libraries and librarianship while working at Bibliotheca Alexandrina," says Nawar, who has risen in the ranks at Chapman over the last 13 years, moving to a paid position in 2010 and becoming a member of administration in 2017. During this time, she also received a master's degree in organizational leadership and another master's degree in library and information science.
Nawar currently supervises the marketing and events teams at Chapman that bring exhibits, events and programs to the university, as well as manages marketing and outreach and diversity and fundraising efforts. To date, she has helped raise more than 5 million dollars in support of the Leatherby Libraries and has co-curated several exhibits, including "Empowering Muslim Women," "Egypt, the Revolution Continues" and "A Country called Syria."
Kevin Ross is Dean of the Leatherby Libraries and a librarian. He hired Nawar in 2009 and has worked with her over the years in various capacities.
"I think the world of Essraa, and I respect her as a colleague, librarian and friend," he says. "She is an excellent representative for DEI, development and librarianship, and her leadership in the library has been vital to our success. Her contributions to the library profession are numerous and include active engagement and award recognition in library related professional organizations. She is also a chair or active member on several library committees and is of service to Chapman University in the Faculty Senate and on the Graduate Academic Council. She also conducts scholarly activities on local, regional, national and international levels. These activities include book chapters, articles, panels and presentations."
The way Nawar sees it, libraries and librarians continue to be more relevant every day. "There are more libraries in the U.S. than McDonalds or Starbucks," she says. "Librarians are warriors of social justice and generals in the war on ignorance. Our role is very important in building a creative and innovative society. Librarians have a special skillset to provide authentic, accurate information. Through public and corporate libraries, we continue to add vital metadata to the metaverse."
Mentoring and Empowering
In addition to being a librarian, Nawar enjoys guiding young people, including Ruby Blakesleay. The two met in 2018 when Blakesleay was a Chapman freshman. Until recently, when Blakesleay began booking roles as an actress, she worked under Nawar as a Library Administration Assistant at the Leatherby Libraries.
"Essraa's mentorship has been influential to my growth, and I will always be grateful for the opportunities she has given me," says Blakesleay. "When we met, I was already an overachiever and confident, but she helped me shape my identity and take ownership of who I am. Essraa is a fierce, confident woman who influenced me to embrace my own confidence. At the same time, she also balances that confidence with vulnerability, which I love about her. Working for Essraa feels like working as the assistant to a CEO of a corporation, and it is! She is the CEO of Essraa Nawar, with a business to connect with others."