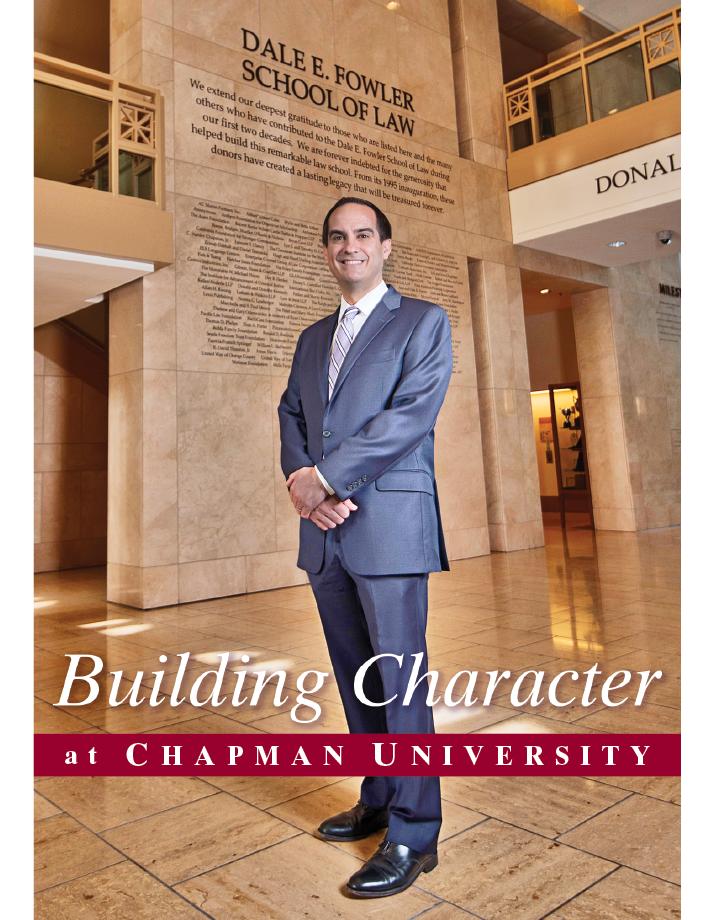 Matt Parlow
As a kid growing up in Los Angeles, Matt Parlow considered being a teacher or going into law. Chapman University's Dean of Fowler School of Law and Donald P. Kennedy Chair in Law ended up going into both fields.
"Teaching is in my blood, and since childhood I've always had a sense of justice," says Parlow. "The fact that society turns to lawyers to help right wrongs appealed to me."
The son of second-generation immigrants, Parlow's parents taught for the Los Angeles School District for 40 years. This was after pulling themselves up by the proverbial bootstraps.
"My grandparents immigrated to New York from Germany and Russia," says Parlow. "Due to a lack of money, my mother was raised in a foster home and my father in an orphanage."
Parlow's parents—who decided to come west to teach and met each other in California—are a testament to the importance of education to improve socioeconomic status and mobility. "They are my inspiration," he says.
Law and Justice
It was in college at Loyola Marymount University that Parlow became interested in attending law school. He also had an experience there that showed him how important the field of law is.
"When I became involved in student government, it came to my attention that an LGBT club on campus wasn't being treated equally in terms of rights and funding. I responded by leading an initiative that changed how the student government recognized and funded clubs, putting all clubs on equal footing."
The process took about a year and involved negotiating with the school administration and rewriting the student government rules. "That experience showed me the power law has for making a more just society," says Parlow. After graduating from Loyola Marymount with a Bachelor of Arts,
Parlow took a year off to study for the LSAT (law school admission test). During that year, he got a taste of local governmentworking for LA Mayor Richard Riordan. After that experience, he attended Yale Law School for the next three years.
Knowing that he wanted to live in California after obtaining his law degree, Parlow returned to the state to take the bar exam and then spent three years working at a national law firm. From there he went on to serve as a law clerk for the late Judge Pamela Ann Rymer of the U.S. Court of Appeals for the Ninth Circuit, who he considered a mentor.
It was while teaching at Whittier Law School from 2004-2005 that Parlow met his now wife, Janine Kim, who was teaching at Whittier, and who now teaches at Chapman's Fowler School of Law. After a year at Whittier, Parlow joined Chapman and taught law classes from 2005-2008.
Mentoring Students
"During those three years teaching at Chapman, I taught many talented students and forged close bonds with so many of them," says Parlow.
Ashley Coleman is one of those students. The 2008 graduate is currently Assistant General Counsel–Litigation & Employment for Chipotle Mexican Grill.
"Matt was my favorite professor during my time at Chapman," says Coleman. "He made class fun, interactive, dynamic and exciting by using current, real-life hypotheticals to ensure we were engaged and retained key legal principles. Though I only had Matt during my first year of law school, I think of him as a lifelong mentor and friend. Over the past 11 years since graduating from law school, I have sought his advice several times during my legal career."
In 2008, Parlow had the opportunity to take a position at Marquette University Law School in Milwaukee, Wisconsin, where he taught law and served as Associate Dean for Academic Affairs.
"That was a great eight years and proved to be a fun adventure," says Parlow, who had married Kim in 2006. The couple bought a house in Wisconsin and had both of their daughters while there.
When the position in Chapman's law school came up and Parlow was hired, the family welcomed the prospect of coming home. He started as Dean in late June 2016.
"Thanks to my prior experience and ties to the Chapman community, I knew the university was a place that attracts high-caliber students, faculty, administrators and staff," says Parlow. "The thought of being a part of such a thriving university was exciting."
Fowler Law School Highly Ranked
Now in his fourth year as Dean of the law school, Parlow is proud of several accomplishments that he's managed together with his faculty and staff colleagues. These include continuing to increase the strength of incoming classes. "The Fowler School of Law's Competition Teams Program was ranked 5th this year by the American Bar Association, and the Law School was ranked among the top 25 law schools to produce practice ready law students," he says.
Additionally, the school is one of the top three law schools in terms of qualitative gains in students' LSAT scores and GPAs in the entire country in the last three years, and they're improving year over year in increasing student diversity. "We matriculated our most diverse class yet this past year," he says. "We're striving to ensure that our students are reflective of Southern California." To that end, he also created a scholarship fund for first generation college students.
Marisa Cianciarulo is Associate Dean for Academic Affairs for the Fowler School of Law at Chapman. She has known Parlow since 2006, when he helped recruit her to join the law school faculty.
"Matt is a brilliant strategist who can juggle any number of issues that come his way, and he does so with unassailable ethics and integrity. He has made the law school more efficient, collegial and student-centered. While respecting the culture of the law school and maintaining our family-like environment, he has brought us into compliance with various requirements. Recently, he led the reaccreditation process with our national accreditor. We came through with flying colors."