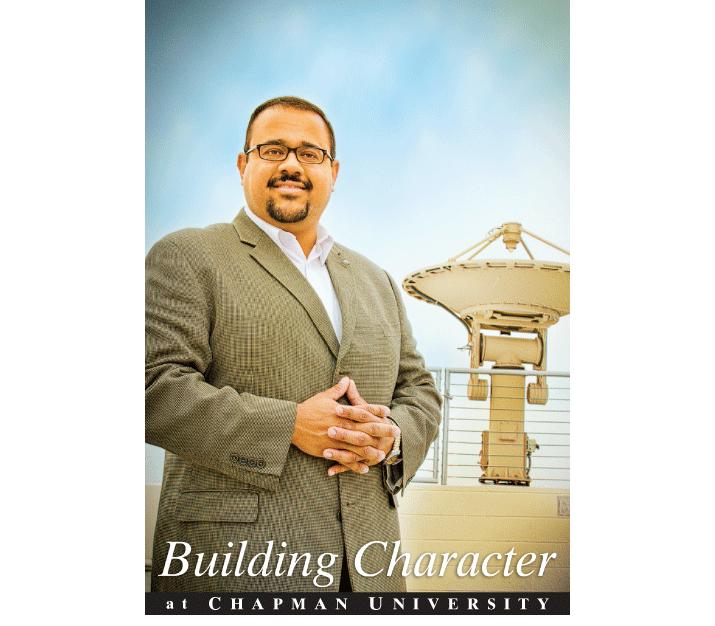 Dr. Hesham El-Askary
While other children gazed upon mobiles over their cribs and children's artwork taped to the refrigerator, as the child of scientists, the first picture that Hesham El-Askary saw was the periodic table.
"Science was the common language spoken in my home," says Chapman University's Associate Professor of Remote Sensing and Earth Systems Sciences in the School of Earth and Environmental Sciences and a member of the Center of Excellence in Earth Systems Modeling & Observations. "My mother is a chemist and my father was a professor of sedimentology. He would discuss his work, such as the geology of Egypt and the lowlands affected by the salty water of the Mediterranean, where I grew up."
Perhaps it was early exposure to the periodic table and its interconnectivity that led El-Askary to his work as an earth systems scientist, who studies and teaches the delicate balance between the earth's various spheres, including the atmosphere, lithosphere, biosphere and hydrosphere.
Earth's Tenuous Balance
"While much of the research in earth systems and climate change focuses on global warming trends, I am interested in how the interaction between the earth's spheres leads to extreme climatic events," says El-Askary, who also holds an appointment at Chapman's School of Computational Sciences at Schmid College of Science and Technology. "There is a fragile balance between the spheres that is going unnoticed. This is because the fluxes within the system are global (changes in one region may well be caused by changes in a distant region). Over the last few years, we've seen the ever increasing magnitude of extreme events like hurricanes, tsunamis, flooding and wildfires resulting from how those spheres are communicating with one another."
Part of El-Askary's work focuses on natural and anthropogenic (manmade) pollution and its influence on the environment. "One major theme of my research is studying the impact and mixing of the multisource aerosols injected into the atmosphere by dust storms, manmade products, local emissions and biomass burning," he says. "Other areas include how the changing climate contributes to the coral reefs bleaching in the Red Sea and the Arabian Gulf regions and to the rising sea level over the highly populated Delta of the River Nile."
He is particularly interested in the concept of "glocal" impact—how what's happening globally in terms of climate affects us locally. For instance, sandstorms originating in Asia impact agriculture, air quality and water resources in North America. El-Askary collaborates with environmental experts across the globe on the practice of remote sensing, which refers to the science of obtaining information, including about climate, from an aircraft or satellite. He has coauthored several scientific papers on the subject, such as "A Multi-Sensor Approach to Dust Storm Monitoring over the Nile Delta," which appeared October 2003 as a cover article in the prestigious IEEE Transactions on Geoscience and Remote Sensing. In 2006, this work was awarded the Saudi Arabia Prize for best published article in environmental management trend hosted by Arab Administrative Development Organization (ARADO), affiliated with the League of Arab States.
Oil Refinery Cloud Leads to Environmental Research
Thanks to a chance comment, El-Askary became interested in the Earth's delicate balance early on. "During a trip to our summer house on Egypt's coast when I was a young boy, I saw smoke clouds emanating from oil refineries. I thought the clouds looked amazing, but a worker told me they were bad for our health. I came to understand how much harm those factories were doing to the environment."
Chapman University's Chancellor Daniele Struppa collaborated with El-Askary on a scientific paper that analyzed the impact of El Nino on precipitations in California's different climate divisions. "Hesham's work is scientifically solid and mathematically interesting, as well as immediate, clear and possessing direct applications," he says. "For example, being able to observe the snow cover gives us early warnings for future droughts."
El-Askary's aptitude for collaboration is one of his strong suits, notes Ghassem Asrar, former Director of the World Climate Research Program, who is currently Director of the Joint Global Change Research Institute. "Hesham is a very competent scientist in his own right, who recognizes that most environmental problems are complex and require teamwork," says Asrar, also a former adjunct professor at Chapman. "He has an extensive international partnership network and devotes a lot of energy building bridges that demonstrate the benefits of science and technology to the rest of the world. He's also a rare breed of scientist willing to work closely with the private sector to ensure that solutions we identify and develop benefit society."
Journey to Earth Science and Chapman
El-Askary's grew up attending an English school in Alexandria, Egypt, where he excelled in all subjects. In high school, he discovered a passion for science, so he attended the Faculty of Science, Alexandria University, where he earned a Bachelor's in Geophysics/Physics/Geology in 1997. After graduation, he held a teaching assistantship at the university for four years while continuing to study his graduate degree in geophysics. Following that he attended George Mason University in Virginia where he earned two Masters in Earth Systems and Computational Sciences, followed by a doctorate in Computational Science & Informatics, graduating with a 4.0. While at George Mason, he also worked on projects for the school's Center of Earth Observing and Space Research. He was asked to join Chapman's faculty in 2008 with a team of scientists led by Menas Kafatos, the founding dean of the Schmid College of Science and Technology.
Sharing Knowledge
El-Askary has enjoyed his time at Chapman University helping develop the curriculum of a Bachelor's degree in Physics. He has also led the development of curriculum for a Master's degree in Computational Science with many tracks, among which is Earth Systems Science. He is especially proud of initiating and organizing the Chapman University Symposium Interface 2013 on Big Data and Analytics held April 2013.
"Hesham is a true embodiment of the notion of teacher-scholar that Chapman prides itself on," says Struppa. "He is a great teacher and an incredibly active and successful scholar, who illustrates how it is not only possible but desirable to merge your teaching and research."
He also understands the importance of educating future scientists, adds Asrar. "Hesham has a passion for education and knows how important it is to mentor the younger generation of scientists so we have a sufficient number of competent and well-trained individuals to take on the world's complex scientific problems."
El-Askary finds teaching and the long-range consequences of doing so especially fulfilling. "When I hear from students who graduated about the impact I've made on their educations, it really makes me happy to see how I helped shape their futures." He also enjoys living in Orange County with his wife Essraa Nawar, Chapman's Leatherby Libraries Development Coordinator, and their three children.
Chapman University
One University Drive, Orange CA 92866 / 714-997-6815