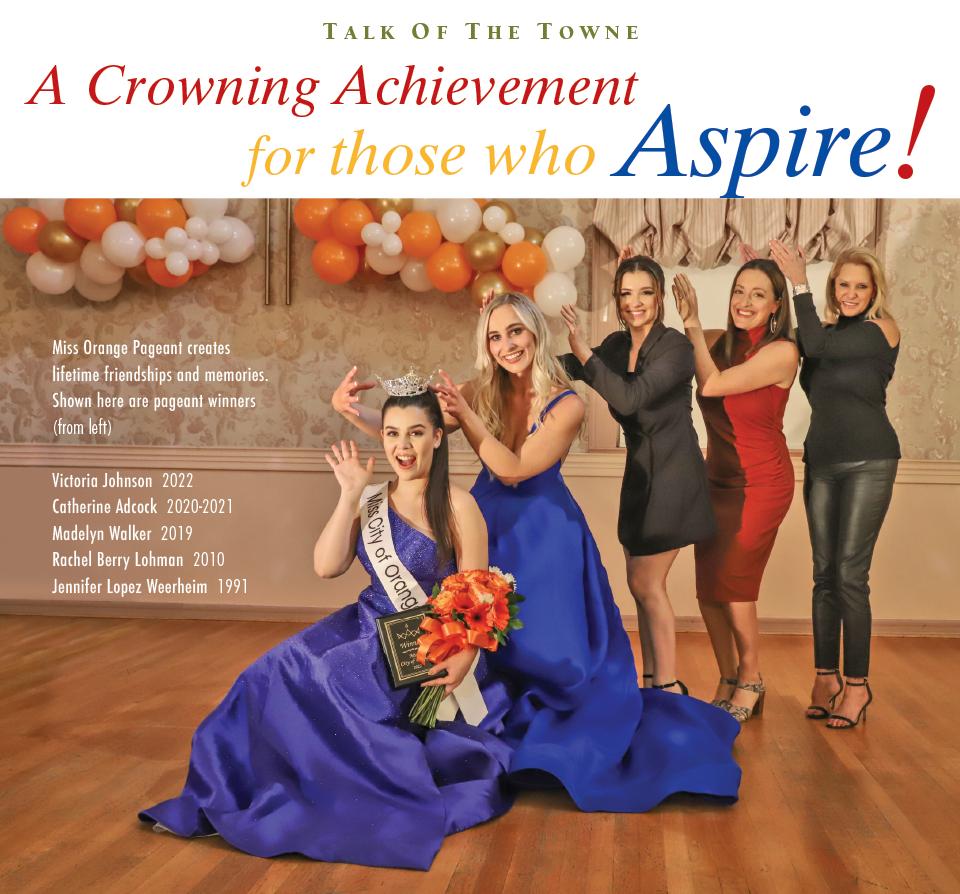 Miss Orange Scholarship Pageant
For more than 85 years, Miss Orange has been the face of the city. Starting in 2023, her presence will be more pervasive with some changes in the Miss Orange Scholarship Pageant.
The community-based program is open to young women ages 17-24, who live, work full-time, or attend school (must be a high school senior) in the City of Orange or Orange Unified School District. Miss Orange serves as queen for the Orange May Parade, represents the city as an official ambassador, earns scholarship money for college and learns necessary skills to help excel in a future career.
In addition to being a way to serve others, grow relationships in the community and to network, current title holder Victoria Johnson says, "Through becoming Miss City of Orange, I learned so much about myself and what I want to accomplish."
Johnson is a Human Resource Management major at University of Arizona completing a bachelor's degree. She says the scholarship money "has been extremely helpful" in paying for student loans and books.
No longer required to compete at the Miss California level, the next Miss Orange can completely focus on the local community.
The May Festival started in 1933 and crowned a May Day Queen annually. That role eventually transitioned into Miss Orange. The festival ended in the early 1990s and resumed in 2019. A parade was held again last spring. May Queen and her court are expected to return in 2023.
When Miss Orange's year of service is over, "what has really made an impact is all of the local events that we do and the local people they've met and been able to network with," explains Connie Benson, Executive Director of the pageant since 2004. "These opportunities are what many of the pageant winners love the most."
No longer having to carve out extra time to prepare for the state competition alleviates a major burden for those who become Miss Orange. "There was a financial commitment and a lot of paperwork involved with the state competition," says Benson. "This is all going away. We can focus more on local activities and building their resumes and interview skills. All of that has always brought me the most joy. I'm really excited about it."
Another change finds the Orange Chamber of Commerce presenting the pageant.
"We will reach out to our hundreds of members, tell them what the program is, and ask if they'd like to sponsor one of the candidates," explains Elizabeth Holloman, Executive Director, Orange Chamber of Commerce. All funds raised—from event tickets to the sponsorships—go into the scholarship fund. "This is a perfect match because the Chamber is always promoting Orange and so is Connie Benson with Miss Orange."
Holloman, a former Miss Orange judge, feels a primary benefit for contestants is experiencing the mentorship of Benson. "Connie really does a wonderful job of helping them become more poised, more professional, have more confidence and know how to dress. She elevates their game. That is worth more than anything else, rather than the title—this time spent with her."
Johnson feels the interview preparation for the pageant helped her land a position as director of a nonprofit despite no previous experience in the nonprofit sector.
Among Johnson's highlights from serving in the role of Miss Orange are, "getting to know the City Council, the Chief of Police and the Chief of the Fire Department. It's been the most phenomenal experience."
All the pageant preparation also provided Johnson with a newfound appreciation for Orange itself. "It's unlike any other city or community in the state of California or around the country," she says. "I'm really excited to be a part of such a rich history that is so widely celebrated in the community."
Miss Orange Scholarship Pageant, 6 pm January 14, $25, $15 students and children under 12; Memorial Hall, Chapman University, One University Drive, Orange. Go to www.MissCityOfOrange.com for more information. The organizer is accepting contestant applications via the website through December 1. Send questions to: MissCityOfOrangeED@gmail.com.