Orange Police Chief Dan Adams - Sep / Oct 21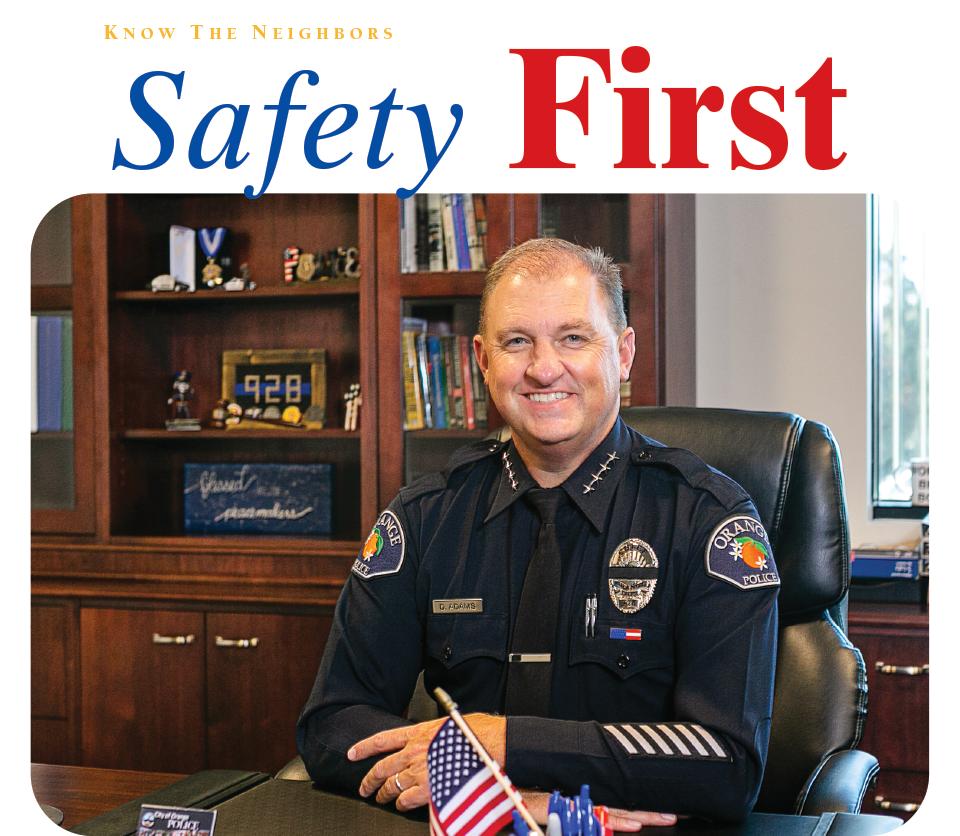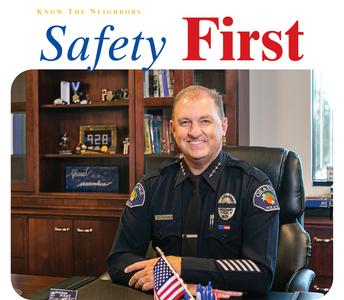 "This is the noblest profession I believe there is," says Police Chief Dan Adams, who leads a department with about 160 sworn officers and 120 support staff. "Everybody needs people working to keep the community safe."
- - - -
Police Chief Dan Adams
Dan Adams never wanted to become a police officer when he was young; playing basketball was his dream job.
"I received a lot of traffic tickets when I was a kid, and I had no interest in this," he says, adding that his thoughts changed after suffering an ankle injury. "That's when I started wondering what else I could do."
After someone suggested he check out the Orange Police Department (OPD), he did just that. Adams applied to become a reserve police officer, went on a ride-along…and was hooked. After starting with the department in August 1990, Adams worked his way up through the ranks and on July 4 became the city's 35th Chief of Police.
"The ultimate goals of policing—reducing crime and increasing and maintaining trust with the community—have never changed," he says. "My commitment to the community is that the members of the police department will strive for excellence in policing by working hard to reduce crime, providing exceptional customer service and hiring great people."
With the recent national movement to reduce police funding, Adams admits he was concerned about the potential local impact. Instead, he noticed the level of support from local elected officials, community groups and others remained high.
Additionally, Adams says there's a growing number of officers working at agencies around the country applying to join the department. Six of the about 20 officers hired during the past year arrived from Los Angeles County or Northern California.
"Since people want to come here, we can be a little pickier when it comes to finding the right candidates," says Adam Jevec, a Captain in the OPD's Support Services Division.
Fifteen years ago, Jevec also was an officer making a lateral move from another agency, but in his case, it was a homecoming since he was born and raised here.
"This is my home and what I know and love, so I have a passionate desire to keep it safe and represent the department through community involvement," Jevec says.
As for Adams, his family has even deeper roots in the city— literally. In 1974 when he was a child, he helped plant a magnolia tree at the southeast side of Plaza Park in honor of his great-grandmother.
"I walked into this on a whim from a friend, and here I am 31 years later the leader of the Orange Police Department," says Adams, who now is the third police chief to spend his entire career with the force, after Michael Parker and Tom Kisela.
"The fact that I went from not being interested in law enforcement to here is really cool. It's also very humbling. I'm absolutely honored to be in this seat right now."
Orange Police Department
1107 North Batavia St, Orange CA 92867 / 714-744-7444