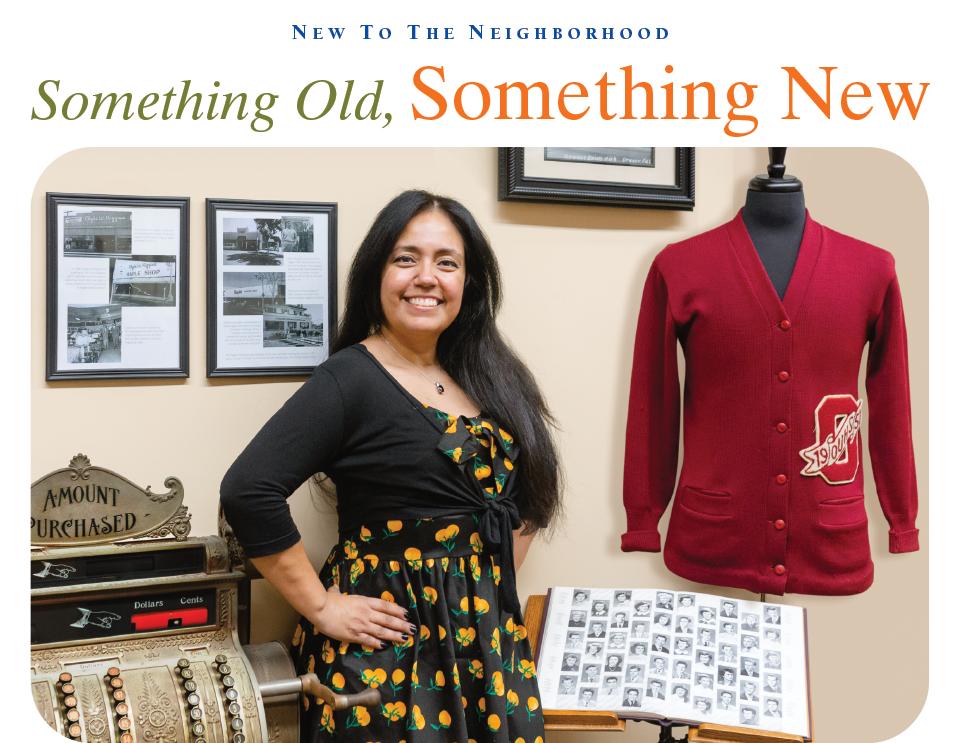 Archivist and Local History Librarian Aida Cuevas stands between a cash register from the Higgins Furniture Store and a letterman sweater from the old Orange Union High School––donations on display at the Orange Public Library History Center.
- - - -
Aida Cuevas, Orange History Center Archivist/History Librarian
Orange is one of a few cities to have its own library archivist. New to this role since last fall is Aida Cuevas. "I am both the archivist and local history librarian," says Cuevas. "I preserve the history of Orange and everything that is donated, ensuring the materials are in order and properly preserved for future generations."
When Cuevas began working at the library, she quickly realized that Orange residents are very proud of their history. Apart from being one of the largest historical districts, the community has three organizations preserving history: the Orange Community Historical Society, the Old Towne Preservation Association and the Cypress Barrios Historical Society.
Right now, her top priority is inventory. Anything that pertains to the City of Orange will be considered for a donation.
"You never know how an item you decide not to throw out but instead donate to the library is going to impact a future generation," says Cuevas, who has helped several people with research questions, noting that this service can be done in person, or via email or phone.
Recently, a man came in looking for a garage that his dad used to work in. Cuevas couldn't find that garage but was able to locate a different one. "He was so happy because his uncle used to work at the garage I found, and now he knows how his parents met. His dad had started working with his uncle, who ended up introducing him to his mom. Things like that are just amazing. I was able to get that information because someone took the time to donate a 1930s or 1940s directory."
Cuevas has always been interested in history, stemming from her dad's influence and a family trip visiting every mission in California when she was a child. A lifelong librarian and archivist, she found the Orange position when several friends sent her the posting telling her it was the perfect job for her. She agreed. "This isn't a job to me. I get to play with history every day," she says.
"Aida is enthusiastic about her work—it's contagious," says Roger Fitchen, editor for the Orange Community Historical Society newsletter.
Now open Monday through Saturday, popular services at the History Center include residence research and looking for old yearbooks and newspapers, which are digitized. Visitors can work on genealogy using the center's subscription to Ancestry.com, which can be accessed for free while inside the History Center. There is also a database of digitized photographs, directories and newspapers, which can be accessed from home by clicking "local history" on the library web page.
Orange Public Library & History Center
407 East Chapman Ave. Old Towne Orange, CA 92866 / 714-288-2400