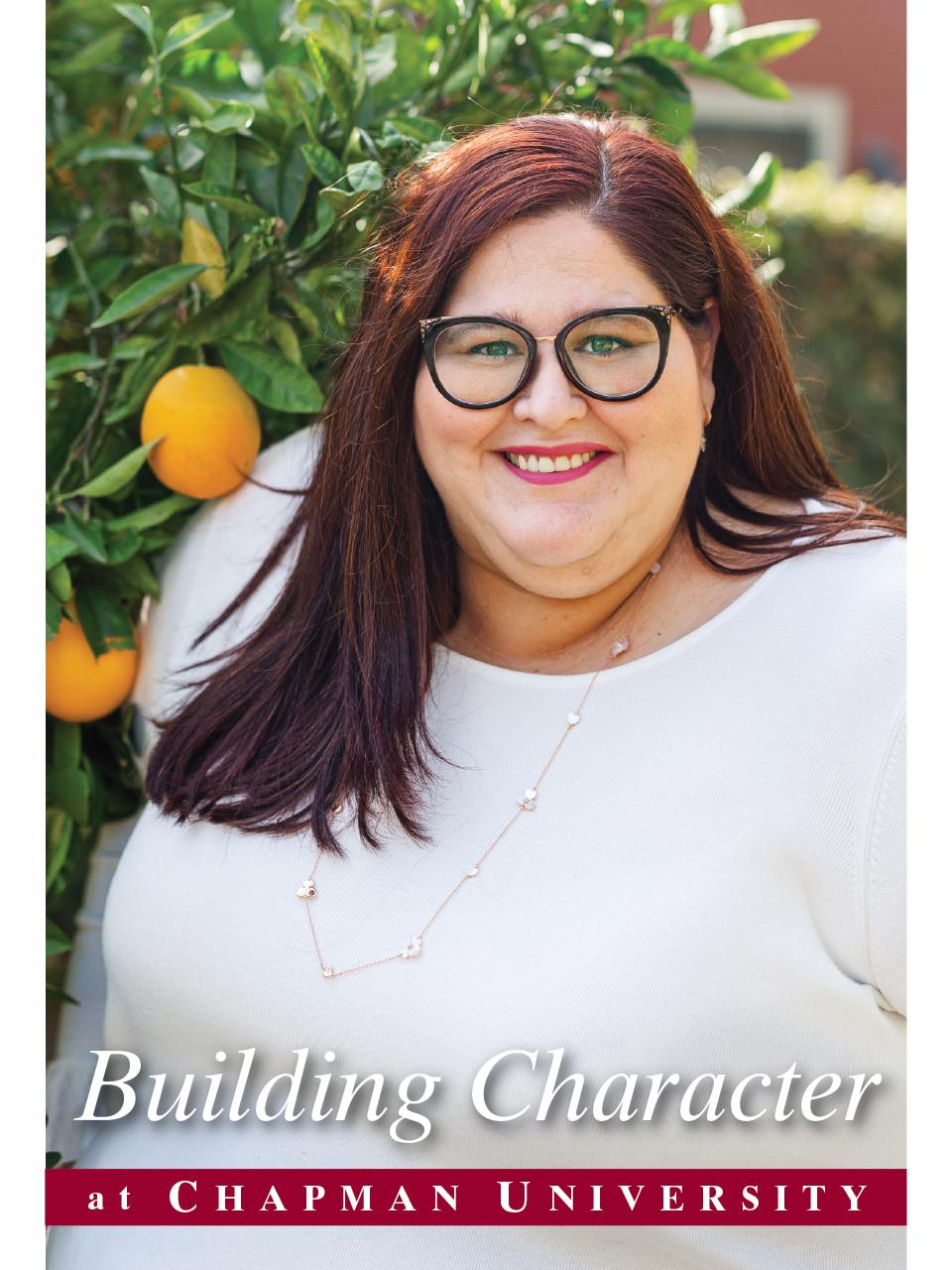 Alisa Driscoll
For Alisa Driscoll, Chapman University's Vice President of Community Relations, giving back is a lifelong endeavor. From a young age, the Orange County native has participated in a wide variety volunteer activities.
"It's incredibly important to me to help people improve their quality of life and make the community better for everyone," says Driscoll, who joined Chapman in 2015. "That mindset is the cornerstone of who I am."
In her work at Chapman, Driscoll wears a variety of hats—all geared toward creating open lines of communication between the community and university. "My aim is to show residents and community groups that Chapman is here to be a good neighbor and an active partner. The university has a plethora of resources that contribute to the community. It's my job to make those amenities known."
Local Beginnings
Driscoll grew up in Cypress in the late 1980s and 1990s, the oldest of two children. "My father installed live plants within shopping centers, and my mother worked in healthcare. In addition to showing me the value of hard work and education, they instilled in me how important it is to give back and be grateful."
Neither of Driscoll's parents went to a university, but they encouraged her to do so. "My dad earned his GED and used to say to me, 'I hope you grow up to be smarter than me.' That stuck with me. I was the first person in my family to earn a bachelor's degree."
She studied Classical Civilization at the University of California, Irvine, earning a Bachelor of Arts in the subject while working 50 hours a week to put herself through school. After she graduated in 2010, Driscoll had the opportunity to work at an independent publishing company.
"I love to read, so I was thrilled to get a fulltime position as a book editor," she says. "I discovered that though I love books, I am a social creature and needed more connection. After six years in publishing, I decided to get a job that would allow me to give back to the community."
Taking a substantial pay cut, Driscoll went to work in the nonprofit sector. Her first position was at Girls Inc. of Orange County, an organization dedicated to giving girls the necessary skills to become confident, successful and independent women. "Inspiring girls to be strong, smart and bold really resonated with me," she says.
Driscoll started at Girls Inc. as a volunteer and operations associate. She was promoted twice, including her final position as Assistant Director of Development. After two years with the organization, she took a position as Associate Development Director at Boys Town, a nonprofit focused on treating children's behavioral, emotional and physical problems. She worked there for a little more than a year until Chapman recruited her in 2015.
Coming to Chapman
"I started at Chapman working as Project Specialist under Executive Vice President and COO Harold Hewitt," she says. "In addition to working with a variety of regional and national organizations on behalf of Chapman, I worked on a variety of other projects. This included answering calls from community members on what was known at the time as the neighborhood hotline."
In January 2016, then President Jim Doti and Chancellor and now President Daniele Struppa decided there should be a dedicated single point of contact for neighbors and community members to easily get in touch with the university. As a result, the Office of Community Relations was formed. Driscoll worked in the new office as Communications and Operations Manager from May 2016 to May 2020, at which point the former Vice President and her boss, Jack Raubolt, retired. She was then appointed Interim Vice President of Community Relations, and the title was made official in June 2020.
"I learned a great deal working with Jack, who is a wonderful mentor," says Driscoll. "When he left, there was a great deal of concern surrounding COVID and the campus. I'm grateful to Chapman's executive team for putting together a solid plan for dealing with the pandemic. That enabled me to focus on building trust and creating a dialogue with members of the community to reassure them regarding their concerns."
Chapman University President Daniele Struppa feels that Driscoll has done a superb job of becoming a trusted liaison between the university and community of Orange.
"Alisa stepped into a delicate situation, given the great relationships that Jack, our previous VP, had established. She was very smart in taking things slow and making sure she could build trust through her actions," he says. "I now believe she is a major asset to our institution and sits in one of the most important roles at the university. She is respected and well regarded and can be that bridge that is so important as we continue to strengthen our friendship and partnership with the beautiful town of Orange. Those collaborations, those informal moments of mutual support, are key to the success of the university, and of the city."
Those in charge of community organizations with which the Office of Community Relations collaborates agree with Struppa's assessment. This includes Megan Penn, Co-Founder and Executive Director of the Orange Home Grown Foundation (OHG), which runs the Farmers & Artisans Market and the Education Farm.
"Alisa is genuine and kind and treats everyone with respect," says Penn. "She really cares about the Orange community and Chapman University. The farmers market operates partially on university property donated to OHG. Alisa has also supported our efforts with the annual OHG Farmer's Market to Table Dinner that takes place on Chapman's campus. This is our organization's biggest fundraiser, and we heavily rely on the university's support to make this event possible."
Driscoll sits on several boards, including the Rotary Club of Orange and the Executive Board of the Orange Chamber of Commerce.
"Alisa is one of the Chamber's most valued executive committee members," says Elizabeth Holloman, Executive Director of the Orange Chamber of Commerce. "She is warm, caring, trustworthy, empathetic and contributes great ideas and counsel. She also never hesitates to jump in to lead a committee or do the work necessary to get something done. It was under her leadership that the Chamber's recent State of the City was such a success."
Community Service Passion Projects
In addition to her "day job," Driscoll is involved in a variety of projects and organizations close to her heart. This includes serving on the board of the Mariposa Women & Family Center, which offers free and low-cost mental healthcare to those in need and on the board of the Youth Centers of Orange, which provides programming and mentoring for local youth. At Chapman, she is also involved with diversity and inclusion initiatives, including the Chapman Diversity Project, designed to help ensure that everyone's voice is heard and respected.
"I strive to be the kind of leader who is authentic and can be trusted," says Driscoll, who received her Master's in Leadership Development from Chapman in 2019. "My goal is to inspire and lead by example while creating fair and equitable spaces for all voices to be heard. We're all continuing to learn. It's a process; not a destination."