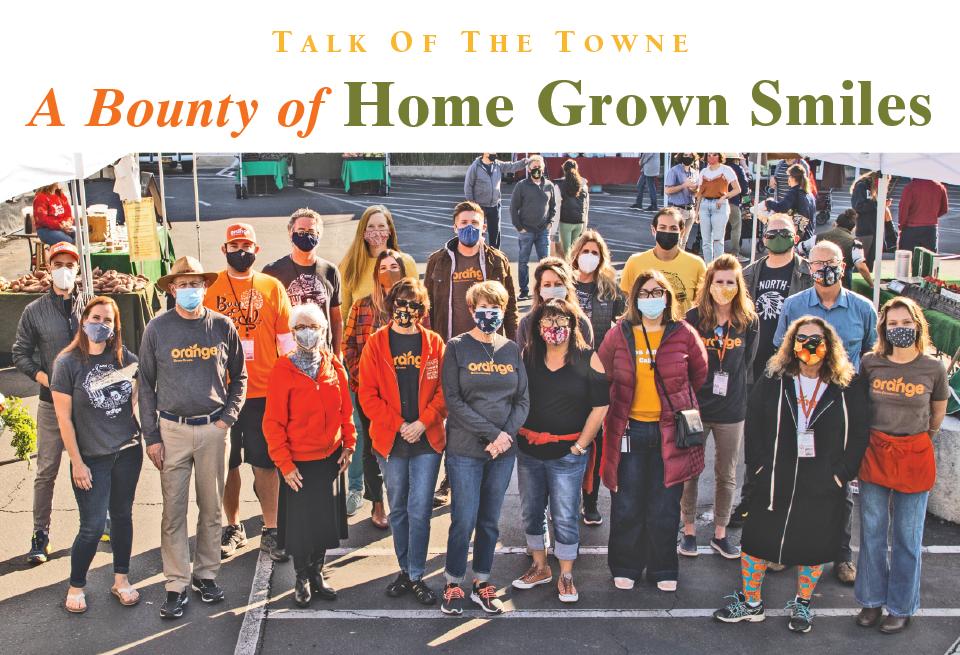 Celebrating Ten Years at the Market
When Thursday nights came around for Megan Penn in the late 1990s, she'd take a break from her college homework, grab her roommates and head out the door to the San Luis Obispo Farmers Market. That's where she could immerse herself in the sounds of rock or reggae music, smell the aroma of barbecued brisket and grab fresh vegetables for the week.
"It felt like we were part of the community when we were in that space," Penn says.
So when she came home to Orange after graduating college, she worked with friends and family to recreate that magical feeling. The Orange Home Grown Farmers & Artisans Market—a weekly event that began in 2011 with around 800 visitors—has blossomed into a way of life for the city, now drawing close to 2,000 every Saturday.
The market will celebrate its 10-year anniversary this May.
"These past 10 years have brought the community together, supported local farms and businesses and acted as a common meeting place for shared smiles and laughs for friends and families," says Brian Kunisch, President and Co-Founder of Orange Home Grown.
The passion Orange Home Grown founders, staff and volunteers have for fresh, nutritious food goes beyond wanting healthy options for their own families. They believe that local farming is an essential ingredient for the health of the community and the nation's economy. And while the market has grown and evolved over the years, its mission has not.
"The one thing that has remained the same is our commitment to building community," Penn says.
Outside of COVID-19 conditions, the market hosts cooking demonstrations, free yoga classes, educational events, pet sitting and more. The market has worked to make fresh food more accessible to a wider population by offering public assistance payment options through Cal Fresh and Market Match. Visitors can find a vegan coffee truck and an "Artists Alley," giving added exposure to area small businesses.
CUSTOMER QUOTES:
"Orange Homegrown is what every farmers market should be: Giving neighbors access to healthy, local food while building a strong, vibrant community that gives back. Saturday mornings at the market are easily the highlight of my week. I can't wait to see the market's impact grow over the next 10 years!"
Nikki Morgan, Backyard Bees, Market Vendor
"There's nothing like buying your food from someone you know, trust and enjoy. Nothing tastes better than our weekly Saturday outdoor shopping spree with friends!"
Denise & Mike Weyhrich, Old Towne Residents
"The people who run Orange Home Grown are genuine people who love what they do. My favorite part of the farmers market is the live music. It's a great place to bump into friends and neighbors!"
Alex Romero, Orange Circle Optometry
"I've performed at multiple markets for many years. By far this is my favorite. If Mayberry had a farmers market, this would be it."
Bryan Leicher, Musician who performs at the Market
- - - -
OHG, with the help of Chapman University, broke ground on the Orange Home Grown Education Farm in 2016. Penn's father, Doug Turner, has served as farm manager the last four years, teaching people how to grow their own food. He also serves on the Orange Home Grown Foundation board of directors.
"We have volunteers—those in the community who just love working in the soil and those who want to learn so that they can plant their own garden at home," Turner says.
The market has continued despite COVID-19, though it hasn't come without challenges. After initially closing for a month starting in March 2020, the market reopened with social distancing and other safety measures in place.
"This pandemic has shown us how we crave the social aspect of our lives," Doug Turner says. "The limited contact we must observe these days just reinforces how important it is."
Penn's mother, Martha Turner, one of the market's founders and a current foundation board member, says reflecting back on how the market has grown puts a smile on her face.
"We had such a feeling of accomplishment on opening day in May 2011. Now when I look at the market, I feel even more pride in what a success it has become," she says.
Penn hopes to see the market continue to grow and thrive for generations to come.
"The farmers market is such a magical place for me," she says. "It has become such a big part of my life and is so important to our board members, staff, vendors and volunteers."
Learn more and support Orange Home Grown at www.orangehomegrown.org