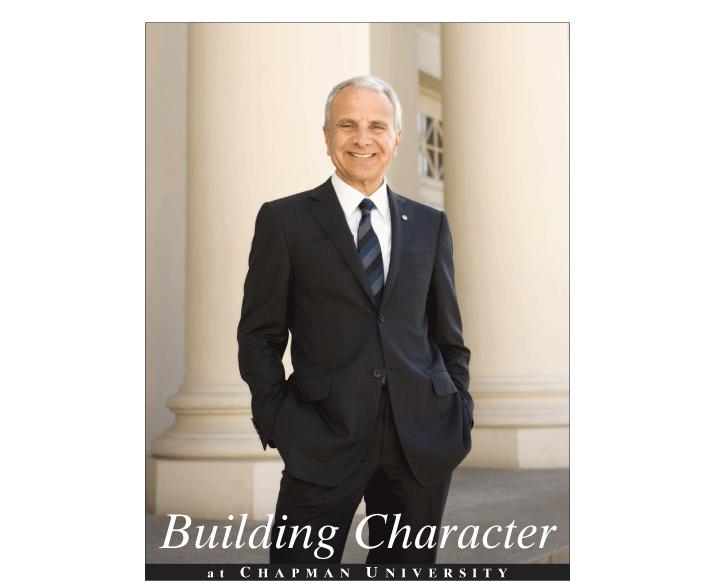 Dr. James Doti
Listen to James Doti speak and you'll be surprised to find that he once struggled with a serious speech impediment. "It wasn't until I was 7 or 8 years old that I began communicating clearly enough to be understood by others," says Chapman University's president, noting that he was somewhat ostracized by other students. Rather than fade into the background, however, he chose to meet the challenge head–on, auditioning for and getting a part in his first grade school play.
"That early experience taught me that weaknesses are actually challenges that make us stronger. I worked harder than anyone else on the lines, and even though I couldn't speak clearly, I compensated in other ways," says Doti, an economist who has served as Chapman's president since 1991. It is such unwavering determination that has enabled Doti to lead a once–struggling university to its current status as the number two school in selectivity out of 127 colleges, according to the U.S. News and World Report ranking. Quite an accomplishment considering the university placed 92nd out of 126 when he took the helm 19 years ago. Today Chapman boasts a selective student body, renowned and gifted faculty and nationally recognized programs such as the Dodge College of Film & Media Arts.
An accomplished marathon runner and mountain climber, Doti attributes his achievements at the University to the same perseverance he applies to sporting challenges. "Nothing is easy, but if you work hard and stay focused, you will succeed," he says. "Instead of thinking of the peak of a mountain, for instance, which can be daunting, I focus on getting over the first chasm, and it has been the same way with Chapman. Slow and steady progress from one small goal to the next is the way to achieve."
Doti credits his dedication to constantly improving himself to his father and mother. "My parents were immigrants from Italy who met in Chicago as teenagers," he says. "My father was a shoe salesman most of his life and my mother was a milliner (hat maker). They both worked very hard and though neither of them graduated from high school, they passionately believed that their four children would have an education. Hardly a day went by that they didn't reinforce our responsibility to go to college and take advantage of the wonderful opportunities this country has to offer."
Though Doti's family had no luxuries, there was always a good meal and a healthy serving of positive values. "My father was a gardener and had an obsession with growing a fig tree in Chicago," wrote Doti in an article that appeared in The Orange County Register. "If you believed my dad, his Italian homeland was a place where you could romp about in a pastoral wonderland picking figs and eating them to your heart's delight. He sought to recreate that bucolic vision in our backyard. The problem, though, was no one could convince my dad that a fig tree doesn't grow in Chicago." Each fall, Doti's father would plant a fig sapling he got from relatives in Italy and tried many ways to protect it over winter, but it would be dead each spring. "Sadly, my dad was never able to successfully demonstrate that a fig tree can grow in Chicago. But he did demonstrate to me something far more important: Never give up on your vision, especially when you believe in it with passion and conviction."
Those who saw Doti struggle to get his lines out in that first grade play would be surprised to see him now when he hosts his 4–year PBS–TV show "Dialogue with Doti and Dodge." He and Kristina Dodge interview a wide variety of celebrities and notable guests. This year he is adding to his repertoire with two more shows, "Chapman Prime Time" and a healthy cooking show focusing on ethnic foods.
Memorial Hall
If the first time you visit Chapman's Memorial Hall it seems familiar, chances are you've seen the historical building on film. The structure's understated classical architecture has made it an attractive backdrop for scenes in popular movies such as Crimson Tide, Rocky and Bullwinkle and That Thing You Do.
Once an integral part of Orange Union High School, Memorial Hall, which was built in 1921 and is listed on the National Registry for Historical Buildings, consists of three floors and is 35,195 square feet. Considered a capstone campus structure, the building houses a variety of administrative offices, including the offices of the President and Executive Vice President, University Relations, Financial Services and the busy 999–seat ChapmanAuditorium.