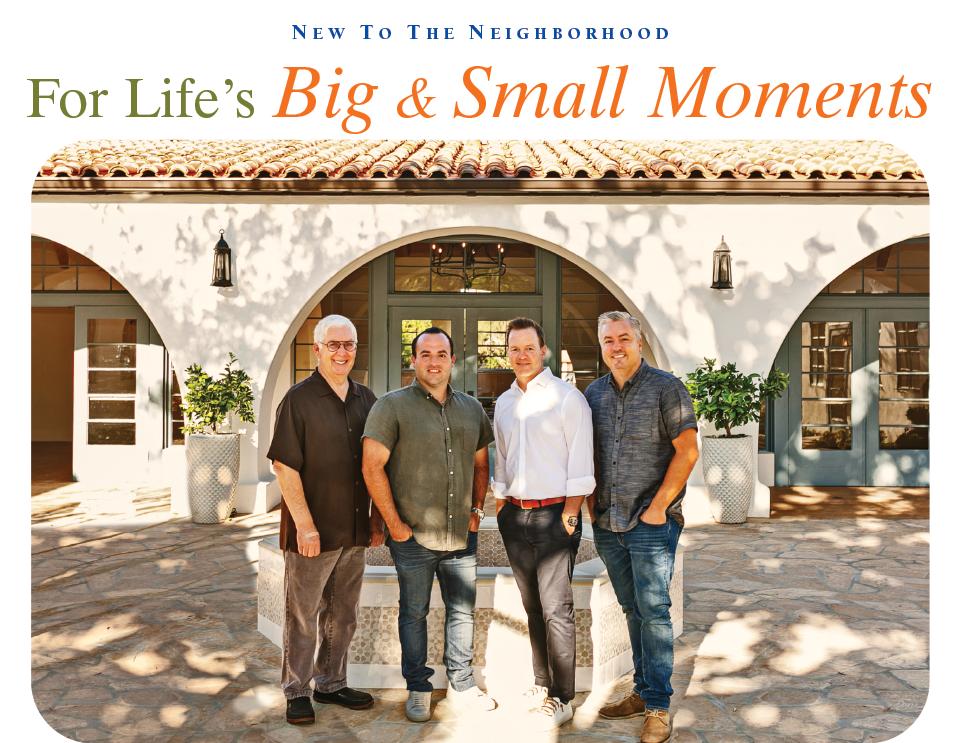 Grand Gimeno creator Armand "A.J." Barragan (center left) and building owners Adam Chez (center right), Barry Cottle (left) and Todd Cottle (right) stand in front of the Grand Gimeno's front entrance. Named after the original architect Harold Gimeno, the event space can host up to 300 guests.
Grand Gimeno
With restrictions lifting and people coming together to celebrate life events they missed out on, the Grand Gimeno is opening just in time to offer a beautiful and historic space for weddings and events. The venue combines indoor and outdoor areas for guests to enjoy the historic building, which sits near the Orange Public Library on North Grand Street.
Guests will be able to book events for dates starting in November, and the Grand Gimeno team is delighted to share the renovated area with the community.
"We're looking forward to people enjoying the entire space and bringing life back to this building," says Armand Barragan, Chief Operating Officer of Jay's Catering, the business that created the Grand Gimeno venue. This is the fifth event space operated by Jay's Catering, but the first in Orange.
Like so many other buildings across Old Towne, the Grand Gimeno is hosted in a historic site. To redesign the space, the developers stuck to the building's roots while adding a touch of modernity.
"We're so excited to repurpose this existing building that has been a fabric of the community for so many years," says Todd Cottle, of C&C Development, which managed the conversion of the existing building in partnership with Adam Chez of Charis Capital. "It feels great to be able to increase the longevity of the space, both physically and economically."
The property's history was the main reason Barragan and the Jay's Catering crew chose Old Towne as their next business venture. "This space has good bones, and wedding venues do so well in historic downtown areas," says Barragan. "My grandfather started this company 50 years ago. Since then we've had several venues, but I think this is our best so far."
At the Grand Gimeno, wedding goers have access to spacious amenities like bridal suites, a pre-event room and al fresco eating areas. The dining space was constructed with the idea of creating a full culinary experience, as Barragan says the wedding's cuisine usually stands out to guests.
The Jay's Catering team took their time crafting memorable and delicious menu options, and the Grand Gimeno itself hosts a 70-inch wood-fired pizza oven and a live fire cooking station. One of the available menus is the Asado Menu, an Argentinian BBQ-inspired course complete with different meats, salads and sandwiches.
"It's going to seem like Chef's Table at this venue," says Barragan. "We want it to feel really special, as opposed to your basic wedding food."
The team has already had more than 50 events booked in the upcoming year, and they're excited to continue providing the venue to the Orange community. "It's been so rewarding to see the process all come together," says Barragan. "We're so excited that now people can see the vision of this high-end wedding venue."
Grand Gimeno
146 North Grand St, Old Towne Orange CA 92866 / 714-636-6045