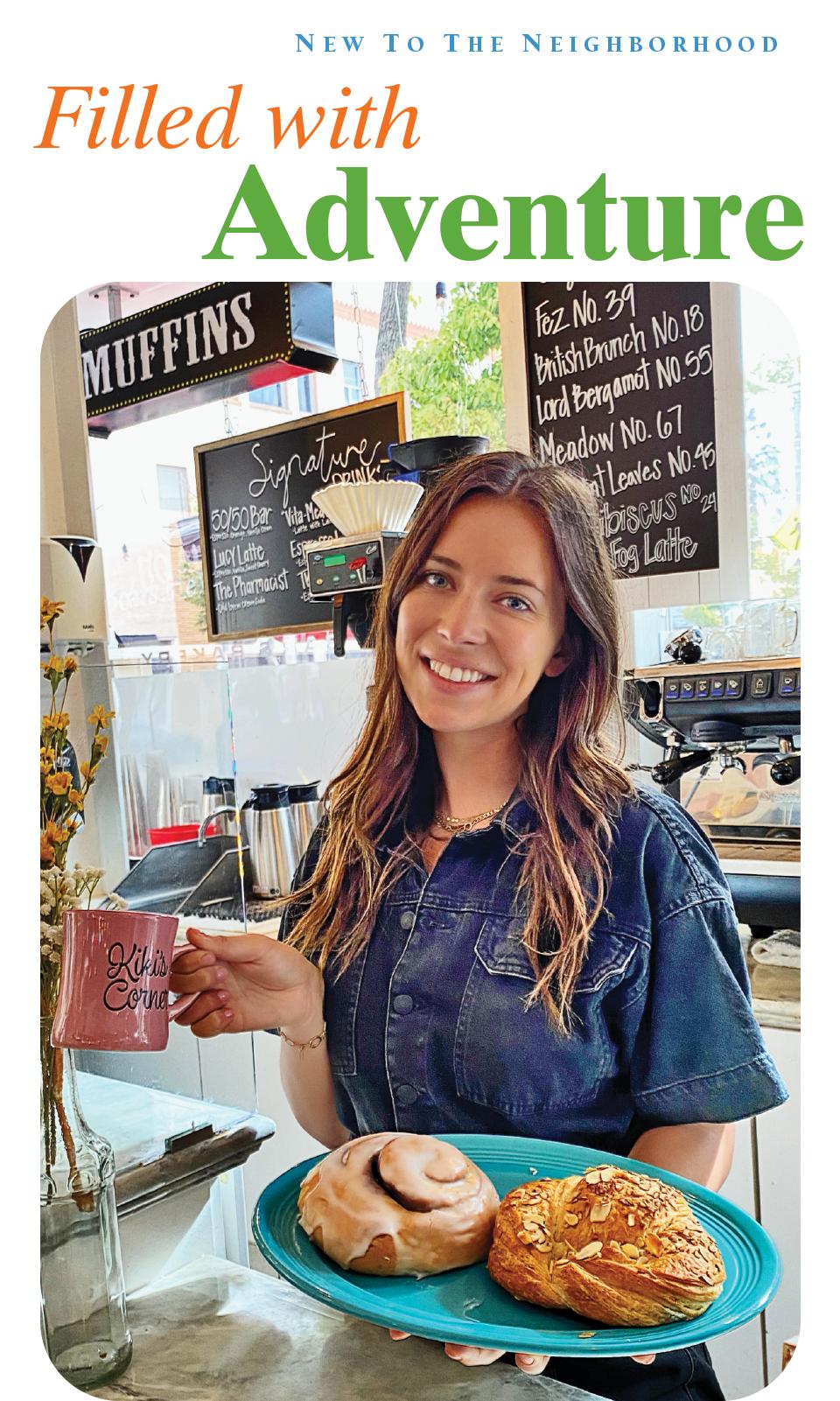 Kendyl Skeffington, owner of Kiki's Corner, is proud to bring sweet treats to Orange residents. The bakery and coffee shop also serves organic tea and espresso, and Kendyl is proud to include sustainable ingredients on the menu.
Kiki's Corner
If you're in need of a new place to grab your morning brew and baked goods, Kiki's Corner has a handle on all things breakfast. Located in the iconic Watson's Soda Fountain & Cafe, Kiki's Corner has expanded and rebranded from the previous Rockwell's Bakery. The eatery still serves Rockwell's pastries, but widened its menu to bring in espresso, handcrafted lattes and other signature coffee drinks.
Kendyl Skeffington, daughter of Watson's owners Billy and Laurie Skeffington, developed the coffee shop's vision and is managing the new business. She studied public relations and communications in college before working in the fashion industry, but as a self-proclaimed coffee lover and morning person, she's eager to jumpstart the new venture.
"I want to keep the menu fresh and creative, and it makes me proud to be an owner and follow in my parents' footsteps," says Kendyl, who never pictured herself in the business world. But when she got the opportunity to revamp the bakery at Watson's and add a coffee shop, she saw it as a place to expand her creativity and innovation.
"If you would have told me I would be managing a coffee shop a few years ago, I wouldn't have believed you," she says. "But seeing all the creativity I can put into Kiki's Corner and all the love I can get from it is amazing."
Kendyl and the Kiki's Corner team hope to stand out from other local bakeries by providing delicious alternatives for customers with food and diet sensitivities. In addition to classic Rockwell's pastries like croissants, bear claws and cinnamon rolls, Kiki's Corner has daily gluten-free, keto and paleo specials, including keto donuts and grain and gluten-free muffins.
"All of our paleo items sell out really quickly, and we're constantly having to restock," says Kendyl. "I love being able to implement healthy, yummy, handcrafted pastries that taste good and make you feel good."
Kiki's Corner is primarily a coffee shop, and the Watson's team is thrilled to finally have espresso on the menu. Customers can choose from typical espresso-based drinks like a flat white, or try a specialty drink like the honey cinnamon latte or the black cow mocha, filled with espresso and offered in chocolate and vanilla flavoring.
"People ask all the time for cappuccinos and lattes, and now they're so excited that we can offer those drinks," says Laurie. "We needed to be more modernized, and it's already really popular."
Since Kiki's Corner is located inside Watson's, customers will also be able to order coffee and pastries delivered to their table at the diner. The coffee shop also has its own indoor seating and an outside grab-and-go counter.
Although the eatery has only been open for a few months, Kendyl has big plans to expand Kiki's Corner and offer more experiences to customers. Her next venture is bringing housemade oat milk and almond milk to the menu as dairy alternatives. She also wants to work with Watson's to create coffee cocktails, like a classic espresso martini.
"Our aim is creating a charming space that brings people together where they can slow down from their daily routines and be transported to another era," says Kendyl.
Kiki's Corner
116 East Chapman Ave, Old Towne Orange CA 92866 / 714-202-2899