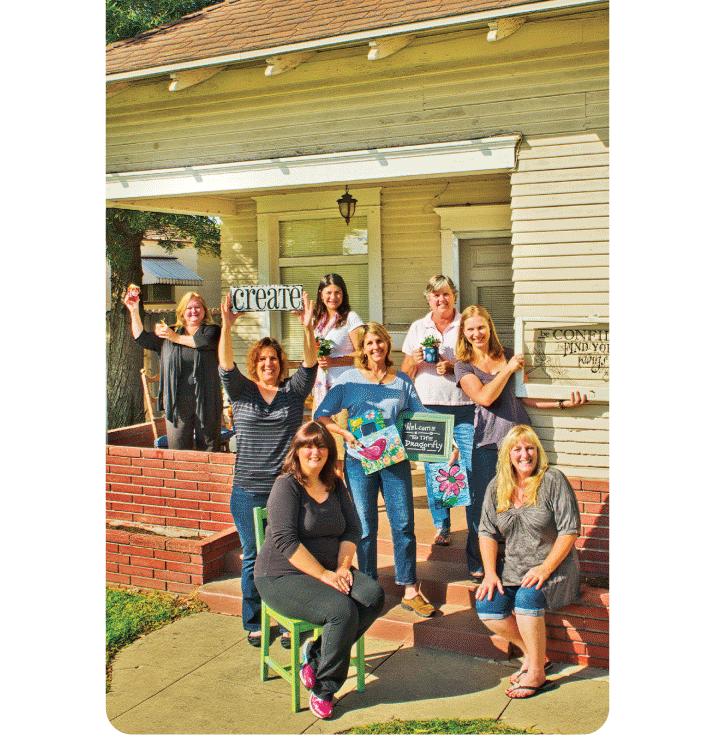 Dragonfly proprietor Beth Davidson (right) extended her classes at The Dragonfly Shops & Gardens on North Glassell. Occupying a vintage home, The Dragonfly Studio provides space for classes in cheese making, cooking, crafts, mosaics, furniture painting, gardening and more.
A homespun destination for the local community, The Dragonfly Shops & Gardens combines artful retail with a roster of classes covering topics from beading, mosaics, furniture painting and gardening, to cooking, cheese making, etiquette, art classes and much more.
Occupying a historic home on North Glassell, the shop has attracted a loyal following since its inception six years ago. Recently expanding her classroom, proprietor Beth Davidson created space that she dubs "The Dragonfly Studios."
"It's always been my passion to create, teach, do and pass it along," says Beth. "Over the years, we've built up an offering of diverse classes that people love."
With more than 20 instructors, The Dragonfly Studios provides a creative setting for learning something new as well as creating memories with your friends and family. What a unique gift to give someone for the holidays!
"We want to introduce people to our instructors and give folks a hands-on experience of what we do here," says Beth. "People naturally want to create. Through the amazing instructors we have on board, our patrons are discovering that they can do things they never thought they could do. I expect a lot of activity here throughout the holidays."
Beth has also established a Marketplace on the third Sunday of every month where crafters and artisans can promote their wares.
"The vibe at the Dragonfly is so positive and welcoming," she says. "We want people to feel good and achieve success at what they do, while creating something that's their very own."
The Dragonfly Studio
260 North Glassell St, Orange CA 92866 / 714-289-4689