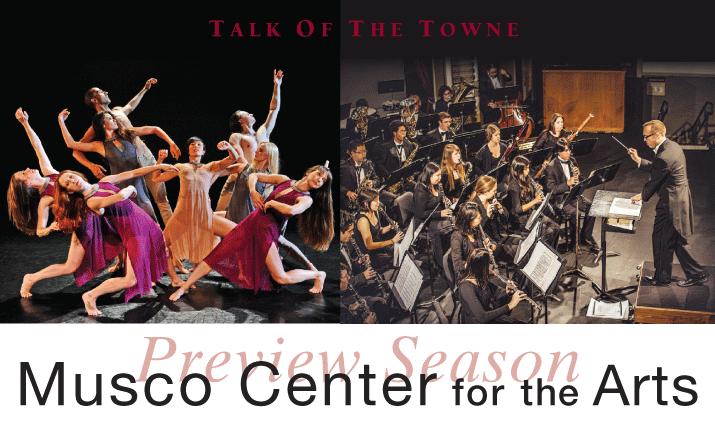 On March 19th, Old Towne will land on the performing arts map when Chapman University's Marybelle and Sebastian P. Musco Center for the Arts officially opens. The auspicious occasion—marked by an opening gala featuring world-renowned opera legends such as Plácido Domingo—will hail the beginning of what promises to be an exciting era for Chapman students, faculty and the community at large.
"The opening of the world-class Musco Center for the Arts is a once-in-a-century moment for Chapman University," says Richard Bryant, the Center's Interim Executive Director and former Marketing and Communications Director for the Segerstrom Center for the Arts (formerly Orange County Performing Arts Center.)
"I think that the Musco Center could become regarded as one of the finest arts education-related facilities in the nation—it is that good," says Bryant. "In addition to enhancing our educational mission to provide students with hands-on, real-world performing arts experience in the presence of great performers, the facility is enabling us to engage the local and surrounding communities."
World-Class Design
Designed by renowned architects Pfeiffer Partners, with acoustics by acclaimed acoustician Yasuhisa Toyota of Nagata Acoustics, the 88,000-square-foot arts center offers students a state-of-the-art venue in which to learn and hone their talents while performing. The Musco Center features 1,044 seats on three levels and a full-scale stagehouse that houses an intricate, multi-part, 110,000 pound shell that when in place creates a lush symphonic sound.
In the lobby, a grand spiral staircase and crystal chandelier catch the eye, while in the interior of the main concert space, the Julianne Argyros Orchestra Hall, sculptural wood balconies and boxes seem to float in the air, lit by a galaxy of tiny droplet lights.
"The seating in the facility is designed for sheer comfort," says
William Hall
, Founding Dean and Artistic Director of the Musco Center of the Arts at Chapman University. "Mr. Musco tried out 17 chairs, eventually choosing an extra-large model that will help guarantee every guest is comfortable," he says. "Each seat has a good view of the stage."
To join in on the new Musco Center excitement, consider participating in opening festivities and the preview season.
Plácido Domingo (center) introduces the Grand Opening celebration of the Musco Center for the Arts, accompanied by the gala cast and chorus.
Musco Center Grand Opening, March 19th
This powerful evening of music will feature performances by opera legends Plácido Domingo, Deborah Voigt and Milena Kitic, as well as an orchestra and a chorus of more than 150 voices. A variety of Chapman alumni, who are currently singing in theaters and opera houses around the world, will also perform, says Hall, who notes that the fun doesn't stop after the performance.
"Once the show ends, we will honor the many friends of the university who made the center possible by moving outdoors to the spacious Aitken Arts Plaza, where guests will enjoy a spectacular 3-D light show accompanied by dancers in the foreground, as well as a champagne toast."
Community Open House & Arts Festival, April 2nd
This free, daylong festival is open to everyone. Attendees will enjoy a wide variety of performances, including music, dance and theater. Come see and hear a cavalcade of local performers, as well as Chapman performing arts students. There will be family activities, tasty food and backstage tours of the Musco Center. At the outdoor Panic Amphitheater, you'll have a chance to see children performers from area student clubs and organizations.
At 7:30 pm, the Pacific Symphony will perform, including Grace Fong, Chapman University's award-winning pianist and Director of Keyboard Studies at the Hall-Musco Conservatory of Music. (This performance is currently sold out, but they will offer a limited number of tickets that day beginning at 3 pm.)
Preview Season
The Musco Center preview season will run for six weeks starting at the beginning of April, with the first full inaugural season beginning in the fall. Performances to look forward to this spring include:
April 3rd – Musco Center & Pacific Symphony present "American Visions, American Voices" – Charles Ives: Piano Sonata No. 2 (Concord Sonata)
April 10th – "Rhythms of Our Time," featuring a variety of percussive instruments played by the GRAMMY-nominated Los Angeles Percussion Quartet (LAPQ)
April 15th/16th/23rd – "The Merchant of Venice." This new production is directed by Thomas Bradac and stars acclaimed Shakespearean actor Michael Nehring. (Both are Chapman faculty members).
April 22nd/23rd/24th – Two short operas: "Gianni Schicchi" and "Suor Angelica" by Giacomo Puccini, performed by Opera Chapman.
April 27th – "Backhausdance and Friends Festival," featuring some of California's top contemporary dance companies.