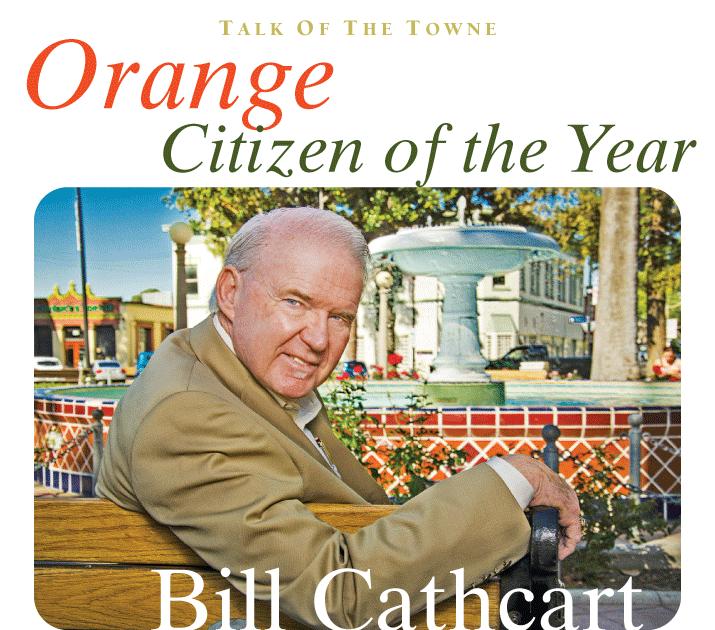 In 1972, when the City of Orange Parks and Recreation Department came to remove the palm trees in the Old Towne Orange Plaza, a young landscape architect, Bill Cathcart, tied himself to the trees. As onlookers gathered and Channel 2 recorded the events, he attempted to wait out the chainsaws.
"Though my protest didn't save the palm trees on the corners of the Plaza, I did manage to get their attention and spared all of the trees in Plaza Park itself, some of which date back to the 1890s," says Cathcart, who 28 years later renovated the park in 2000.
Spend time in Old Towne and you're likely to admire and experience the work of Cathcart, whose landscape designs can be seen throughout the area, including prominent gathering spots like Pitcher Park and St. John's Lutheran Church. For his professional and community service contributions to the City of Orange, the landscape architect was recently named 2012 Orange Chamber of Commerce Citizen of the Year.
"For the last 30 years, Bill has been deeply involved in the City of Orange professionally and in numerous community service capacities," says former city councilman and chamber officer Mike Spurgeon, who met Cathcart on the golf course in the early 1980s. "He's a unique person, who has made visible handprints throughout the city."
In addition to running his company Cathcart-Begin Associates, Inc., Cathcart has served in a wide variety of volunteer capacities over the years, including as a member and past president of the Kiwanis and as Lt. Governor for Div. 4, which encompasses California, Nevada and Hawaii. He was also president of the Orange Chamber of Commerce in 1988 and a member of the Old Towne Steering Committee and the Chapman University Athletic Foundation.
While his accomplishments are vast, Cathcart is especially proud of a few, including the formation of the city track meet which became Dash For Dare in 1981 and eventually became the popular Foundation Games held each year in the city. He is also involved in the Orange Senior Center and spearheaded the formation of an endowment fund for the organization in 1991, which is now valued at 1.3 million.
When it comes to professional achievements, Cathcart is especially proud of his 1990 design of Pitcher Park. "Alice Pitcher donated the land to the City of Orange and wanted her house torn down and a park installed," says Cathcart. "We designed around the old herb garden and avocado trees that were planted in 1914 and were able to rebuild the old barn and honey house. The result is a successful pocket park that is used for a wide variety of events, including weddings and the persimmon festival."
Local philanthropist and businessman Doy Henley has known Bill Cathcart for many years and comments on his friend's landscape design work.
"Bill's work is distinctive," says Henley. "He's innovative with design and knows how to use the right plant materials so that everything works together. Pitcher Park defines the critical work he does in a small space, although he's completed very large jobs as well."
In 1995, Cathcart designed the landscape for the law school and parking structure for Chapman University, and the next year he decided to attend law school himself, graduating in 1999 at the age of 55 with his law degree.
It is Cathcart's wit and straight-forward manner that gets people's attention. "When people meet Bill, they soon find out that he has a great sense of humor and he's a real straight shooter," says Spurgeon. "He tells it exactly the way it is and doesn't sugar coat things. Although he ruffles some feathers, he's usually right and people appreciate that."
Cathcart grew up in Palm Desert and was a member of the first graduating class of Indio High School in 1962.
After high school, he went to Berkeley and then got drafted and did two tours of duty in Vietnam. In between tours in Vietnam, while at the beach, Cathcart met a young lady named Cassie Arnold who lived in the City of Orange. They married six months later and when he returned from overseas they settled in Orange. That was 45 years ago.