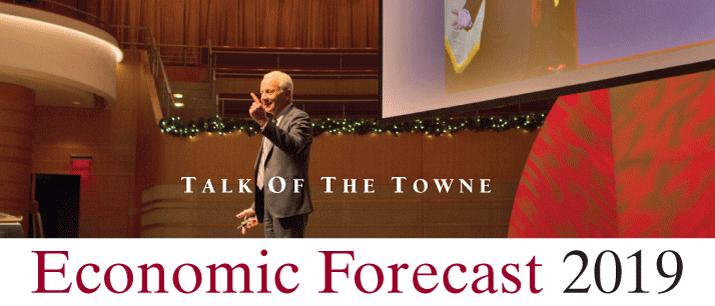 Economic Forecast 2019
With an October drop in the stock market and stories about the Orange County housing market cooling off, local business owners, investors, employees and residents may be wondering what's in store for the local, California and U.S. economies.
Luckily, when
Old Towne Orange Plaza Review
readers have questions,
Jim Doti
has answers. The Chapman University economist and president emeritus will present his annual
Economic Forecast
Conference on December 13 at Segerstrom Center for the Arts in Costa Mesa.
The always-entertaining and erudite Doti spoke about the economy at the Economic Forecast Update held at the Musco Center on the Chapman campus this past June.
At that time, Doti and the team of economists at Chapman's A. Gary Anderson Center for Economic Research saw construction continuing as a major driver of the economy. The forecast predicted that multifamily and single-family construction would continue to grow, and that an 8.9 percent increase in construction jobs this year would fuel the regional economy.
But Doti saw "clouds on the horizon" for the California economy if we have a trade war and if we lose construction as a major engine of the economy, because population growth can't sustain the level of homebuilding.
Taylor Kincaid was in the audience for the update in June, as he was for the original 2018 Economic Forecast Doti delivered last December.
"The forecast last year in December was a lot more upbeat in terms of what they saw coming," Kincaid says. "The one in June was a little more somber. For me as a real estate broker, it was useful. I work with homebuyers and sellers. They're asking similar questions about the housing market and what I see coming with home value."
Kincaid, who co-owns Garcia Kincaid Group Realty with his sister, Heather Garcia, says the June update "informed me that inventory levels of homes for sale are getting to where they'll meet demand. There's a correction coming," he says. "But we may be a few years off from anything significant."
Kincaid sees a correction as a positive, because the housing market will "not be so lopsided in the seller's favor," he says. "I feel like it will be a healthy thing for my industry and get things back to what they should be."
"Doti and the Chapman economists are also forecasting interest rate increases. So that will offset the cooling market for buyers." Plus, he sees the rate of appreciation slowing rather than any significant price decreases.
Kincaid advises potential clients to "focus on whether it's a good time to sell or buy for you and your family," rather than trying to time the market.
With five generations of family in Orange (his grandfather, Gordon, owned Higgins Furniture), Kincaid is dedicated to the community and its continued success, so the information he gathered at the conference is valuable.
Kincaid took his long-time friend Spencer Ellis, an ecommerce and action sports entrepreneur based in Irvine, with him to the June update. "I thought Doti was a great speaker," Ellis says. "He was able to convey a lot of statistical information in an engaging and interesting way."
Kincaid agrees. Even with all of the useful information he gleaned from the Chapman Economic Forecast last December and the Update in June, the real draw is Doti. "To make people laugh regularly at an economic forecast is impressive," he says. "Everyone leaves liking him."