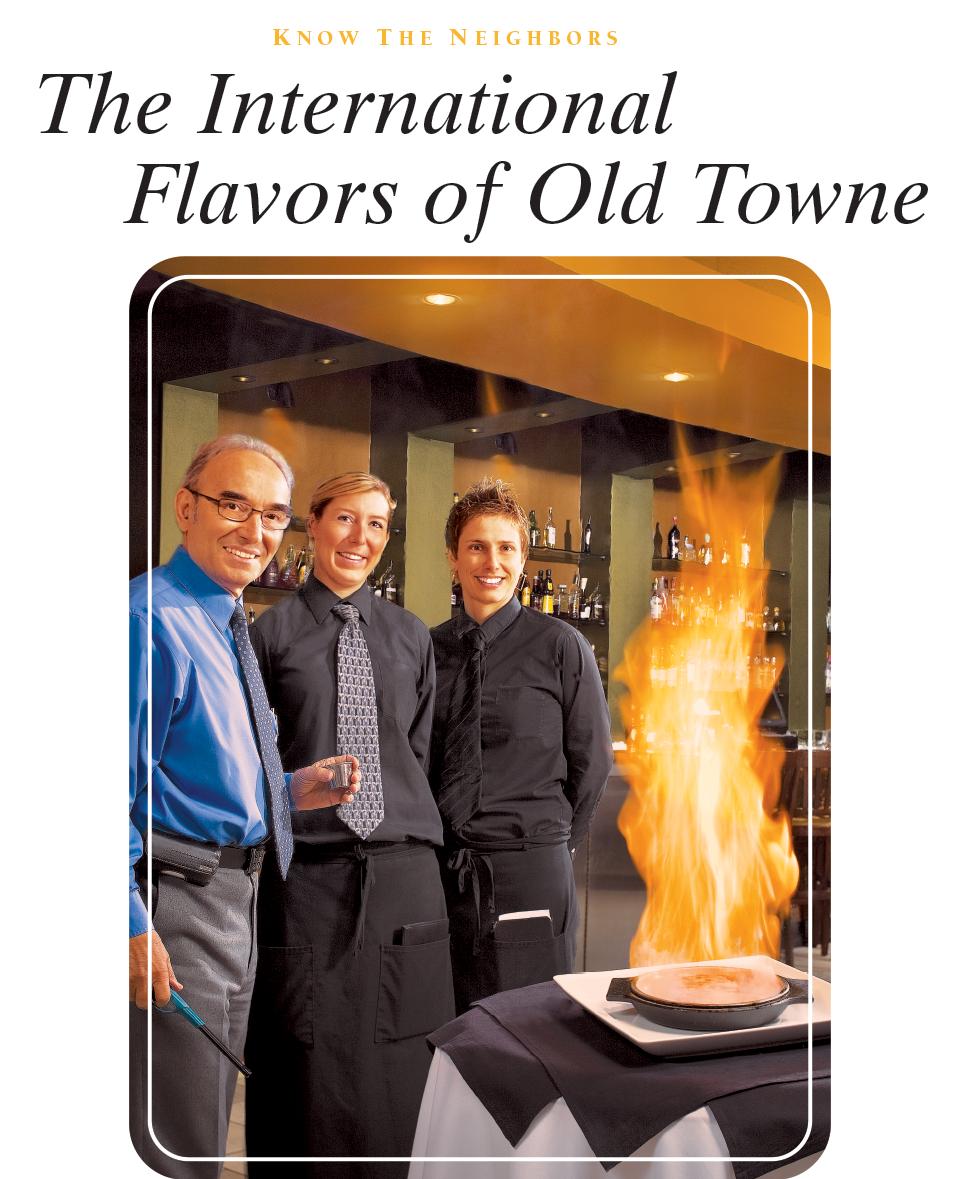 Flambé Saganaki Cheese is one of many popular dishes at Citrus City Grille, which has consistently earned fine-dining awards every year since its inception in 2000. Pictured, proprietor Steve Xenos with server Nicole and bartender Pavlina.
- - - -
Citrus City Grille
Marking its 10-year anniversary this year, the popular Citrus City Grille continues to be one of Old Towne's most celebrated dining destinations.
Co-owned by chefs Steve Xenos and Steve Tsirtsis, Citrus City Grille occupies the oldest brick building in Orange. Once a tack and feed store and then a grocery market, the historic space is creating new history in Old Towne with one of the most acclaimed Mediterranean/California cuisine menus in Orange County.
Originally from a southern island of Greece, both Steves have owned and operated 35 restaurants over the years, including the venerable Maxwell's on the Huntington Beach Pier. Pioneering the idea of fine dining in Old Towne, the pair creates such specialty dishes as Chilean seabass; stuffed chicken with spinach and feta cheese; pot roast; ribeye steaks and filet mignon.
"Being from a Greek island, we grew up with fresh-picked, healthy foods," said Steve. "We bake our own breads every day, everything from baguettes and buns to loaves and rolls. We even import cheese from the southern Greek Islands and make the flambé saganaki."
A Zagat award-winning restaurant for 10 consecutive years, Citrus City also features plentiful libations including 75 different martinis and more than 50 wines by the glass. Homemade desserts include the delightful chocolate and Grand Marnier soufflés, and crème brulée made with real vanilla bean.
The restaurant's spacious interior features grand ceilings, artful décor and an open kitchen where guests can view the chefs in action.
"We are the roomiest place in downtown Orange," said Steve. "The high ceilings and skylights in the dining room create prestige and enjoyable comfort. It's bright, welcoming and colorful."
Open seven days a week for lunch and dinner, Citrus City Grille has recently launched the popular Sunday brunch they say is the best value in Orange County. Offering buffet items and Champagne, the brunch has created a hub of activity on North Glassell.
"Every day, business continues to be great," said Steve. "Our customers appreciate us because we offer great delicious food in a casual, fine dining atmosphere."
Citrus City Grille
122 North Glassell St, Old Towne Orange CA 92866 / 714-639-9600