Cambra Speed Shop - Mar/Apr 15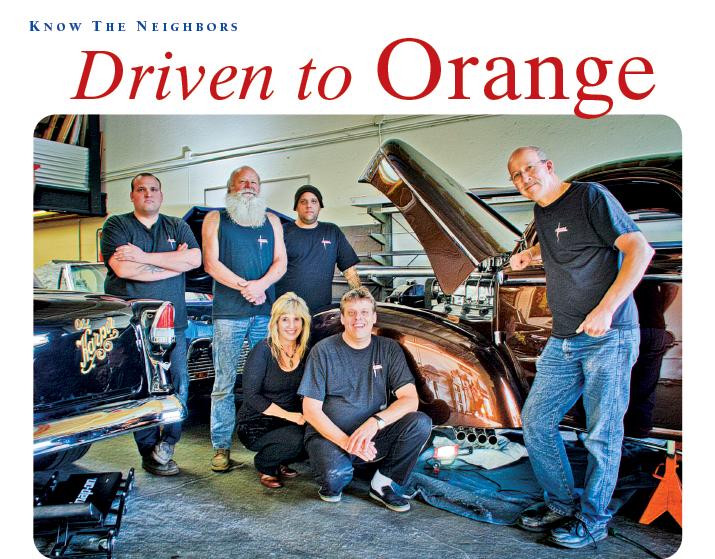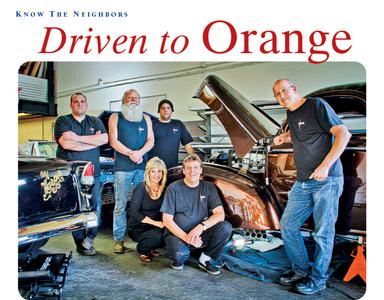 Ron Cambra (front center) and his wife, Laurie, own and operate Cambra Speed in Orange, where they create custom "one-off" builds of classic cars. Their sons Ryan and Ron Jr. (back left, back right) work alongside veteran hot rod fabricators Rick Kersh (back middle) and Greg Petersen (far right).
- - - -
Cambra Speed Shop
A self-described "car guy," Ron Cambra builds everything from flashy hot rods and custom "one-off builds" to old vintage racecars and a slew of award-winning cars that have made the covers of industry publications through the years.
Living and working in the "hot rod capital of the world" that is Orange, Ron stays busy building and modifying cars for repeat clients as well as for his own family. One of his biggest fans is his wife, Laurie, whom he met in 1988 at the Labor Day Cruise in Costa Mesa.
"She was into hot rods," he says. "We talked about cars, and I told her I was a car guy since I was a kid. She had a '67 Camaro that we tore down and redid. We started dating and began buying cars and fixing them up. I built dozens of cars in my home garage. Then we opened up the shop here at 726 West Angus, Unit C in 2013."
Indeed, Cambra Speed is a family affair. Their two sons, Ronnie Jr. and Ryan, both work full-time at the shop doing everything from fabrication, mechanical and final assembly. Their daughter, Sophie, helps out too. Ron also employs two of the best fabricators in the area — Rick Kersh and Gregg Petersen — who have been part of the OC hot rod scene for years.
"There are a lot of car people in Orange, and everybody knows each other in our circle," he says. "There are dozens of hot rod shops here in this town. We all have our own little niche. Ours is 'pro-touring' cars."
Ron explains that his specialty is not restoration, rather, modification. He and his team will tear the car down to the chassis, then modify and upgrade everything from the ground up.
"We'll lower them, chop the top, raise them or whatever. Most of what we do is custom one-off builds. We hand-build everything in-house, from the frames and battery boxes to the fuel tanks. A client might come in with a car, and I will brainstorm on ideas. I come up with a concept based on how much he wants to spend."
Some of Ron's shining "stars" include a '69 Rivera, '55 Gasser, '42 Willys, '56 Bel Air, '62 Falcon and '56 F100 Ford truck with candy-blue exterior and red interior. Ron still drives around town in his grandfather's all-black '60 Rambler wagon.
"We are very proud to be here in Orange," he says. "I love cars and this is the perfect place to be."
Cambra Speed Shop
726 West Angus Ave, Orange CA 92868 / 714-538-5396