4th Street Market - Nov / Dec 16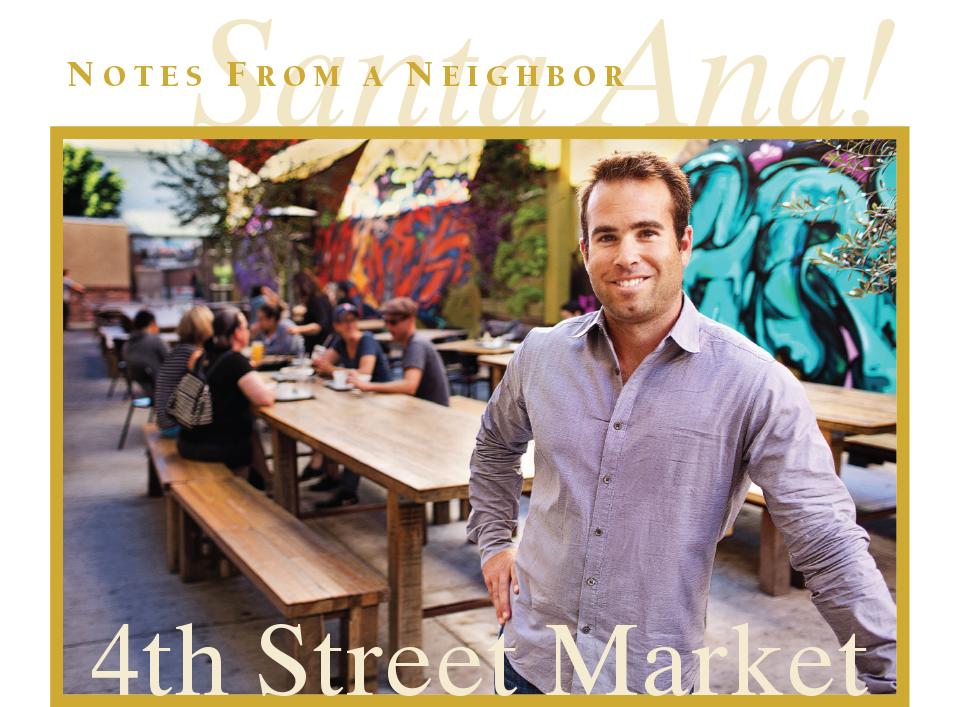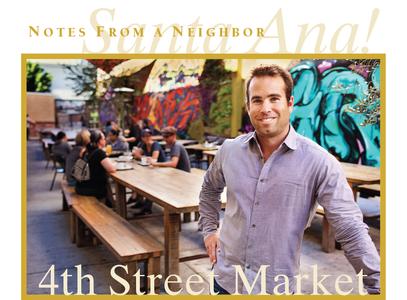 In Central Orange County during the late 1950s, an exodus from downtown areas like Santa Ana to the suburbs caused a decline in once vibrant city hubs as many people opted for living and shopping in newer suburban areas.
Fast-forward five decades, however, and the dynamics shifted once again when Downtown Santa Ana and its sister city, Orange, began an upward trajectory celebrating vibrant downtown living, working and socializing.
Take a look at successful urban renewal amongst historic areas of architectural interest in Orange County, and you'll find one of the most powerful and effective examples in Downtown Santa Ana in Artists Village and the East End area, a ten-block neighborhood nexus. There you'll see a meeting of the arts, culture and fine cuisine that celebrates a renewed take on urban living. Right in the midst of this crossroads is 4th Street Market, a gallery of gourmet and incubator restaurants representing a fusion of Orange County's architectural, ethnic and socioeconomic history. It is here that stylish urban lifestyles awaken new realities.
At the 4th Street Market, find a welcoming atmosphere with open interiors featuring fixed and free-floating tables, intimate seating areas and outdoor patios where you can soak in a colorful ambiance of social interaction, culinary curiosity and music within the surrounding arts district.
Discover a wide variety of taste sensations at 4th Street Market eateries and restaurants, including Portola Coffee Lab, where you can grab a perfectly roasted cup of iced or hot artisanal coffee made from meticulously sourced coffee beans. Just steps away find KTCHN DTSA, where you can enjoy breakfast or lunch and a barbecue favorite. And also in the vicinity are MAR, a modern quick serve MARiscos restaurant that combines Latin and Asian seafood flavors, and Dos Chinos, also offering Asian and Latin fusion fare.
Another establishment celebrating various taste combinations is the new Alta Baja Market. Much more than a boutique market and deli, Alta Baja combines the flavors of California, the Southwest and Mexico. The facility also hosts cooking classes, offers guest chef lectures and tours. Right there in the market you'll find Electric City Butcher, modeled after the owner's family butcher shop in Sicily, Italy.
If it's Vietnamese food with a flair that you crave, try Sit Low Pho. Other eateries to enjoy at 4th Street Market include Stockyard Sandwich Company (meaty sandwiches, poutines, soups and salads), Terra (all natural, guilt-free food), Pig Pen Delicacy (modern interpretations of bacon and pork favorites) and Jinny's Pizzeria.
To satisfy your sweet tooth, stop by Chunk-N-Chip for an unforgettable ice-cream sandwich, Front Porch Pops for handmade ice pops and specialty ice cream bars or Treatery for frozen yogurt and more.
If you're an aspiring culinary entrepreneur, 4th Street Market also houses the East End Incubator Kitchens. These 10 fully equipped, fully-contained commercial kitchen spaces are for rent and designed for personal chefs, caterers and artisanal and small-scale food production.
When it's time for libations, head across the street to Recess, Playground Restaurant's bar, where you can find craft refreshments, cocktails, house- made sodas, wine and beer. One of Orange County's most celebrated restaurants, Playground features globally inspired cuisine.
Thank Ryan Chase and his family for the 4th Street Market and the surrounding upgraded community. Chase, whose family has been a part of Santa Ana for nearly a century, oversees his family's various area property holdings and projects. He is also president of Downtown Inc., a leading business improvement organization.
"My family and I are in the real estate business, and our commitment to Santa Ana goes well beyond economics," he says. "We see our efforts, which generate positive press, added investment, job opportunities and tax generation, as helping build Santa Ana."
The Chase family decided to introduce the 4th Street Market as a valuable addition to Santa Ana's Artists Village. "My family always tries to make a positive contribution to the communities where we work and live, so we decided to reinvest right here on East 4th Street to help the area grow more successfully into a broader market," says Chase. "The 4th Street Market is a design centerpiece and an inspiration for ongoing development of the arts and cultural growth in the 4th Street Corridor."
4th Street Market
201 East 4th Street, Santa Ana 92701 / 714-486-0700