SunSpark Yoga - May / Jun 21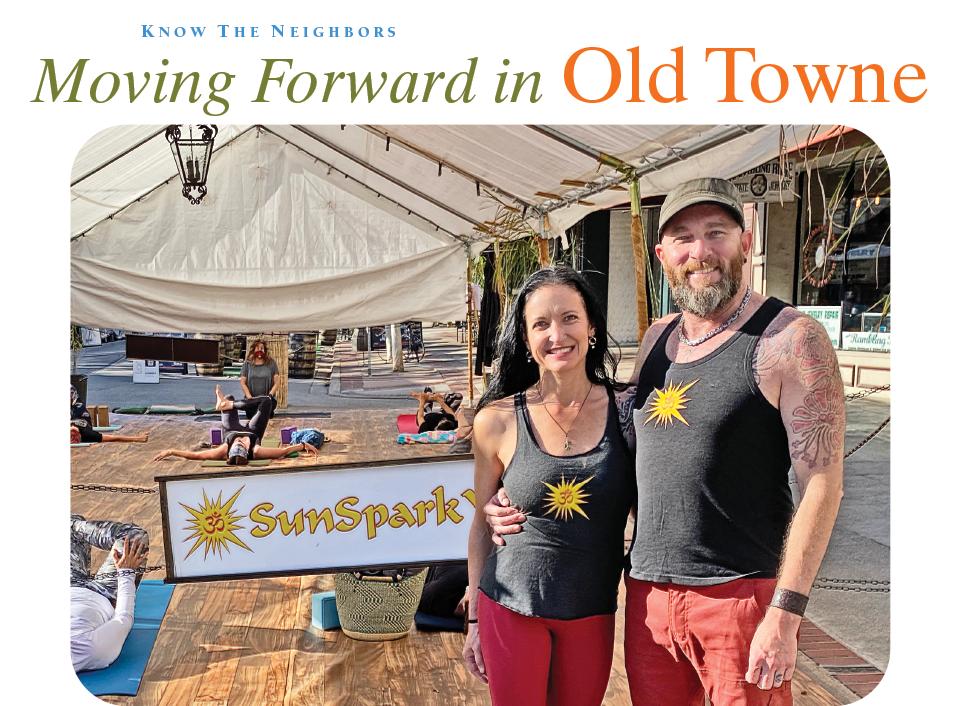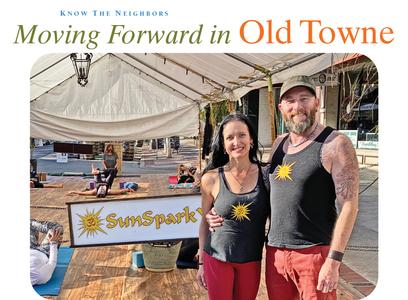 "The biggest challenge this past year was keeping our community together," says Ernie Schuerman, with his wife Stacey at SunSpark Yoga's outdoor space in front of the Orange Circle Antique Mall. "To us, the community we built is equal to the practice of yoga."
SunSpark Yoga
Yoga, Pilates and meditation may be perfect remedies for the stressors brought on by dealing with the coronavirus pandemic. Owners of SunSpark Yoga, Stacey and Ernie Schuerman, have been teaching those cures to clients at their South Olive Street studio since 2012.
"We're always going to have issues and distractions come our way, and it's a matter of how we react, adjust and adapt to them," says Stacey, who started practicing yoga a decade earlier.
The Schuermans, like others, have certainly had many challenges come their way since early March 2020, when they voluntarily closed their cozy studio space five days before state mandates shut countless other businesses. They quickly shifted in-person classes to online.
"Instead of competing with three other local studios, we were competing with 10,000 studios all across the country that were streaming on Zoom, Instagram and Facebook," Ernie recalls. "For us, we looked at it as a way to keep our people together."
During the intervening time, they adapted their business in other ways, including holding smaller in-person sessions outdoors at Hart and Killefer parks, on the patio of the Orange Woman's Club and, most recently, on a specially built wooden stage–constructed by the couple, their friends and family–in front of the Orange Circle Antique Mall. They also did a five-week residency outdoors at the Segerstrom Center.
"As weeks turned into months, and the months turned into more than a year, it was certainly challenging to pivot to other revenue streams," Ernie says.
Both were heartened by the generosity of clients who continued making their automated monthly payments, in addition to Paycheck Protection Program loans, a GoFundMe and grants.
"That all helped us make it through to the other side," Ernie says.
In early April, the Schuermans were able to re-open their studio for indoor classes. They also plan to continue offering sessions outdoors on the deck, for clients who prefer that option. And, they have an in-person outdoor event on May 14 at Bowers Museum in Santa Ana.
Despite the difficulties, closing SunSpark Yoga was never an option.
"I don't know if we're stupid or stubborn, but we worked too hard to let this go," Ernie says. "We're proud of it and our community. It would have been tragic to give up, so we kept fighting."
Adds Stacey: "As far as a job or a career goes, this is the longest either of us has done anything. I can't imagine doing anything else."
SunSpark Yoga
139 South Olive St, Old Towne Orange CA 92866 / 714-786-5994