Orange Home Grown - May / Jun 21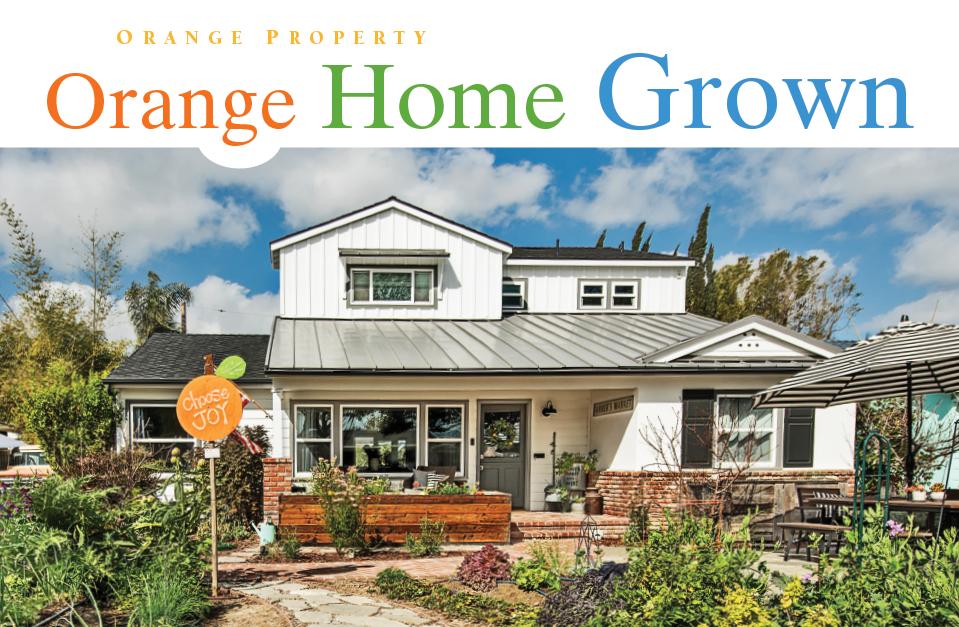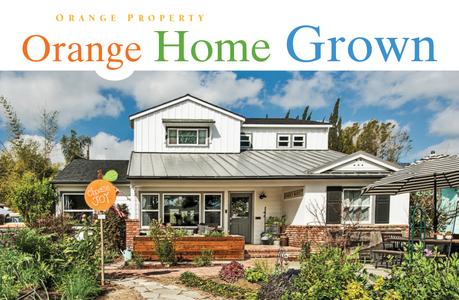 The Penns removed their front lawn in early 2018 and replaced it with beautiful edible landscaping that includes vegetables beds, herb gardens and thriving fruit trees.
There's no place like Orange for Megan and Travis Penn, whose house, work and lifestyle epitomize the "Orange Home Grown" spirit.
An Orange native, Megan is Co-founder and Executive Director of the Orange Home Grown Foundation that operates the weekly Orange Home Grown Farmers & Artisans Market, established in 2011. Originally from Bellflower, Travis works in the aerospace industry. Together, the couple has recently completed a beautiful remodel of their early-1950s ranch-style house they purchased in 2008 just outside of Old Towne.
Travis and Megan are pictured here in the living room with their three young children. The recently completed additions to the home accommodate their growing family.
Megan—who worked for almost 13 years as a senior planner at an architectural firm in Irvine—knew exactly how to design, organize and oversee the remodel of their own home. She also inherited her instinct for beautiful interiors from her mother, a professional interior designer. The home's vintage architecture was a natural fit for the concept they envisioned.
"I have always dreamed of living in a modern, farmhouse-style home, and it was an easy transition to achieve with this house," says Megan. "We didn't touch the original elevation but we did add features like a metal roof and board-and-batten siding. Downstairs, we eliminated some of the walls and transformed the interior into an open concept. Unfortunately, we had to gut the original fireplace because it was right in the middle of the house. I was sad to see it go."
When remodeling their vintage ranch-style home, the Penns opened up the entire downstairs space to create a contemporary, open floor plan. "We spend most of our time as a family either outside, or in our downstairs great room," says Megan.
Built in 1952, the home previously totaled 1,700 square feet when Megan and Travis purchased it from the original owners (who also owned the landmark Palm Market in Old Towne). The house then only had two bedrooms and two bathrooms. With three small children, Megan and Travis eventually decided they needed more space to accommodate their growing family. In 2019, they added a second story that expanded the home to a total of 2,600 square feet. The addition took six months to complete and features a total of four bedrooms and three full baths.
Although the couple had briefly contemplated moving to a larger home rather than expanding, it was their love of the neighborhood that actually prompted their decision to "bloom where they were planted."
Megan designed the spacious upstairs closet featuring shelves and practical cabinets that make it easy to find things.
Travis kicks back on the back patio where he ponders future projects as the kids play in the backyard.
"We knew that our Orange home would be our forever home, especially because we have such wonderful neighbors here," says Megan. "We wanted to maintain the original footprint of the home and the yard. Our two young girls now occupy the original master bedroom, while our son has the second bedroom upstairs next to our master suite. Our master wing is spacious, like an oasis."
In creating the second story, the couple situated the new addition so that it would push back 15 feet from the original first story on the front elevation, creating a sense of depth and avoiding the appearance of one big box. French doors open to the backyard, which features edible landscaping, avocado and citrus trees, and heritage rose bushes that are at least 50 years old. There's also an outdoor seating area with a stand-alone fire pit, outdoor sofa and barbecue.
Adding a splash of color to the master bedroom, the vibrant yellow end tables belonged to Megan's grandmother.
The showplace of the house, the kitchen was entirely remodeled by Travis and Megan's father seven years ago. "The kitchen has an open concept," says Travis. "We tried to save the original wood floor but it wasn't possible. We replaced it with flooring that replicates distressed barn wood. We had the stairs done in oak and stained them to match. The simplicity of the kitchen is really appealing to us. It feels so much bigger just by how we configured it. The kitchen is a central gathering place that makes it fun for entertaining, and for watching the kids."
Travis also built a chicken coop for their family hens. Like their house, the coop has an upstairs addition as well.
"We currently have one Australorp chicken and four Button quails," says Megan. "The mama chicken lays one egg at least every other day. We have been pickling the Button quail eggs, which are small like the size of an olive."
The gorgeous master bathroom features dual sinks, custom cabinetry and concrete tiles. "The tiles are soft and very porous," said Megan. "They feel great to walk on."
"Homegrown" is the operative word in Megan's life, both at home and at work. As Orange Home Grown's Executive Director, Megan has witnessed the incredible growth of the organization over the last decade. Its non-profit foundation also operates an active Education Farm on property leased from Chapman University, in addition to the weekly farmers market located at 303 West Palm Ave. Fruits, vegetables, flowers and herbs are grown at the education farm by community volunteers, and free education classes are offered throughout the year. Orange Home Grown also hosts a food literacy program, scholarship program, seed-lending library (in partnership with the Orange Public Library Foundation) and farm-to-table dinners.
It comes as no surprise, therefore, that Megan and Travis also grow their own fruits and vegetables in their front yard. Enclosed by a hog wire fence designed and installed by Travis, their entire front yard is "all-edible," showcasing raised vegetable beds built by Travis, watered with drip irrigation, plus colorful sunflowers, poppies and salvias. All of their irrigation is drip. They also have compost bins right in their front yard. Their many fruit trees produce apricots, white peaches, plums, pluots and nectarines. Thriving citrus trees also grow along the side of the house.
Outdoor dining takes place in the front yard, which teems with flowers, fruit trees and foliage.
Megan and Travis enjoy frequenting the antique shops of Old Towne, where they've purchased furniture, accessories and vintage kitchen items. They love the homegrown feeling of their neighborhood, house and yard.
"I grew up in this sweet city of Orange, so it's fun to incorporate Old Towne into our home," says Megan. "It's the people, however, that make our community so wonderful. I have friends here whom I've known since grade school, and business owners we visit often. We love sitting on the porch with our neighbors while enjoying a glass of wine. Orange is a big city with a small-town charm. It's an incredibly special place to raise a family, and we feel fortunate to be a part of it."
Orange Home Grown
Community Education Farm, Friday: 9 am
Farmers & Artisans Market, Saturday: 8:30 am - 1 pm