Springtime in Orange - May / Jun 14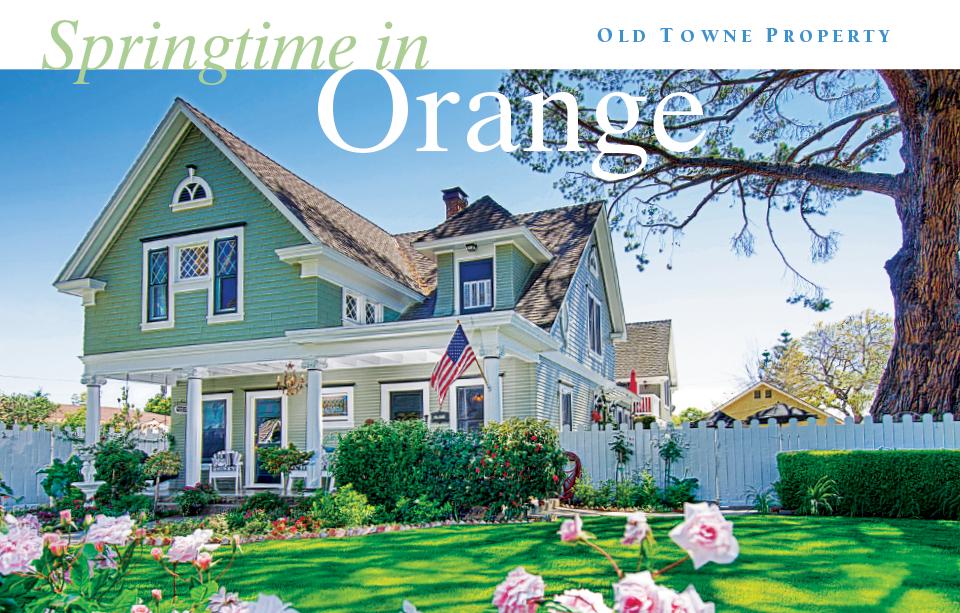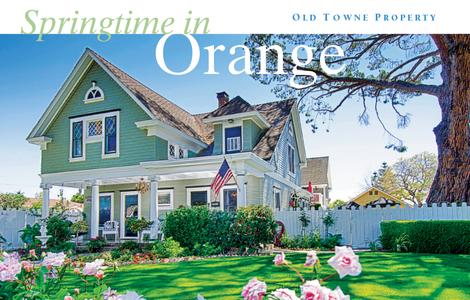 The front parlor showcases beautiful artwork, antique tables and plush upholstered furnishings, all illuminated by an eye-catching hanging art deco lamp.
Beneath the expansive canopy of a magnificent stone-pine tree more than 100 years old, one of Old Towne's most historic properties provides the perfect live-work residence for Tom and Arlene Avdeef, who purchased the home in 2012.
Built in 1897, the two-story, five-bedroom home was originally designed as a residence/office for early Orange pioneer Ed Honey and his family. Featuring two separate entrances that divided the house, the Queen Anne-style Victorian residence once occupied five acres of land that Mr. Honey intended to farm — part of a 32-acre subdivided parcel known then as Richland Farms. As one of the town's first land brokers, Mr. Honey also owned the local water company. His other claim to local fame: he provided the water pipes for the Plaza fountain.
Spanning 19 feet in circumference, the 95-foot-high stone-pine adds even more character to the property. According to historic records, Mr. Honey personally carried the stone-pine seedling (plus seedlings for the cedar tree) in his saddlebag with him from the High Sierra Nevada Mountains to plant on the property. The home's second owner — another early pioneer of the city — was one of the Hager brothers who installed the first sidewalks in Orange.
"You can still see their stamp on many existing sidewalks and throughout the neighborhoods," Arlene says.
Morton Salt characters add a sprinkling of whimsy to the charming gardens.
Tom and Arlene Avdeef enjoy sitting beneath the canopy of an expansive pine tree planted 115 years ago by the home's original owner. The spacious grounds offer a peaceful retreat for the couple and their two dogs.
Originally a candle-lit fixture, this antique chandelier — obtained from Summerhill Antiques in Old Towne — mimics the curve of the home's original stained-glass windows.
A native of Old Towne, Arlene rode her bike across those very sidewalks when she was a young girl. Coming full circle, she now lives with Tom a mere five blocks away from where she grew up on a five-acre property that her parents purchased after WWII.
A practicing attorney, Tom previously based his office in an old home in Old Towne on Center Street that doubled as their second home. Working together as a team (Arlene does paralegal and administrative work for Tom), the couple would stay in Orange during the week, then drive back to their primary residence in Dana Point. Through the years, they became more and more settled in Old Towne, wanting to move here permanently.
Arlene credits her friends at Summerhill Antiques Ltd. in Old Towne for alerting her to the home's pending sale. An antique lover, Arlene has purchased many items at Summerhill through the years.
"I was buying a clock from Katherine when she told us about her friend who was about to list this home," she says. "We made an offer as soon as we saw it. It was extreme luck that we ended up living here. Ten years ago, I actually stopped my car to take a photo of this house, I loved it so much."
This 1940's ceramic donkey pulled cart was a gift from Arlene's dad in celebration of her birth.
Nostalgic heirlooms include dishes and ceramics from relatives, including Tom's 95-year-old Aunt Helen.
The couple replaced previously damaged original flooring with 100-year-old barn wood from the Midwest. A Victorian dining set fronts the fireplace that leads to the kitchen.
Although the home was structurally sound, the Avdeefs knew that an extensive restoration was in order to bring the home back to a vintage style. Covered with glued-on laminate, the original Douglas fir floors were too damaged to salvage. The couple replaced it with 100-year-old barn wood from the Midwest, featuring five-inch-wide planks milled to recreate the original fir.
"It's red oak and has tons of character with old nail holes and rustic knots in it," Arlene says. "We love it."
In the kitchen, the Avdeefs removed the incongruous granite slab, replacing it with square-edged marble countertops and an octagon backsplash reminiscent of the 1940s. They also installed a 1949 O'Keefe and Merrit range to replace the commercial Wolf stove, as well as added new appliances paneled in wood to make the kitchen feel more period."We have a hands-on approach to doing as much of the work as we can," Tom says. "We repaired and plastered all of the ceilings and walls and had new mouldings made to match the picture railings that had been removed. We also re-stained the interior wood trim and brought it back to life."
The home still retained much of its original architectural elements, such as the original banisters, the hearth, baseboards, window trim, all of the doors and windows, plus two stained-glass windows, both of which can be seen from the outside. Positioned on a double lot, the property includes a pool, a large side yard, an enormous front yard and thriving landscaping featuring rose and flower gardens, plus an expansive lawn ideal for their three dogs to romp around.
The front parlor showcases beautiful artwork, antique tables and plush upholstered furnishings, all illuminated by an eye-catching hanging art deco lamp.
Dating from the 1800s, the upholstered, hand-carved Louis XV bed provides a dramatic focal point in the master bedroom.
The original staircase groans and creaks from generations of footsteps that once tread the two-story residence, one of the most historic homes in Old Towne.
"It's such a unique home and we're very blessed to have it," says Arlene, an accomplished seamstress who made all the draperies, pillows and cushions. "Whether we're sitting on the porch or working in the yard, we always enjoy interacting with the local residents who walk by. It's like being transported back in time to a way of life that was easygoing and friendly."
Although there is so much to appreciate about where they live, Arlene says shopping for antiques in town is the best thing about fixing up a historic home in Old Towne.
"I love going into the antique stores and looking for furniture and light fixtures," she says. "I tell Denise and Katherine what I am looking for, and they go to auction to find something that they think I would love. It's a one-of-a-kind home, and every time we work on a renovation or purchase an accessory, we try to take the home back to what it was before."
"This is a very sweet, gentle house," she adds. "People fall in love with it. It's very charming and welcoming."