grandPad - May / Jun 15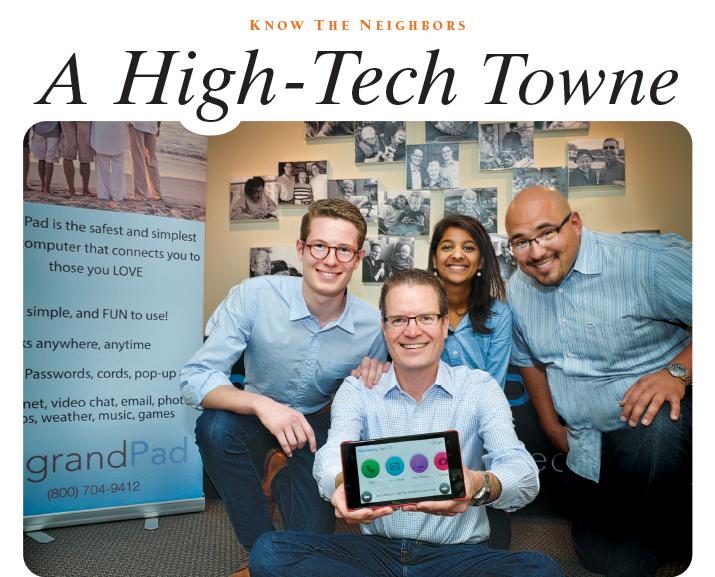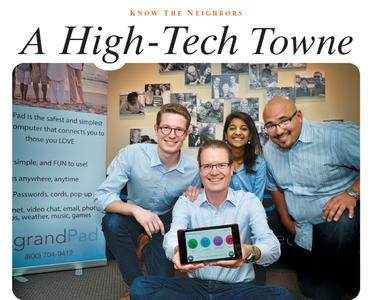 The latest tech company in town, grandPad unveils a tablet device designed specifically for seniors. The grandPad team (from left): Isaac Lien, co-founder and chief product designer; Scott Lien, co-founder and CEO; Aneesha Prakash, product manager and Rene German, software engineer.
grandPad
For many seniors, learning how to stay connected with family and friends via digital technology can be intimidating, challenging and downright overwhelming. This deprives the older generation of the simple joys of photo-and-video sharing, video chatting, emailing and more.
Enter grandPad, an easy-to-use tablet computer and "cloud curator" designed by entrepreneur Scott Lien and his son Isaac, a sophomore at Chapman University.
Concerned about the challenges that his own mother and mother-in-law had experienced with their digital devices and computers, Scott, who has a 30-year background in product development, decided to "build a better mousetrap" designed specifically for seniors.
"It seems like everybody has a tech-challenged senior in their life," said Scott at his grandPad headquarters at 850 E. Chapman, Suite C. "After finding out there was no device in the marketplace that addressed this need, Isaac and I realized we could solve the problem ourselves."
For the project, Isaac enlisted some of his student colleagues at Chapman's Launch Labs to help develop the software and hardware. Many of them now work for the company. To create the grandPad, the team overcame some difficult engineering challenges by applying plenty of technical ingenuity and expertise.
"We are a fast-growing tech startup and are always hiring new people," Scott says. "We are combining the talents of young, brilliant students with legacy-experience guys like me to help bring families together through the power of great engineering."
Focusing on "super seniors" over the age of 75, grandPad features easy navigation and user-friendly icons. Communicating is as easy as tapping a photo icon of a family member to make a phone or video call. Operating via 4G LTE connectivity, the secure device also allows seniors to send voice emails, listen to music, check the weather and play games. Most of all, it lets users see those adorable photos and videos of the grandkids with a touch of a button. It works right out of the box and is easily charged on a docking station. There are no contracts, no data limits and no fees for customer-care support.
Since launching the product last December, Scott says the response has been amazing.
"The device is helping to eliminate the feeling of social isolation for seniors. We've already seen many cases where grandPad has given folks that extra spark in their life again. We've been very successful with our marketing outreach on social media. We encourage people to visit our website [grandpad.net] and reach out to us."
Employing more than 20 people, the company moved into its new office this February. The customer-care team is located in Minnesota.
Scott says the family-friendly setting of Old Towne is the ideal location for their headquarters, which is based in a 1950s-era building located next door to Immanuel Lutheran Church.
"When we thought about where we should be based, the proximity to Chapman University factored into our decision, but we also love the downhome feel of Old Towne Orange," Scott says. "We are all about connecting the family circle, and that's what Old Towne is about. We also like the fact that we are close to the train station so that any of our team from LA or San Diego can come visit us."
grandPad
850 East Chapman Ave, Orange CA 92866 / 800-704-9412