Fusion Biotec - May / Jun 18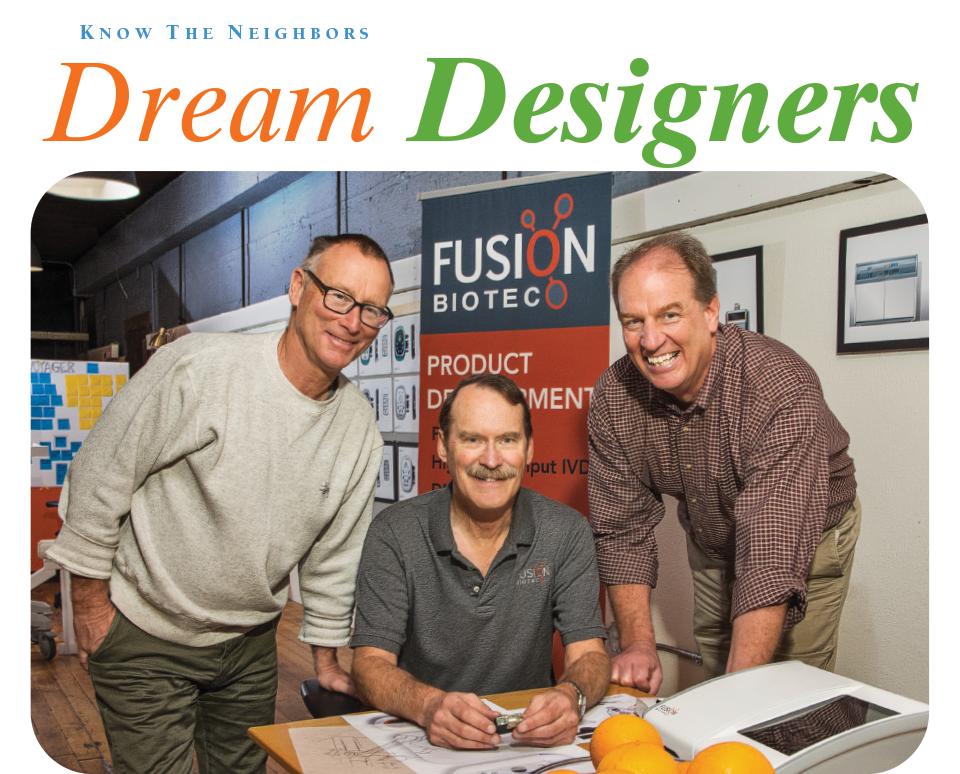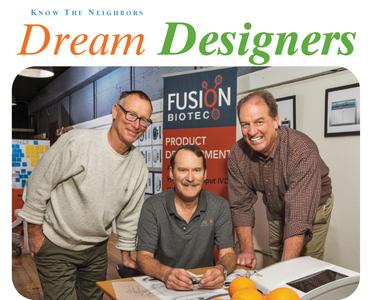 Fusion Biotec brings art, science and engineering together to create medical devices. Pictured here are founder and CEO Bruce Sargeant (center) joined by team members Chief Artistic Officer Dave Hines (left) and Chief Commercial Officer Steve Maylish.
Fusion Biotec
By the time Bruce Sargeant opened Fusion Biotec, Inc., in Orange, he had founded two companies, sold both, bought back the first to revive it and then retired after he sold that business to an international corporation.
At the core of all these enterprises was Sargeant's passion for engineering and design that started in childhood. "My parents bought me stuff to build, and I got involved in electronics, audio and amateur radio," he says.
Retirement didn't last long for Sargeant. In 2016, he opened Fusion Biotec to merge art, science and engineering to conceive, create and commercialize medical products. The company's services range from early concept feasibility studies and systems engineering analysis to development of production-ready prototypes, clinical units, FDA approval and beyond.
Fusion Biotec is located in the Old Towne Orange Icehouse, close to Sargeant's home and those of four of his five children. It was important the workspace would be welcoming to clients, but also be a beautiful environment in which to work.
To that end, Sargeant and partners Steve Maylish and Dave Hines designed and built the interior, their workstations and the redwood deck at the entrance. The Icehouse may have opened in 1918, but Fusion's interior is purely 21st century with its open floor plan built on the original fir wood flooring.
"Variety is why I like this business. Each of our clients has their own personality and challenges," he says. Clients include startup companies and those needing Fusion Biotec to update a product. Sometimes someone has been working on a project and "we jump into the middle of it," Sargeant says.
BioPhotas CEO Patrick Johnson recently contacted Fusion Biotec to help expand the company's Celluma Series product line. With that assistance, the Celluma Series has rapidly become the preferred low-level light therapy device used by wellness, pain and skin specialists.
"I knew Bruce before I started BioPhotas," says Johnson. "He's just this personable guy and extremely knowledgeable. The medical device community in Orange County is relatively small. I was looking for someone with great experience to help us, and Bruce had that. He understands commercial considerations and how to meet all the applicable FDA regulations. We do iterative product designs, so we bring him in to apply his expertise in medical device electronics."
Overall, Johnson is pleased with Fusion Biotec's work. "In a highly regulated environment, Fusion Biotec operates flexibly and is easy to work with. They get things done when they say they're going to get them done. They do it right and deliver what you ask for."
Fusion Biotec
160 South Cypress St., Suite 400, Orange, Ca 92866 / 949-264-3437