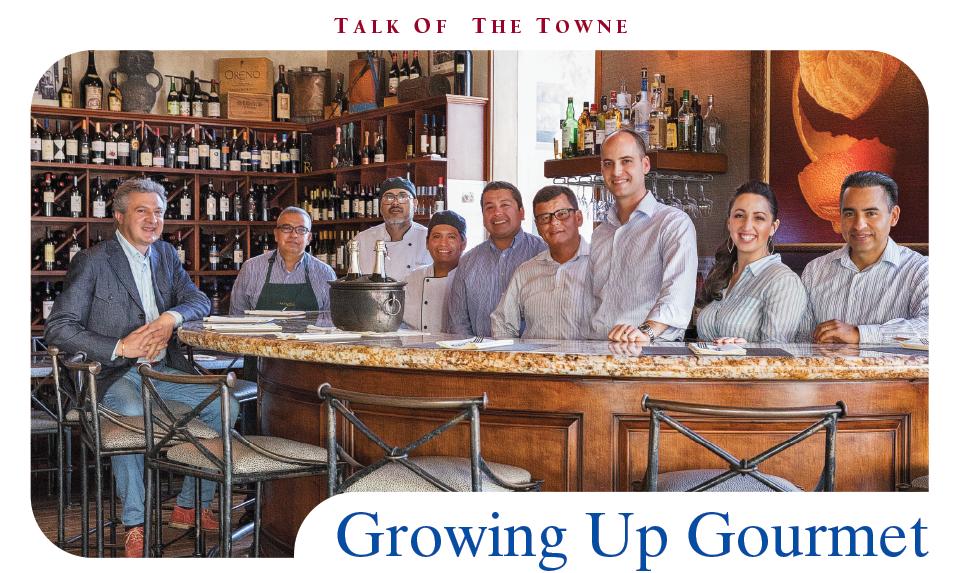 Serving up delicious, authentic Northern Italian cuisine, Francoli Gourmet attracts loyal customers and longtime employees. Some of the restaurant's well-trained staff started when they opened in 1993. "We're like a family," says owner Alberto Tilicone (left).
Francoli Gourmet
When Alberto Tilicone and his family came to the U.S. from Northern Italy in 1993, they opened the store, Francoli Gourmet, in Fashion Island. At first, the business sold select Italian imports, including ceramics. Over time, the business morphed into a restaurant.
"Back then it was difficult to find real Italian high-quality products, such as extra virgin olive oil, balsamic vinegar and Italian wine," says Francoli's owner, Alberto Tilicone. He started out offering samples of oils and vinegars to customers. By 1995 when Italy's popular brand of coffee, Illy, became available, he began serving up Panini to go with the coffee. That whetted customer appetites even more.
"People requested pasta, so we began serving penne with fresh tomatoes," says Tilicone. "Then a customer asked me for potato pancakes. I wasn't sure what he meant, until I consulted some recipe books and figured out he wanted gnocchi. So we began making that, too."
Before long, Tilicone had a successful restaurant on his hands serving Northern Italian cuisine featuring specialties like their Lasagna Alla Piemontese and other recipes passed down from Tilicone's mother, grandmother and aunt. The store-turned-restaurant proved successful in Fashion Island for 16 years. In 2008, when they had to close for remodeling, Tilicone took that as a cue to change locations.
"I saw this beautiful space in Old Towne sitting in the heart of the Plaza, and I thought as I looked out the front windows that I'd found the perfect spot," he says. "In Italy, restaurants are located on piazzas just like this one."
After remodeling the historic building in which the restaurant is located, they opened without advertising, pleased at the quantity of people who showed up to enjoy their signature cuisine.
"We kept our menu from Fashion Island with a few adjustments and additions," says Tilicone. "Francoli offers weekly and daily seasonal specials. I personally take care of ordering the fish, which is sent overnight to the restaurant from a variety of locations, including Hawaii, Fiji and Australia. We also have a wonderful selection of Italian wines, many of which are from small production wineries in Italian villages."
Francoli also carries a selection of high-quality, imported extra virgin olive oils, balsamic vinegar and risotto, which customers can use in their own kitchens.
Robin and Jeff Lyall live in Orange Park Acres and have frequented Francoli since the restaurant occupied Fashion Island. "We love the authentic, healthy, fresh Italian food, as well as the wine," says Robin Lyall. "They also offer excellent service."
The food at Francoli is served up with a smile by long-time employees, such as Reyes Pacheco, who started working at Francoli in 2002 when he was 16.
"We welcome everyone who comes into the restaurant as if they're visiting our own home," says Pacheco. "I know many of the regular customers by name and enjoy hearing about their lives. Francoli's friendly, authentic feel and high-quality food contributes to its success. I eat at the restaurant every day—even on my days off. Everything is made from scratch and tastes like mom's good cooking."
Francoli Gourmet
100 South Glassell St., Old Towne Orange CA 92866 / 714-288-1077