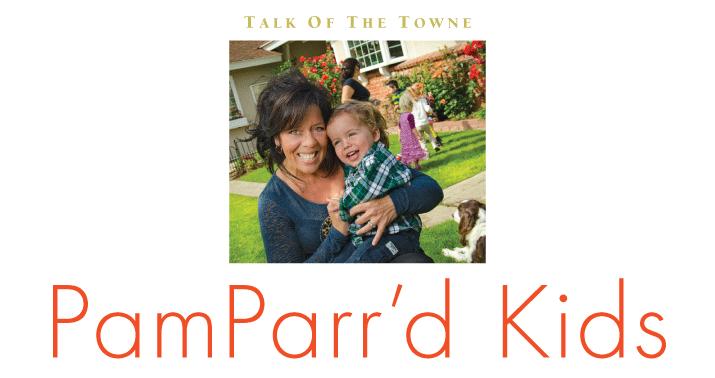 When people see that Amber Miller's daughter has mastered the alphabet and is writing her name, they usually assume that the 3 ½-year-old is advanced because her mother is a kindergarten teacher. Miller is happy to set them straight and explain that Kennedy is well on her way academically because of PamParr'd Kids, the Santa Ana preschool she attends.
"Pam Parr does such a good job of preparing children for kindergarten that I don't have to work with Kennedy," says Miller, who teaches at La Veta Elementary School. "Pam lays a strong academic foundation, which leads to lifelong learning, and she has a great teaching style. She cares for each and every one of her students, and the kids adore her."
Pam Parr, who refers to herself as the school's "director of fun," strives to give her young students, who range in age from infant to 6, the necessary tools to excel academically and socially.
"My philosophy at PamParr'd Kids is to help children develop to their fullest potential while experiencing a fun way of learning in our exciting environment," says Parr, who opened her school, which has a 500-square-foot classroom and large backyard, in 1995 when her daughter was young. "Learning through sensory activities, abstract thinking, problem-solving and language development makes learning enjoyable," she says. "The program also teaches children respect and compassion for one another and how to verbally solve problems with peers."
In addition to using effective academic programs, such as the tactile Handwriting Without Tears technique and the Sullivan Reading Readiness program, Parr includes a variety of social skill building, such as her "fine dining" lunches that teach manners.
"When young children get to clear their own dishes and pour milk that teaches etiquette and builds self-esteem," she says. And in order to encourage compassion, she uses her "little buddy" system. In many of her classes, Parr will enroll an infant or toddler student so that the older children can learn to effectively interact with a younger child.
Jackie Turner is an Old Towne licensed marriage and family therapist whose two daughters attended PamParr'd Kids. "Both of my girls were well-prepared for kindergarten after attending Pam's program," says Turner. "Even more important to me was the welcoming atmosphere at the school. As a parent, you want your child to be someplace where she not only learns, but is totally enveloped in love. Pam really cares for each and every child and treats them as her own. She teaches her students to learn in a kind, creative and gentle way."
For more information please e-mail or call PamParr'd Kids at (714) 240-9223.