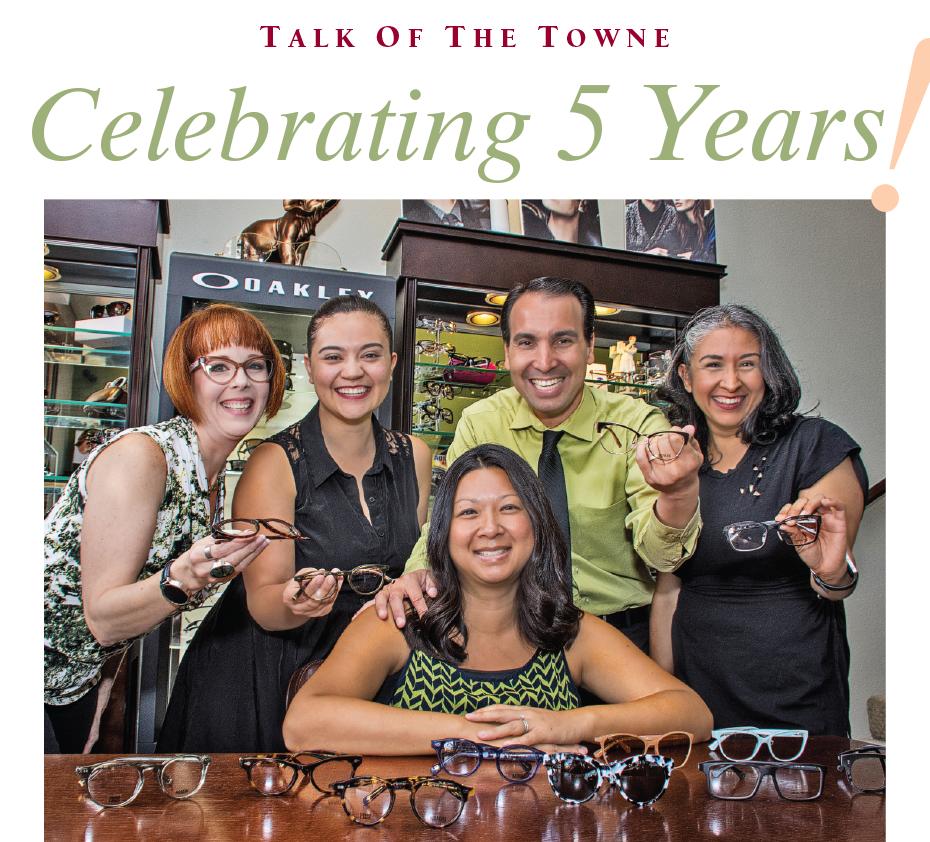 Everyone knows your name when you visit Orange Circle Optometry. Always on hand with a smile and hello are [from left] Gwen Wagner, Optician; Angelica Neria , Optometric Assistant; Ly Nguyen, Optometrist; Alex Romero, Optometrist and Lindsey Locke, Optometric Assistant.
Orange Circle Optometry
When Old Towne optometrist Alex Romero walks into restaurants and shops in the Plaza, he gets a chuckle when patients explain why they're not wearing their eyewear. "They'll tell me their glasses are in the car," says Romero, whose business, Orange Circle Optometry, just celebrated its fifth anniversary in Old Towne.
While Romero would never chastise his patients about when and where they use their glasses, he loves such interchanges, because they underscore why he enjoys running his optometry practice in Old Towne.
"I love the small town feel of Old Towne and being the local optometrist," says Romero, who grew up in the neighborhood, including attending Cambridge Elementary and Orange High School. "Eighty percent of my patients live or work in the local area. I'll often do eye exams on clients and then see them later that day in the Plaza."
Most of Romero's business comes from word-of-mouth. "Someone will come in and have a great experience and then tell their coworkers, neighbors, friends and family," says Romero, who runs the business with his wife and fellow optometrist Ly Nguyen.
At Orange Circle Optometry, their goal is to make visiting the optometrist fun. "I've worked at a lot of serious places in the past," says Romero. "While we always provide the best eye care available, we also want patients to look forward to the experience, so we make it as enjoyable as possible."
For Old Towne resident Steve Wolford and his wife, Debbie, being treated at Orange Circle Optometry is always a pleasant experience.
"Dr. Alex and his staff take personal interest in keeping our eyes healthy and our vision clear, and we feel like their favorite patients," says Wolford. "Things are never rushed—a rare experience these days. The entire staff goes out of their way to help us, and we feel spoiled. Dr. Alex himself has even dropped off contact lenses in our mailbox. We enjoy them all so much; we often stop in just to say hi."
Old Towne resident Paula Soest has gone to Orange Circle Optometry since they opened and echoes Wolford's sentiments. "Dr. Alex is so kind. He's very sweet to my mom, who is nervous about everything, but always enjoys seeing him. I don't wear contacts very often, so I have trouble putting them in. Dr. Alex has me come into the office and puts them in for me when I'm going someplace special. He's also a lot of fun. He rides a skate board, likes heavy metal music and plays guitar."
In addition to his local clientele, Romero sees patients in the professional skateboarding community. This came about when he saw world champion skateboarder Christian Hosoi at the mall three years ago and asked him about getting his eyes checked. That led to Hosoi becoming a patient and referring friends, family and other skateboarders.
"I've always enjoyed skateboarding, and these guys are legends," says Romero. "I wore t-shirts with their pictures on them, so seeing them as patients is really fun."
Former world and U.S. skateboard champion Pastor Dennis Martinez and his family also go to Orange Circle Optometry.
"I'm so blessed that my skateboard family told me about Dr. Alex," says Martinez, who donated an autographed skateboard for the anniversary. "Dr. Alex and his team are very professional and make you feel like family. They always go beyond the call of duty, and everyone I refer to him has the same experience."
Orange Circle Optometry serves all ages. The full-service practice provides contact lenses and glasses, carrying a wide range of frame styles. They perform a whole health evaluation of the vision designed to catch any vision problems early, so the effects can be minimized.
Orange Circle Optometry
227 East Chapman Ave., Suite C, Orange CA 92866 / 714-538-6424.